Matt Long ushers you to your seat in the Lenin Stadium, where Seb Coe and Steve Ovett ran the 1980 Moscow Olympic 1500m final 40 years ago today
It's the morning of Sunday July 27, 1980, and a 23-year-old wearing a red GB tracksuit top is pounding the pavements of Moscow in solitude. Bleary eyed after a fitful Saturday night's sleep, he will be shadowed the whole way by a bus load of photographers hanging out of all conceivable holes to snap his every step.
"It looked like something out of Keystone Cops," he would laugh a few years later in the iconic documentary Born to Run, but for Sebastian Coe, there was nothing remotely approaching slapstick comedy about the tabloid headline which greeted him upon his return to the Olympic village. The emboldened, "Coe's Trail of Shame" precedes the cruel verdict on his inexplicable capitulation in the 800m final the night before, with the fastest man in history over two laps likened to a snail who has left an ugly trail on the track.
The 'approachable', 'unassuming' and even 'charming young man', in the words of the BBC's Frank Bough, has become the villain of the plot and it happened overnight. The general British public are waking up to buy newspapers which appear back to front as Coe and Steve Ovett are promoted to front page rather than back page status and are forgiving Ovett's so-called 'brash' nature and 'arrogance' because his status in the history books is now assured as newly-crowned Olympic 800m champion. Everyone likes a winner.
In his autobiographic Running My Life, Coe will one day reflect with brutal candour that the above headline had given him, "the kick up the arse that I needed". In the few days Coe has before commencing the first round of the 1500m heats, his survival instinct kicks in for fear that he risks becoming, in his own words, a laughing stock of "a pub quiz answer".
Rumours abound that he is fastening up a parachute ready to jump from the burning wreckage of his career by quitting the sport and returning home. In his subconscious mind, Coe is being transported back from his broken sleep in his Moscow bed in the apartment which he shares with 100m gold medallist, Allan Wells, all the way back to Sheffield where has to face his parents, Peter and Angela, and explain his failure in his 11-plus exam. In the aforementioned Born To Run, his mother will refer to him as a "nervous little boy" and he is for all intents and purposes a 23-year-old young man regressing to the insecurity of his childhood.
During the qualification rounds of the 1500m, he receives a "mountain of a letter". Ten pages, in fact, from a man who has scaled the athletic Everest which he is contemplating after his rocky fall over two laps, with 1956 Olympic steeplechase champion Chris Brasher imploring him that, "the only person who can beat you is yourself". If he is, however, a sinking ship, he has refused to jump overboard and seek the safety of the life raft of a quitter. Like a proud and dutiful captain, he has opted to stay and wrestle with a wheel which risks spinning out of control in order to try and turn round the ocean liner of his fortunes during his heat and semi-final.
In a pre-race interview before Friday's final, while dreaming of Olympic redemption, he remains ever the realist by acknowledging that he has a mountain to climb, with London bookmakers offering odds of 11:4 on Ovett. It's hardly surprising, given that the Brighton man is undefeated in a staggering 45 consecutive races over 1500m or the mile, dating back three years to 1977.
Friday August 1, 1980
On a wooden bench on the periphery of the Lenin Stadium track, two men are sat, heads bowed in making sure the laces on their spiked shoes are firmly tied. Both sport tracksuit bottoms as there are still several minutes to go before the forthcoming Olympic 1500m final. Both are nervous as they are within touching distance of each other and can hear each other's breath. Uncomfortable with the silence, the man in a short white t-shirt turns to his left and says to the athlete in the grey long-sleeved sweater, "do you realise we've got a hundred thousand people out there? Imagine what promoters would pay for the race that's just coming up".
Seb Coe grunts an inaudible sound of acknowledgement – he doesn't wish to be rude to Steve Ovett but similarly he doesn't wish to engage. He is staring at the enormity of the task which lies ahead of him, that Everest of a mountain which he slipped and fell from six days previously. If Ovett and Coe were boxers, Coe will not allow Ovett to psyche him out in the manner which Muhammad Ali would attempt to do with Smokin' Joe Frazier during this same sporting era. To the untrained eye, Ovett's casual 'off the cuff' remark gives the appearance of a heavyweight champ of an athlete continuing to exude bucket loads of confidence. Yards away, however, the third Briton in the field, 19-year-old Steve Cram, is observing the interaction and has an alternative reading, maintaining that Ovett's utterances are not the words of a man about to go down in history as a double Olympic champion but rather the verbalisation of his own insecurities. To continue the pugilistic analogy, if Coe and Ovett are meeting centre ring to stare into each other's eyes and souls before the opening bell of their rematch, it is Ovett who has momentarily blinked and looked down, conceding the psychological edge to Coe.
As they are released from the call up area and file on to the track, BBC commentator David Coleman whispers into his microphone, "what rich talent we have in this event, the 1500m, for all three Britons to get through," before continuing to enlighten the millions watching back home about young Steve Cram's parents being on holiday in Germany. But no one is really interested in Cram, for his moments in the sun will appear on the horizon in two or three years' time with a rainbow of European, Commonwealth and world titles. This race is all about two men and despite his magnificent achievement in making a global final, the Jarrow and Hebburn man is not one of them.
The gun goes
Moments later, Coe turns away from the start line for one last staccato step of a jog before sensing that he must take his toes up to the line to do combat with the eight other men surrounding him. The gun goes and before the smoke has cleared, Coleman's tongue fires – "Straub on the inside, going away and holding the kerb". After the initial alactic surge and inevitable jockeying for position, the pace settles and the man who will present for the BBC for no less than 46 years observes that "Sebastian Coe cuts across from the outside and Steve Ovett tracking Sebastian Coe".
In what Seb Coe will describe as, "cold analytical factory language", the aforementioned Peter Coe has read his son the proverbial riot act after a semi-final hiccup which could have seen him blocked off and reduced to an unwilling spectator in today's race. Coe senior has demanded, "I don't care if Steve Ovett runs off to the shitter, you are in there with him before you've even realised you've left the track". But at this early stage, it's the Brighton man following Seb to the washroom, rather than vice versa.
Fifteen seconds into the race and Coleman observes, "again it is a reluctant pace. No one really wants to take it on". Editor of AW, Mel Watman, will describe it as a "shuffling beginning". Seconds later and with the East German Jurgen Straub heading a field which is clicking its heels, Coleman tries to be a bit more upbeat with his observation that, "Straub being forced in front and Sebastian Coe just putting a bit of pressure on the outside".
The race is not 200m old as the BBC front man for the second time offers the analogy of Ovett as bird of prey. His allusion to the fourth-placed man wearing 279 on his vest as, "watching Coe like a hawk" paints another layer on Ovett's technicolour dream coat of invincibility. Ovett is subliminally presented as a superhuman tetrachromat who is blessed with the kind of eyesight which allows him to tactically navigate through the darkest of woods which Coe will always get lost in.
With 250m gone in this most uneventful of Olympic finals thus far, Coleman depressingly observes that, "the pace is very slow indeed" but offers impatient viewers the carrot that, "it's going to be last to the fast men in the closing stages as we suspected". He then turns apologist and as a once promising miler himself, explains to those less initiated in the finer points of track and field that, "no one wants to sacrifice a chance of a medal. There's no front runner involved in this race at all".
As they pass the marker with 'three laps to go', Coleman continues, "and it really is a jog". Coe is on the shoulder of the reluctant leader Straub, while Ovett momentarily drifts back to sixth as 400m is reached in a pedestrian 61.82, prompting the alternative ITV commentary team to draw parallels with the kind of pace they expect to witness in the forthcoming women's 1500m final. If Ovett the hawk has momentarily drifted off to sleep due to the sedentary pace, he's back wide awake with his eyes fixed on his prey as Coleman notes "Steve Ovett, moving through to cover Sebastian Coe".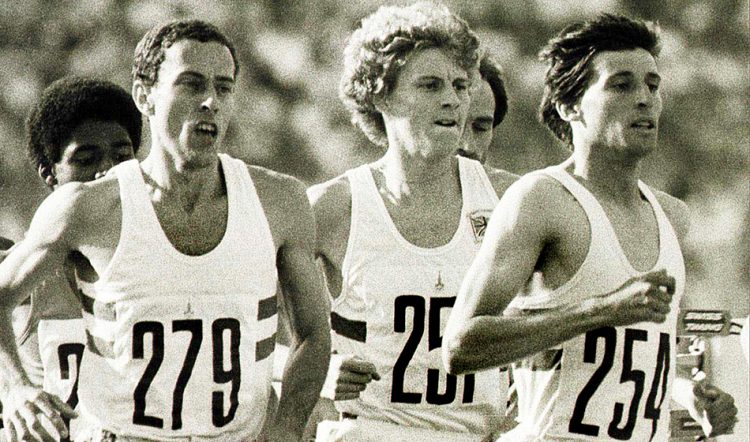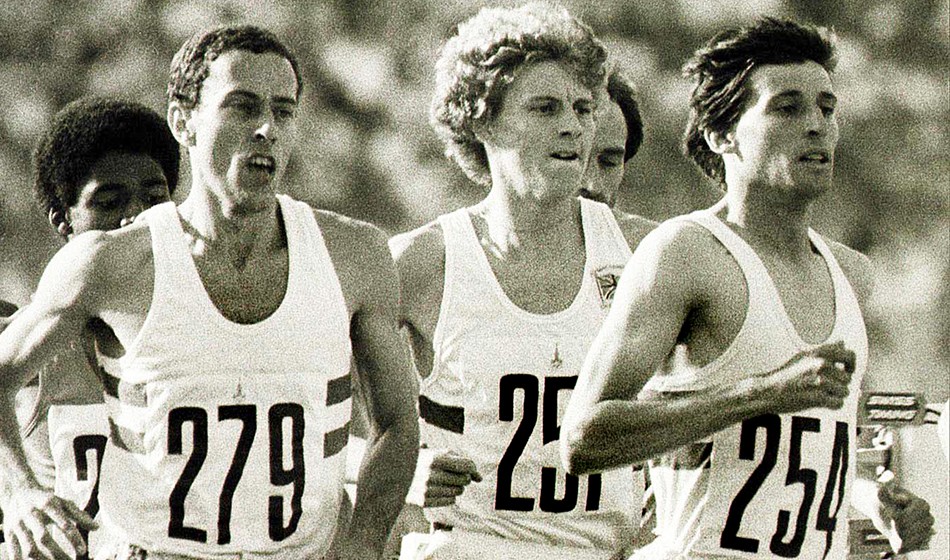 With 500m gone, Coe's unhealthy but career-long habit of looking over his shoulder prods Coleman to offer a more sinister analogy – "Coe just checking where everyone is but he's being stalked by Ovett." He adds: "They seem to be going even slower so it's turning into a half mile race and we are back where we were several days ago".
As they enter the home straight for the penultimate time, Coleman turns patriot, reminding flag waving viewers that the collective 'we' have, "three Britons together – 2, 3 and 4". This narrative will reach its climax on the last lap of the Los Angeles Olympic 1500m final four years later and it's the precursor to the holy trinity of reverence to the collective of Ovett, Coe and Cram.
The 800m mark is passed in an almost embarrassing 2:05.05 and Coleman instantaneously is a man alive as he wakes up to the fact that, "Straub can't wait any longer. He knows the Britons have got the finish so he's got to go". The sudden surge in pace kick starts what Watman will in AW describe tongue in cheek as, "the Olympic 700m championship".
If Ovett and Coe are the Ali and Frazier of this fight then Straub is the proverbial heavyweight contender who lacks the one punch knockout of a sprint finish and is attempting to take the sting out of his opponents. He is hoping the strength endurance gained as a former steeplechaser will take him to the title on points. With a shrug of the shoulders, the East German will later admit: "They were all faster than me over the short sprint. So I had to work something out." With the benefit of hindsight, in his 1984 autobiography Ovett will recall that Straub, "was the man who grabbed that race by the scruff of the neck and pulled us round". With reference to the race rather than the man, Pat Butcher in The Perfect Distance will write that, "the torpor was suddenly shattered". Peter Coe as coach will admit to "whoops of joy" as he realises that no one is better equipped to operate off what has effectively become a 1:46 800m pace, than his son. The tabloid press may have caricatured Coe as having run like a turkey six days previously but to further the festive analogy, Seb himself will laugh that, "it was Christmas come early. We had two warm-up laps and an 800m".
Coleman is now commentating on what he perceives to be a real footrace and not the weekend stroll which he has repeatedly apologised for, offering that, "Sebastian Coe in second place and he's very comfortable".  In contrast to the 800m final, Coe will recall, "it was a very smooth race. I was able to do what I'm best at – running freely and uncluttered, thanks to Straub". Watman will tell of his witnessing of a materially different athlete to the one who trudged off the track, head bowed, last Saturday, maintaining that, "instead of the hesitant near-novice of the 800m final here was a man in complete control".
During these mid race stages, while his body will be rooted on the Red Lenin track in Moscow, Coe's mind is floating free and loose to a country road back in Sheffield, which he has covered hundreds of times in effecting back to back 800m repeats. "Although I was running in an Olympic final, to all intents and purposes I was out there on the Rivelin Valley road, with the old man in the car breathing down my neck". If his father has metaphorically breathed down his neck in recent days, with 550m to go Coe realises that it's the man who has thus far beaten him on all three occasions that they have met, who is literally breathing down his neck, and Coleman reaffirms his bird of prey analogy with, "Ovett watching Coe all the time".
The long run for home
1200m is passed in a now somewhat more respectable 2:59.44 with Coleman signifying that, "the long run for home is on. Straub kicking again". The camera pans on to the facial expressions on the front three which betray the fact that they are now hurting after a third lap covered in an unprecedented 54 seconds. At this point, Steve Peters' monkey on Ovett's hawk-like shoulder is telling him that in keeping his unbeaten streak over this distance intact he has run, "far faster and harder than I had hoped", in recording 3:36.8 to hold off the challenge of Straub in the opening round. It's a question not only of whether Ovett has the legs but whether he has the will to hunt down his prey and go for the kill. He will admit in his autobiography to being, "overcome with the feeling that I should not be there, that I had done my job and that was that" and the fight with his inner conscience is just as big as his battle with the acid building in his legs due to Straub's now remorseless pace. Writing his preview in AW, Watman hits the nail on the head with his observation that, "with both men so evenly matched physically, it will, in the last analysis, come down to mental resolve".
With 230m to go, Coleman is still unshakeable in his conviction that the hawk Ovett is, "watching Coe all the way," with Coe later admitting to being acutely aware that his arch rival has the ability to, "historically put me in a box".
200m to go and Coleman salivates that, "this is the strike we want to see, can they outsprint each other? Which one is the faster?" This is the 'big moment' Coe will allude to 32 years later in Running My Life, where he will remind his readership that, "when it came to the big moments, they said I hadn't got it". The enormity of this moment for both athlete and human being cannot be overstated. Indeed in recent years, 1976 Olympic 10,000m bronze medallist Brendan Foster, who is witnessing the unfolding of the drama first hand as a GB team member in Moscow during the twilight of his career, will go so far as to say that without the seizing of this 'big moment' there will be no Lord Sebastian Coe and no London 2012 Olympics. The 'failure' of a second consecutive silver will see Coe return to his role as a research assistant at Loughborough University and sink into obscurity after quitting international athletics to put his degree to more appropriate use.
With 150m remaining, Coleman notes that it's "Ovett in the pulling position coming up to attack. There will be no waves I suspect today to the crowd". If Ovett has taken on hawk-like qualities in the last three and a half minutes, with 100m to go, Coe is subliminally likened to an owl with his head seemingly turning 180 degrees to look back at his pursuer. Coleman screams "and there goes Coe. He's looking for Ovett, wondering where he is and he's right there behind him." At this point something truly magical happens – it's the kind of moment in sport that takes your breath away as you mutter 'how on earth did they do that?' With 80m to go, the owl-like Coe gives a nod to British Milers' Club founder, Frank Horwill, and his multi-paced system by demonstrating a 'double kick' – the ability to sprint again off a pace already too hot for most to handle. In The Perfect Distance Butcher will recall that, "Peter Coe had seen it as the missing piece to the puzzle. And Seb was going to slot it into the final space".  For those watching Seb's final piece to complete the jigsaw is every bit as compelling viewing as the first time one remembers seeing a 'Cruyff-turn' in football or an 'Ali-shuffle' in boxing. It gives him a vital couple of yards over Straub and third-placed Ovett. This being said. while Horwill's adopted system offers five gears, Coe will admit to the mental agony of those final few strides before the electronic clock stops at 3:38.4, conceding that, "if Steve had made it back to my shoulder, he would have gone on to win. I had run out of gears".
The finish is in sight
With the finish line looming, Coleman suddenly realises a monumental upset could be on the cards, his voice rising with the statement that, "Ovett gathers himself on the near side, Straub on the far side. And could this be Ovett's first defeat!?" It's now or never for Ovett if he is to go down in history with Peter Snell and Mel Watman will affirm the psychology of the drama in reflecting that, "with a gold medal already tucked away the race was not so much a matter of athletic life and death for him as it was to Coe". Ovett as hawk-like bird of prey may be hungry for gold but having eaten out on his 800m victory of last weekend, he is not as starving as the hunted who has double kicked to escape his claws. Coleman cannot believe the drama which is unfolding before his eyes and he shockingly declares that, "Ovett is in trouble." Ovett seems at this late stage to have abandoned the hunt for Coe in settling for bronze and will reflect that, "Seb had so much fear of defeat in him that he got past Straub and I could not". Coleman's voice reaches a crescendo with the sentence that, "Coe gets the revenge he wants".
'Ecstasy', 'elation', 'euphoria', 'revenge' and 'vindication' are all words Coe himself will use to describe his feelings captured in one of the most iconic images of our sport (pictured, top), which is comparable to Bob Beamon's wide eyed amazement while mid-air over a Mexico long jump sandpit back in 1968. This being said, no one word quite captures the essence of Coe's innermost emotions as much of that of the 'relief' which he will repeatedly refer to over the years. The man so nearly martyred by the arrows of the tabloid press will prompt Pat Butcher to compare him with the early Christian Saint Sebastian (AD 256 – 288) in terms of the moment of his crossing of the line being representative of his, "crucifixion scene". Armed with a Union Jack, Peter Coe is preparing to race on to the track to embrace his son and will further the biblical analogy by telling the arrow firing media, "you've seen an athlete come back from the grave". It's a miracle that he has resurrected his career with a phenomenal 1:33.5 for the last 700m. This is clearly a profoundly spiritual moment for the man who is now on his hands and knees on the track, appearing as if he is about to take Holy Communion after a confessional.
If you feel that the biblical analogy is being stretched a little too far, it's worth considering that Coe's repeated response of, "oh Christ!", when he is later asked by Ron Pickering in an immediate trackside interview when he will race Ovett again, will invoke the wrath of the Bishop of Durham for his profanity. Meanwhile, back on the track, the maker but not the master of the race, silver medallist Straub, attempts to congratulate him but Coe is no longer in Moscow, nor is he running on the Rivelin Valley road back home. Spiritually, he is back at Lougborough University receiving his degree certificate in economics and social history. He will say, "it was just like I'd felt after getting my degree. I had done it and I would never have to do it again". He had failed the 11-plus of the 800m final but come back to graduate with a 1st over 1500m and the honours degrees between himself and Ovett were now even.
Over the years, a minority have naively suggested that the manner of Coe's celebrations were perhaps a little too self-indulgent. Butcher understandably disagrees in making the case that, "he had not only won the race; he had won back his life". Coe himself will simply say, "winning the 1500m final at Moscow changed everything". He can go on to enjoy the rest of his career and will break multiple world records once more in 1981, become the only man in history to retain an Olympic 1500m title four years later in Los Angeles and retire from international athletics at his moment of choosing in 1990. A successful political career awaits as does his eventual rise to the summit of our sport as the most powerful man in world athletics.
Back on that Moscow track on August 1, 1980, as Coe awakens from his spiritual retreat, Ovett offers genuine congratulations with Watman noting that his, "sporting demeanour in defeat will have won him many friends". Coe's wide armed crucifix position has given way to wide armed aqua-planing as he flies round a well-earned lap of honour with Coleman shaking his head and reminding viewers that, "hardly anyone would tip him for this race but you don't become a bad athlete in a week". With Coe milking the celebrations, Coleman makes reference to the travelling British contingent of support and eulogises that, "the flags are out and no wonder – the medals shared".
If Moscow finished as a score draw between Ovett and Coe, then both had won by netting away goals while in Europe. There would be constant calls for replays but the matches would be few and far between and in Los Angeles four years later, the pair were not felt to be kicking balls on a level playing field due to Ovett's obvious and distressing succumbing to illness. 'Always leave them wanting more' or so the old adage goes. Track and field 'stattos' will point to diligently inked record books which show 4-3 in terms of career wins in favour of Coe, whereas for many fans of both men, only Moscow matters and a one-all draw is where the final whistle is blown with there being no need for extra time. Last word to Butcher, whose epic book details how they both inadvertently found their perfect distance in Moscow – "They were good enough to win both, but too good to lose both."
» Matt Long is a former winner of the British Milers' Club Horwill Award for Coach Education Research and author of more than 250 coaching articles. He can be contacted at [email protected]
» For more on the latest athletics news, athletics events coverage and athletics updates, check out the AW homepage and our social media channels on Twitter, Facebook and Instagram