Steve Smythe looks back over the incredible career of Britain's best ever distance runner
Mo Farah won a thrilling 5000m at Thursday's Weltklasse Zürich Diamond League meeting and with that he bid farewell to the track as he switches his focus to road racing.
Here are my choices for his 20 greatest races.
1 10,000m: Rio 2016: 1st 27:05.17
Farah won with the fastest ever Olympic second half of 13:11 – a time that would have won 19 of the previous Olympic races over 5000m.
A 55.37 last lap and 1:56.61 800m are also impressive but the reason the win was most notable was that Farah sustained a fall in the first half. It looked as if it had an effect as he unusually lost the lead 300m out as Paul Tanui attacked but he came back in the straight to win by 0.47 of a second. It was the Kenyan's third successive global medal.
2 10,000m: London 2017: 1st 26:49.51
It was one of the fastest and greatest championship 10,000m races in history as the first seven bettered 27 minutes.
Farah won with a relatively modest 55.63 last lap but it came at the end of a gruelling 13:13.31 second 5000m and he won by 0.44 of a second from Uganda's Joshua Cheptegei who looks like Farah's natural successor.
Farah stretched his unbeaten record at the distance to six years, he came within three seconds of his European record and it came despite tripping and nearly falling twice on the final lap.
3 5000m: Beijing 2015: 1st 13:50.38
Though he won in his slowest global winning time and by the biggest margin of 1.37 seconds, this was one of his hardest ever races. The reason was world indoor and Commonwealth champion Caleb Ndiku taking it to Farah like no other runner before or since by blasting a 56-second penultimate lap. He could not quite sustain it and the Briton, who looked in difficulty at one stage along the back straight, produced a 52.6 last lap to go past with 75m to go.
His longer speed was even more impressive – 80.5 for the last 600m was quicker than 800m winner David Rudisha managed in his gold medal run and his last 800m of 1:49.4 and kilometre of 2:19.20 were unprecedented in a 5000m.
4 1500m: Monaco 2013: 2nd 3:28.81
He didn't win but of all of his runs, this is the one that probably caused the most shock and must have perplexed all his rivals. This is the one that suggests he should not yet be focusing on the marathon!
Asbel Kiprop, going through 1200m in a staggering 2:45.91, won in 3:27.72.
Behind him Farah, seeking speed, was equally remarkable and finishing strongly he set a five-second PB and astonishingly beat Steve Cram's British and former world record (3:29.67) and Fermin Cacho's European record (3:28.95).
He closed on Kiprop with a 55.1 last lap and ran 2:47.8 for his last 1200m to go sixth all-time in the world at the time, far in excess of his position at his specialist events.
5 5000m: Zurich 2017: 1st 13:06.05
It was not fast but it was his narrowest ever win and showed his winning mentality and fighting spirit. The significance was that was his last track race and he was up against the man who defeated him earlier in the month in London and indeed the top six from that race. This time he held the kerb throughout the vital last few laps and he gave everything to hold off Muktar Edris in a thrilling 52.61 last lap.
He was not sure he had won when he finished, as he was four hundredths of a second clear of Edris, who threw himself across the line. Both the first two were baulked by London medallist Paul Chelimo. Chelio, who pulled Farah back, was disqualified after initially being second.
6 5000m: Rio 2016: 1st 13:03.30
After a hard 10,000m and a fall, any hopes that Farah would get an easy race were dashed by a good paced event and it was easily the quickest of all his championship 5000m races.
Despite the fast pace, it also finished fast as Farah produced the quickest ever Olympic final kilometre of 2:23.94. A 52.83 last lap and 1:52.65 last 800m showed his kick was not diminishing.
He again controlled the race. Surprisingly it was USA's former Kenyan Paul Chelimo who followed him home 0.60 of a second back, after surviving an initial disqualification.
7 5000m: Daegu 2011: 1st 13:23.36
He had lost the 10,000m in the straight but this time ran a better tactical race, holding the inside on the last lap and repelling a back straight challenge from Dejel Gebremeskel, who overtook him but could not get the inside. His last lap of 52.6 gave him Britain's first global 5000m title since the 1900 Olympic team race!
Behind him, Bernard Lagat finished equally quickly to be 0.26 of a second back and win his third successive medal.
8 10,000m: Moscow 2013: 1st 27:21.71
There were worries when Farah, ahead in the last few laps, was closed on menacingly by Ibrahim Jeilan in the last 200m, just as he had when beating him two years earlier.
This time though Farah was ready and in control. He pulled away comfortably with a 12.82 final 100m. His last lap was 54.41 and he won from the Ethiopian by 0.52 of a second.
9 5000m: London 2012: 1st 13:41.66
Farah went into this race as a big favourite as world champion and Olympic 10,000m winner and showing no signs of pressure as an 80,000 home crowd roared, he again controlled and delivered the perfect race, winning by 0.32 of a second from Dejen Gebremeskel. His last lap was a superb 52.94 and the long drive for home included a 2:56.25 last 1200m.
10 10,000m: London 2012: 1st 27:30.42
On a historic 'Super Saturday' for British athletics, as Jessica Ennis and Greg Rutherford also won gold, Farah won his first global 25-lap title.
He was facing a field that did not include his Daegu conqueror Jeilan and he won with reasonable ease, being chased home by training partner Galen Rupp of the USA. With the home crowd roaring, his last lap was 53.48 and he won by 0.48 of a second.
His predecessor as the world no.1, Kenenisa Bekele, finished a close fourth behind his younger brother Tariku.
Farah became the first Briton – male or female – to win an Olympic distance-running event, following silver medals from the likes of Pirie, McLeod, Ferris, Harper, Richards, Heatley, Sly and McColgan.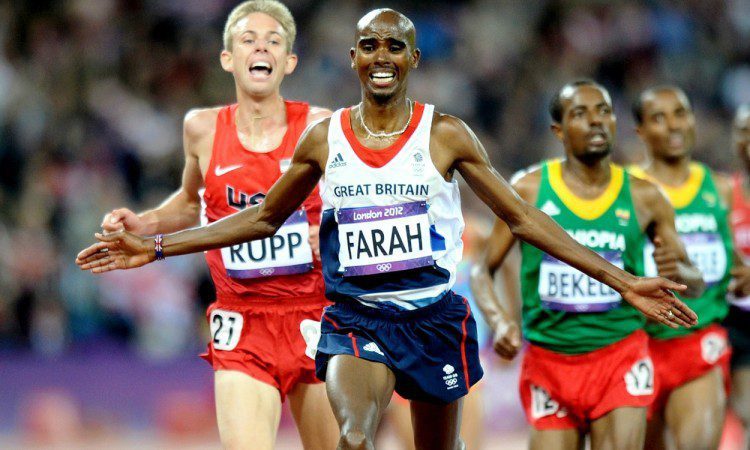 11 10,000m: Beijing 2015: 1st 27:01.13
The first 5000m was a solid 13:40.82 but in the second half the three Kenyans pushed on and Farah needed a sub-13:20 second half to overcome the opposition. He won with a 54.14 last lap and fought off the challenge of world cross-country champion Geoffrey Kamworor, who was to get his revenge in the world half marathon championships.
Farah ultimately won by 0.63 of a second, with his biggest danger coming from being clipped by Kamworor on the last lap.
12 5000m: Moscow 2013: 1st 13:26.98
It was a business as usual as Farah controlled the last 600m and he completed a 2:22.12 final kilometre and 53.44 last lap to win by 0.28 of a second from Ethiopian Hagos Gebrhiwet who beat Kenyan Isiah Koech by a thousandth of a second to take silver.
13 10,000m: Eugene 2011: 1st 26:46.57
The race that proved Farah could win world titles came in Eugene. He produced a 42-second PB that was an European record, took half a minute off the British record, and defeated a top class field that saw the top nine break 26:56.
He gently moved through the field and then controlled the race with a 2:30 final kilometre. Despite the African quality – every other finisher was Ethiopian, Kenyan or Eritrean – Farah won easily, close on two seconds from Imane Merga.
14 5000m: Monaco 2011: 1st 12:53.11
He had proved it over 10,000m in Eugene in June but he underlined his new superiority with his best win ever over the distance in a rough race. A 53-second last lap comfortably held off 2007 world champion Bernard Lagat. Though the race pace was described as slow by commentator Steve Cram, he was never to run faster.
It was a UK record, improving his time from Zurich the previous year when he was fifth in the first British sub-13 minute run.
15 10,000m: Daegu 2011: 2nd 27:14.07
The race that finally saw Farah on the global podium was a frustrating one but it may have led to more success in later races. The Briton surged ahead at 600m and had a clear lead at the bell but he had attacked too early and, decelerating and a clear target, he could not respond when Ibrahim Jeilan kicked past in the last 25 metres. In his later races he held back to ensure he could respond again in the last 100m. His last lap was 53.37.
16 5000m: London 2017: 2nd 13:33.22
Not helped by having run a fast and gruelling 10,000m and going up against fresher rivals, Farah lost his first major outdoor track distance race for six years. He still ran a 2:21 final kilometre and ran five minutes for his last 2km. Though he lost, Farah gained admiration for the way when he fought tooth and nail to ensure he at least got a medal even when the win was beyond him. Muktar Edris, 11 years his junior, beat him by the Farah-esque margin of 0.43 seconds.
17 5000m: Barcelona 2010: 1st 13:31.18
Farah's first senior championship 5000m gold was one of his best. Having already won the European 10,000m a few days earlier, he was up against Jesus Espana who had beaten him in 2006 in a cracking race. Espana edged him by 0.09 of a second in Gothenburg.
Four years later, he ran the penultimate lap in 59.15 and the penultimate 200m in 28.6 but still had Espana and Hayle Ibrahimov on his shoulder. However, Farah still had more and a 27.1 last 200m broke the opposition and he won by two seconds from Espana.
18 2 miles indoors: Birmingham 2015: 1st 8:03.40
You would have been hard pressed to put any of Farah's non championship domestic races in even his top 50 after he topped the world, as nearly all were a foregone conclusion and lacking serious opposition.
After a war of words during the week with Andy Vernon, who pointed out the lack of genuine rivals, this time his opposition was the clock.
After being towed around the first mile in a too slow 4:03.9, he ran a solo 3:59.5 final mile to take nearly a second off Kenenisa Bekele's world record, set in the same stadium seven years earlier.
19 1500m: Monaco 2015: 4th 3:28.93
It was not a PB and he only finished fourth in a race won by Asbel Kiprop in a near world record 3:26.69.
The run was laughably even perceived as a failure by some but it was another stunning short distance performance, superior to most of his wins.
His time was better than any other European bar himself had ever run and in his wake were the future world and Olympic champion Elijah Manangoi and Matt Centrowitz, plus Olympic medallist Nick Willis.
20 5000m: Grosseto 2001: 1st 14:09.91
Of all his successes, it is safe to say this the European junior title was his most overlooked of victories.
It was easily overlooked among his 300 odd races on the Power of Ten website as it was down just as a race in Grosseto and not a European junior victory until AW pointed it out.
He won by almost two seconds from Portugal's Bruno Saramago. The Portuguese had a less auspicious career peaking with a 13:59.20 in 2004, ultimately well under a minute slower than Farah was to run.
Farah's track medals – 17 gold, 5 silver
2001: European Junior 5000m: gold
2003: European U23 5000m: silver
2005: European U23 5000m: silver
2006: European 5000m: silver
2009: European Indoor 3000m: gold
2010: European 5000m: gold
2011: European Indoor 3000m gold
2011: World Champs 10,000m silver
2011: World Champs 5,000m gold
2012: European 5000m: gold
2012: Olympics 10,000m: gold
2012: Olympics 5000m: gold
2013: World Champs 10,000m: gold
2013: World Champs 5000m: gold
2014: European 10,000m: gold
2014: European 5000m: gold
2015: World Champs 10,000m: gold
2015: World Champs 5000m: gold
2016: Olympics 10,000m: gold
2016: Olympics 5000m: gold
2017: World Champs 10,000m: gold
2017: World Champs 5000m: silver
Other championship performances
1999 World Youth 3000m: 6th
2000 World Junior 5000m: 10th
2006 Commonwealth 5000m: 9th
2007 European Indoor 3000m: 5th
2007 World Champs 5000m: 6th
2008 World Indoor 3000m: 6th
2008 Olympics: heat
2009 World Champs 5000m: 7th
2012 World Indoor 3000m: 4th
Farah's track PBs
800m: 1:48.69 Eton 2003
1500m: 3:28.81 Monaco 2013
Mile: 3:56.49 Crystal Palace 2005
3000m: 7:32.62 Birmingham 2016
2 mile: 8:03.40i Birmingham 2015
5000m: 12:53.11 Monaco 2011
10,000m: 26:46.57 Eugene 2011
Farah's 10,000m record in date order
May 2008        5th        27:44.54          Payton Jordan, Palo Alto
June 2010        1st         27:28.86          European Cup, Marseilles
July 2010         1st        28:24.99          European Champs, Barcelona
June 2011        1st         26:46.57          Diamond League, Eugene
Aug 2011        2nd        27:14.07          World Champs, Daegu
Aug 2012        1st         27:30.42          Olympics, London
Aug 2013        1st         27:21.71          World Champs, Moscow
Aug 2014        1st         28:08.11          European Champs, Zurich
May 2015        1st        26:50.97          Diamond League, Eugene
Aug 2015        1st         27:01.13          World Champs, Beijing
May 2016        1st         26:53.71          Diamond League, Eugene
Aug 2016        1st         27:05.17          Olympics, Rio
June 2017        1st         27:12.09          Golden Spike, Ostrava
Aug 2017        1st         26:49.51          World Champs, London
Average of his top 10 10,000m marks: 27:04.38
The second best time by a British athlete is 27:18.14 by Jon Brown!
He has run 76 5000m races, winning 36 of them.
He has broken 13 minutes four times, has 16 sub-13:10 and 25 sub-13:20 marks.
His top 10 average is 13:01.50. Only Dave Moorcroft (a then world record 13:00.41) has run faster amongst Brits.