Athlete form through the year has been assessed by an international panel of experts to create rankings based on merit
For the 19th year, Athletics International has collaborated with Athletics Weekly to produce an annual statistical review including world top-10 merit rankings.
The selection panel – consisting of Athletics International co-editors Peter Matthews and Mel Watman, with Stan Greenberg and Stuart Mazdon (UK), Mirko Jalava (FIN), Alfons Juck (SVK), A Lennart Julin (SWE) and Ed Gordon (USA) – assessed the year's records of the leading contenders and the ranking order was determined by consensus.
This year the World Championships provided the main focus for competition followed by the Diamond League and World Challenge meetings. As ever the panel was concerned with the quality of athletes' best marks, their consistency, and win-loss records against other ranked competitors.
Below we list the top three in each men's event. The women's international rankings can be found here, while UK merit rankings for men are here and the women's are here. The full top-10 list for every event, including details of the athletes' seasons, appear in our December 21 end-of-year stats special, which is available to buy and read digitally here or order here.
100m
1 Justin Gatlin (USA)
2 Christian Coleman (USA)
3 Usain Bolt (JAM)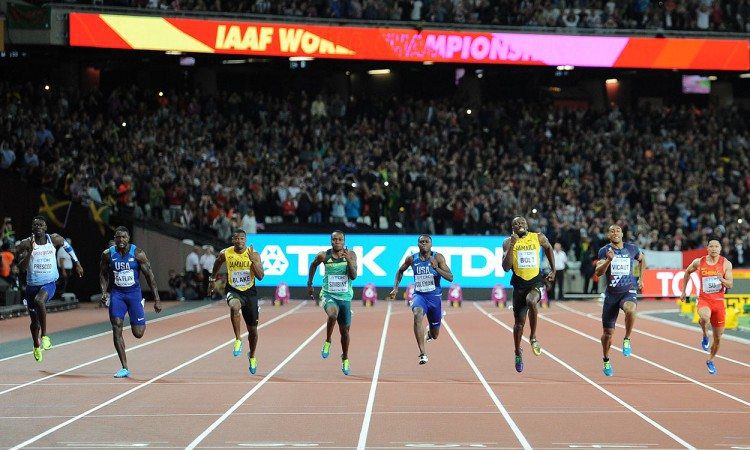 200m
1 Ramil Guliyev (TUR)
2 Wayde van Niekerk (RSA)
3 Christian Coleman (USA)
400m
1 Wayde van Niekerk (RSA)
2 Isaac Makwala (BOT)
3 Steven Gardiner (BAH)
800m
1 Nijel Amos (BOT)
2 Emmanuel Korir (KEN)
3 Kipyegon Bett (KEN)
1500m
1 Elijah Manangoi (KEN)
2 Timothy Cheruiyot (KEN)
3 Ronald Kwemoi (KEN)
5000m
1 Muktar Edris (ETH)
2 Mo Farah (GBR)
3 Yomif Kejelcha (ETH)
10,000m
1 Mo Farah (GBR)
2 Joshua Cheptegei (UGA)
3 Paul Tanui (KEN)
Marathon
1 Geoffrey Kirui (KEN)
2 Eliud Kipchoge (KEN)
3 Tamirat Tola (ETH)
3000m steeplechase
1 Conseslus Kipruto (KEN)
2 Soufiane El Bakkali (MAR)
3 Evan Jager (USA)
110m hurdles
1 Omar McLeod (JAM)
2 Sergey Shubenkov (RUS)
3 Aries Merritt (USA)
400m hurdles
1 Karsten Warholm NOR
2 Kyron McMaster (IVB)
3 Yasmani Copello (TUR)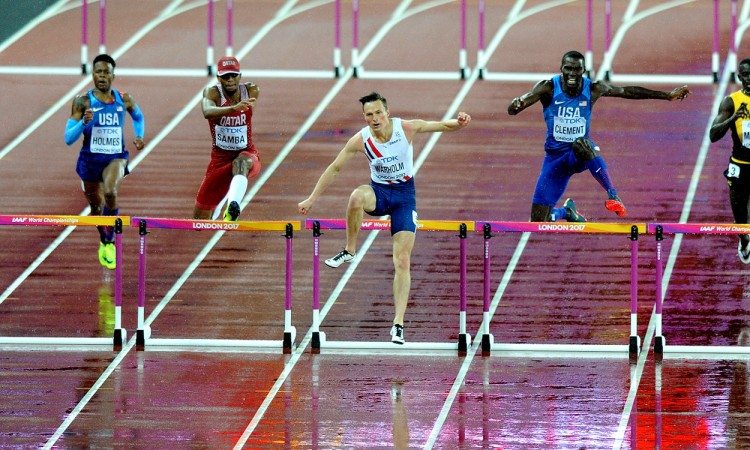 High jump
1 Mutaz Essa Barshim (QAT)
2 Danyil Lysenko (RUS)
3 Majed El Dein Ghazal (SYR)
Pole vault
1 Sam Kendricks (USA)
2 Piotr Lisek (POL)
3 Renaud Lavillenie (FRA)
Long jump
1 Luvo Manyonga (RSA)
2 Rushwal Samaai (RSA)
3 Jarrion Lawson (USA)
Triple jump
1 Christian Taylor (USA)
2 Will Claye (USA)
3 Pedro Pablo Pichardo (CUB)
Shot
1 Ryan Crouser (USA)
2 Tom Walsh (NZL)
3 Joe Kovacs (USA)
Discus
1 Andrius Gudzius (LTU)
2 Daniel Stahl (SWE)
3 Fedric Dacres (JAM)
Hammer
1 Pawel Fajdek (POL)
2 Wojciech Nowicki (POL)
3 Valeriy Pronkin (RUS)
Javelin
1 Johannes Vetter (GER)
2 Thomas Röhler (GER)
3 Jakub Vadlejch (CZE)
Decathlon
1 Kevin Mayer (FRA)
2 Rico Freimuth (GER)
3 Damian Warner (CAN)
20km walk
1 Eider Arévalo (COL)
2 Sergey Shirobokov (RUS)
3 Christopher Linke (GER)
50km walk
1 Yohann Diniz (FRA)
2 Hiroki Arai (JPN)
3 Kai Kobayashi (JPN)
» For the full top-10 list for every event, including details of athletes' seasons, see the December 21 stats special edition of Athletics Weekly, which is available to buy and read digitally here or order here
» Peter Matthews and Mel Watman are joint editors of Athletics International. For more information on receiving the Athletics International newsletter email [email protected]