Sprinter insists 4x100m approach is now forcing other nations to think differently
Adam Gemili says Britain's world gold medal-winning 4x100m success last year has changed the way other nations are going about their own relay preparations, with results from a new study further proving that hard team work does pay off.
According to findings recently released by the IAAF, the difference between men's sprint relay gold and silver at the IAAF World Championships in London exactly matched the difference between the amount of time athletes spent in changeover zones.
Second leg runner Gemili combined with CJ Ujah, Danny Talbot and Nethaneel Mitchell-Blake to clock 37.47 in the London Stadium last August, beating the American quartet's time of 37.52 and Japan's 38.04.
Gemili says that for so long people questioned why funding and effort was afforded to the nation's relays set-up and, having secured that success, he now wants to make even more of an impact in individual events, too.
"We put so much effort into the relay, people don't really understand how much work goes into it," he says.
The IAAF study, in partnership with Leeds Beckett University, goes some way to highlighting why that work is important.
The GB team spent the least total time in the changeover zones – 0.05 less than the USA team, and that proved to be the winning margin.
"Their chequered history of disqualification for poor handovers and dropped batons was vanquished by outstanding consistency within the transitions," reads the biomechanical report in part.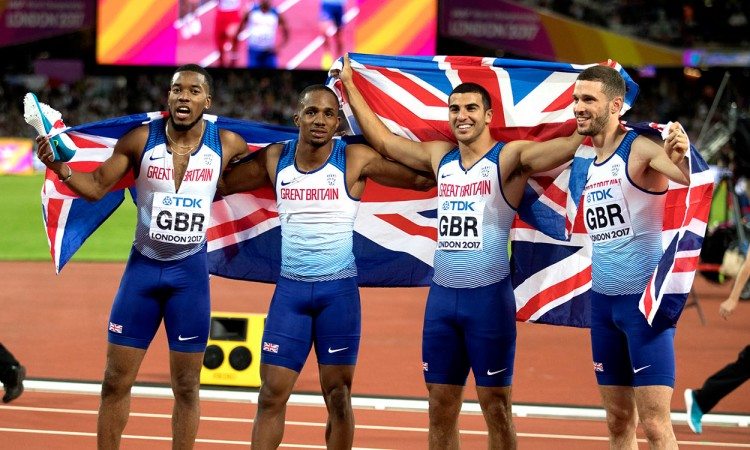 "It is nice for the fans to see that, all the work we do and all the hard work we put in," says Gemili. "When GB get the relay wrong we have been at the brunt of some, I don't want to say abuse, but people always question, 'why are we funding the relay?' 'Why are they putting so much effort into the relay?' After last season we proved why it's worth it and why those practises of changes do matter, because that can be the difference between a gold medal and a silver medal.
"We were all running really quick but the difference did come in the changeovers. Those changeovers don't improve unless you practise them," he adds.
"As a country in Britain we've been very committed to really working at relay camps. We're hearing now all of a sudden the Americans have started doing relay camps, even the Jamaicans, who in previous years have never done that because they have always just relied on their foot speed – they just put the four fastest guys in. Other countries are starting to change the way they look at the relay."
"We put so much effort into the relay, people don't really understand how much work goes into it"
The 4x100m forms part of Gemili's Müller Anniversary Games programme as the 24-year-old continues his preparations for the European Championships in Berlin by competing in the relay and the 200m on Sunday.
His runner-up finish at the British Championships secured his spot for the half-lap event and instead of doubling up his aim is to focus on the 200m and the relay – events in which he claimed European gold medals in 2014 – in Germany.
"I can't wait to go out there and test my body," says the Blackheath & Bromley athlete, who last summer missed out on an individual 200m world championships spot from selectors following a below-par performance at the British Championships after a leg problem.
"If last year had gone to plan, this year would have definitely been a double up season, but I think missing out on an individual last year, I've just got to get back into that rhythm of competing in an individual event.
"I know I'm fit enough to do it now but, especially with what happened at the Commonwealth Games with the 100m (injury in his semi-final), it's better for me just to focus on the 200m at Berlin.
"I know I'm in good shape, I feel like I'm in probably the best shape I've ever been in and I want to go out there and put a performance down I know I'm confident of and I know I should be doing because I've been running really well in training.
"Getting a taste of that (victory) in the relay just makes me more hungry and more confident to go and do it in the individual."