Sports scientists from Leeds Beckett University studied every detail of the men's world 10,000m final in London and Peta Bee reports on their initial findings
Mo Farah's 10th consecutive global title in the London 2017 10,000m didn't come easy as he was pushed by a strong East African contingent. Uganda's Joshua Cheptegei stretched Farah to the line with his time of 26:49.94, with Kenyan Olympic silver medallist Paul Tanui third in 26:50.60.
Farah's victory in 26:49.51 was marginal, but what biomechanical factors led to it? Dr Athanassios Bissas, head of biomechanics at the Carnegie School of Sport at Leeds Beckett University, and his team of 40 scientists were commissioned by the IAAF to study every scientific parameter of the race to discover what, in biomechanical terms, set Farah apart.
The set-up
Ten digital video cameras were placed in the stands around the stadium to record data for 3D motion analysis. The cameras recorded at between 50 and 250 frames per second and the athletes were then recorded on each lap and analysed during laps 5, 10, 15, 20 and 25.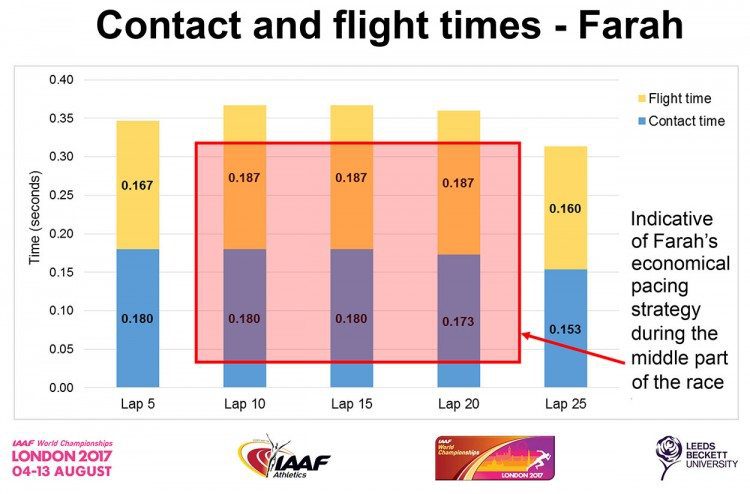 How Farah's race unfolded:
What struck the Leeds Beckett team was how Farah maintained a consistent pace between 3000m and 6000m, in contrast to the runs of Cheptegei, Tanui, Muchiri, Yimer and Kamworor. Bissas and his team suggested it represented a considerable energy saving by Farah and contributed to his ability to accelerate over the final four laps of the race.
On lap 22, the team noted how Farah "tactically prepared for overtaking rivals with a lap of energy conservation" in which he ran considerably slower than the other leading athletes. At the 9200m point, Farah moved through the field at a pace of 23.91km/h to take the lead.
Stride analysis:
Farah had the longest step length of the top six finishers throughout the race with a maximum stride range of over 2.25m reached on the last lap.
Cheptegei almost matched him over the final 400m, but his stride length was below two metres between laps 10 and 15. Of the top finishers, Muchiri's stride was shortest, dipping to 1.75m on lap 15 after a peak of close to 1.95m on lap 10. Using 3D motion analysis alongside the step length calculations, Bissas was able to show that each of the athletes tended to vary their pace by altering their stride length.
Both Farah and Cheptegei recorded symmetrical values of propulsion and braking in their stride pattern whereas the other athletes did not.
Sprint finish:
Having overtaken Tanui at the start of the home straight, Cheptegei was moving faster than Farah with 50m to go. However, detailed analysis from 9950m showed Farah to be moving at 27.11km/h compared with the 27.58km/h recorded by Cheptegei. It enabled Farah to hold on to a 0.43-second victory over Cheptegei.
"Farah's tactics and experience meant he retained the title through optimising his physical abilities," the research team reported.
What it means for coaches
Despite being an arduous endurance event, the leading athletes exhibited running speeds in excess of 25km/h in the final 100m and, based on the data collected, it appears that step or stride length was the determining factor in achieving the medal-winning times.
Taking into account that step time reduced in the final stages, it becomes apparent that sufficient impulse was achieved through the production of large forces at a fast rate.
"Traditionally, endurance training has focused on physiological development," the Leeds Beckett team concluded. "However, attention should also be paid to the development of neuromuscular characteristics in the physical preparation of the elite distance athlete."
» The split data for each 100m were provided by Seiko. The men's 10,000m preliminary report was jointly compiled by the following members of the biomechanics team from the Carnegie School of Sport at Leeds Beckett University including Dr Brian Hanley, Dr Catherine Tucker, Aaron Thomas, Josh Walker and Dr Athanassios Bissas. Full results of the investigation will be published by the IAAF in coming months
» Other analysis in this review series can be found here