Stuart Weir charts the superb career of the world 100m hurdles record-holder
The look of shock on Kendra Harrison's face at the 2016 Anniversary Games in London when she realised she had broken the world record in the 100m hurdles was priceless. It was also the highpoint of a rollercoaster year for her.
Keni, as she's often known, was born in Tennessee and adopted, growing up in a family with 10 other children. She expresses gratitude to the couple who adopted her and speaks of her life in a matter of fact way: "It's all I knew and it's such a great family. We are all pretty close and I love it."
She was sporty, growing up playing soccer and doing gymnastics before finding her way into track.
Harrison recalls: "I did other sports but I kinda fell into track and field. I was a gymnast so it was easy for me to jump over things so I just had the ability to hurdle."
She went to Clemson University, South Carolina, before transferring to the University of Kentucky. As a student she seemed equally proficient at 60m, 100m and 400m hurdles. She is often asked about that versatility, which she sees as something that came naturally. "I came into the sport late and didn't take track seriously until my junior year in high school", she suggests. "That was the first time I had a hurdle coach so I learned all the events at once. I think that's why I was able to do so well, that I wasn't just a 100m hurdler growing up. I did both."
She won the NCAA 400m hurdles and 100m hurdles with the races just 35 minutes apart but as she pointed out, at practice she would often run 100s and 400s in the same session adding: "Two races in a short time was easy because it was all I knew."
Prior to the 2017 World Championships she admitted that she and her coach had a cunning plan – to do both in one championship. "You know that is something my coach and I have talked about," she explains. "But the schedule would need to change because at the moment 100m and 400m tend to overlap."
At Kentucky she was coached by Edrick Floreal who continues to be her coach in her professional career. Harrison says of him: "Coach Flo is amazing. Overall he's a really caring person. He cares about his athletes on and off the track, that's what sets him apart.
"He's also very knowledgeable about the hurdles. He always wants to figure out new drills and new ways to make us faster. He really enjoys it and I think I definitely wouldn't be where I am without him.
"Because of him I've been able to move forward from times in my career when I messed up. He was there every single time and I think that says a lot about him. He cares about my performance on the track but also about me as a person."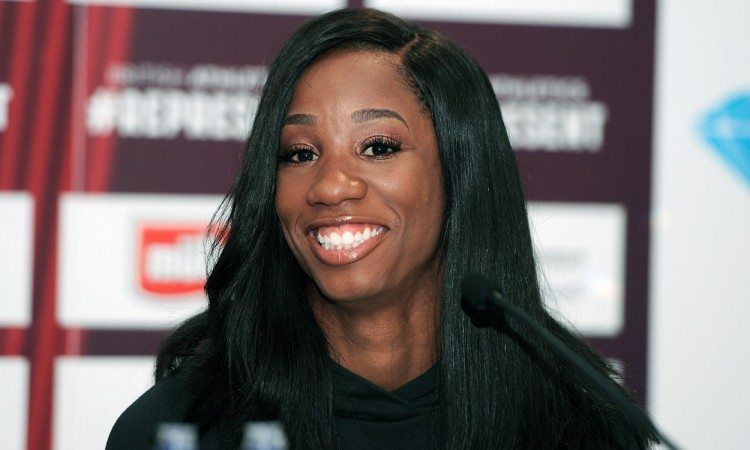 Harrison admits to being a "hurdle nut" who loves studying her event. She explains: "I think being able to understand your event and know how technical it is, helps you know what you need to do to improve."
Her training week has not changed much over the years: "Mondays and Fridays we run a lot but no hurdle technique work. Tuesdays and Thursdays I hurdle. Wednesday I have a day off. It's the same schedule I had in college when I trained with coach Flo as I do now."
In 2015 she came second in the US trials in 12.56 to qualify for the 2015 World Championships in Beijing. Disqualification for a false start ended the championship for her in the semi-final.
Talking to Keni, you constantly see what a positive person she is. Her assessment of Beijing was: "I was young and I was still learning. It was my first major championship. I've tried to look at the positives and I don't dwell on what happened. That it doesn't happen again is all that matters. At each championship I take something from my races, which makes me a bit better."
In 2016 she made the US team for the World Indoor Championships in Portland, Oregon. She was the fastest qualifier but in the final hit the first hurdle and finished eighth.
She started the 2016 outdoor season in awesome form running 12.36, 12.42 and 12.24 to enter the US trials as hot favourite but finished sixth in 12.62 to miss out on selection for the Rio Olympics. When she talks about not making the Olympic team, one is struck by how she doesn't blame the rigid US selection process or anything else but takes responsibility herself. "I didn't give it all I had at US," she says. "So it's only my fault. That's a lesson I've learned.
"What you got to do is to compete under pressure. The girls who got the Olympic slots went out and ran 100%. I did not rise to the occasion and that is my fault."
In a more reflective mood, she added: "I don't think I would want to change the past because not making that Olympic team made me hungrier for the next race and perhaps that was why I was able to go out and break the world record.
"I just had so much inside me and so much that I knew I could do. At the time it was tough not making the Olympic team but overall it was part of my plan.
"Each time I mess up I try to go back to practice and fix it. Track and field is 90% mental. So if you're negative and hard on yourself it's harder to move on and harder to succeed in the sport."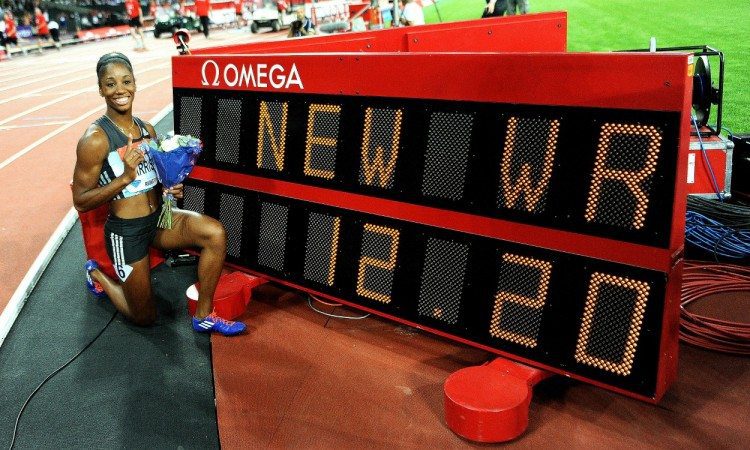 Another factor in dealing with disappointments is her Christian faith. "This sport has enabled my Christian faith to grow," she says. "Having my faith has enabled me to get up so many times when I've fallen in the sport. Without this gift that God has given me I wouldn't be where I am now."
When the Rio Olympics did not happen for her, she and her coach decided to target the world record of 12.21, set by Yordanka Donkova in 1988. After all, she had run 12.24 earlier in the year.
The world record run in London was, she says, "really special. To get up after you have fallen. I'm not going to lie. I came to London nervous but after the prelim my coach told me to give it all I've got and I am really happy and all the glory goes to God. It's awesome to hear everyone cheer for you and to perform that in front of them was special."
In the race Harrison dipped under the timing beam which therefore recorded the time of second place, showing 12.58. Seeing the time, Harrison thought she had gone a lot faster and recalls: "I was shocked to see 12.5 on the board but then to turn around and see 'world record'. That was why I was so shocked."
Still chasing a first championship victory, she reached the final at London 2017 but could only finish fourth. Her assessment of the race was characteristically honest: "For someone who rarely hits a hurdle, to hit five in a row was strange. It threw me off and I wasn't able to run the way I know I can. But it was the first final that I ever made and I take it as a learning experience."
She finally won her first championship at the World Indoors in Birmingham. Reflecting a short while later, it was the snow that first came into her head! "I enjoyed Birmingham except the weather which was very cold," she says.
"I liked the competition; I liked the facilities. I think going there and running well helps me mentally as well as physically because the faster I can do the first five hurdles, the faster my outdoor season will be. Overall it is a great event for me."
Away from the track, she describes herself as pretty normal. "I like to do what young adults do. I like to shop, hang with friends. I sleep a lot. Yes, I think that's what I do – shop, hang with friends and sleep."