Titles and European Cross Country places decided on an action-packed day in Sefton Park
Jess Judd and Ben Connor grabbed the attention and booked their places on the Great Britain team bound for the European Cross Country Championships by taking victory in the senior races of the UKA Cross Challenge in Liverpool.
Both ran aggressively over the increasingly heavy Sefton Park turf and their efforts were rewarded not only with victory but also a spot on the plane to Lisbon in two weeks' time.
There were a number of fine performances across a packed day's racing.
Women's events
Jess Judd clearly surprised herself with what ultimately proved to be a convincing victory over a top class field. The Blackburn Harrier enjoyed a winning margin of 10 seconds over last year's winner and pre-race favourite Charlotte Arter, covering the 8.1km course in 28:22 as last year's winner clocked 28:32, with Milton Keynes winner Kate Avery third in 28:40 and Amy Griffiths taking the last of the four automatic qualifying spots for Lisbon thanks to her run of 28:43.
Recent AW cover star Arter has been in fine form, winning the Abbey Dash in 31:35, as well as last month's Cardiff Cross Challenge and coming seventh at the Atapuerca cross country event in Spain.
Judd has been no slouch, either, coming fourth on the roads in Leeds, and when she found herself at the head of affairs in Liverpool and easing away from Arter and Avery, it was clear there was going to be a new winner.
"I'm a bit shocked," said the GB world championships 5000m representative. "I was really worried I'd got the course wrong or something because I was up at the front and I really wasn't expecting it. I was never meant to lead at any point so on the last lap it was really hard. I felt really good apart from the last 500 metres but I managed to hold on and I'm over the moon."
A delighted @jessjuddxx chats with @euancrumley after her Liverpool Cross Challenge and Euro Cross trials win. pic.twitter.com/tFp0jJdRNH

— AW (@AthleticsWeekly) November 23, 2019
The top four under-23 athletes also qualified automatically for the age group race in Lisbon, with Leeds City's Bronwen Owen first to grab her spot after finishing seventh in a time of 28:57. Last year's junior women's winner Cari Hughes (29:35) was next, in 14th, followed by Bracknell's Amelia Quirk (16th in 29:39), one place ahead of Ribble Valley's Eleanor Bolton (29:42).
In the u20s women's race, Cardiff winner Saskia Millard continued her rich vein of form as she won an excellent battle against Newbury's Izzy Fry to win by a second over the 4.4km course in 15:32. A place in the top five brought with it a place on the European championshsip team and Megan Keith followed in 15:34 from Amelia Samuels (15:41) and Olivia Mason (15:47).
Fife AC athlete Anna Hedley was the first u17 home in 15:59, well ahead of Rushcliffe's Maya Todd McIntyre (16:30), while East Kilbride's Hannah Anderson was third in 16:35, seven seconds ahead of Shaftesbury Barnet athlete Freya Stapleton.
Kiya Dee won the 3km long U15 girls' race in 10:59, while Chiltern Harrier Zoe Gilbody was u13 winner over the same distance in 11:06 and Molly Carvell took the u11 honours in 7:30 over the 2km course.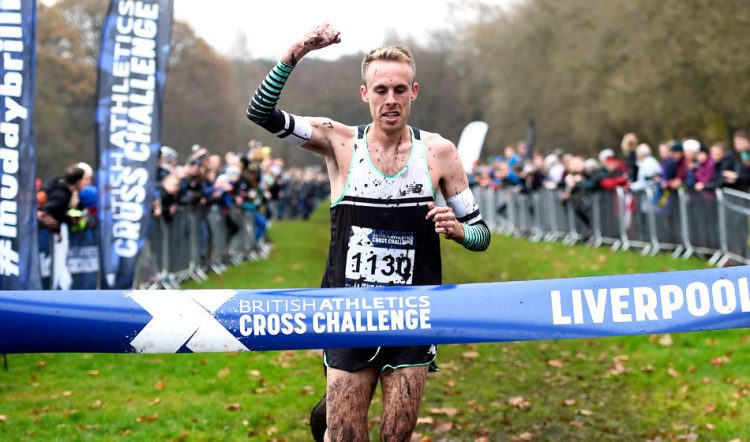 Men's events
Ben Connor won the senior men's race in 2017 but injury ruled him out of defending his title last year. The Derby athlete set off as if he had a point to prove, hitting the front from the very early stages and holding that position right through to the tape, which he broke in a time of 30:22 after 9.8 leg-sapping kilometres.
He was pushed hard for much of the race by Southampton's Mahamed Mahamed, who was second overall and the first U23 across the line, five seconds behind. Third place went to Kent's Alex Yee, who will add great strength to the U23 Lisbon line-up, in 30:35, while Adam Hickey, a marathon debutant in Berlin in September, was fourth in 30:50.
Fifth-placed Emile Cairess was the third U23 in 31:00, while Sol Sweeney's 31:32 for 10th secured him the final automatic spot in the younger age group team.
The seniors' top four was completed by ultra runner and 2018 trail world championships medallist Tom Evans (sixth in 31:03) and Kris Jones, who was two seconds behind in seventh.
"I came here to get the job done, qualifying for the British team going to the Europeans, and the win is an extra bonus so I'm really happy," said British 10,000m champion Connor. "I had a really bad injury throughout the winter and I couldn't defend my title so it's nice to come back this year and right the wrongs."
.@bdconnor reflects on his win at a muddy Liverpool Cross Challenge and Euro Cross trials and looks ahead to the champs in Lisbon @euancrumley pic.twitter.com/IW8czhJwUg

— AW (@AthleticsWeekly) November 23, 2019
Matt Willis was 14th in the Euro Cross junior men's race in Tilburg last year but will head to Lisbon full of confidence and with medal aspirations. His confidence certainly doesn't look to be misplaced, given the Milton Keynes winner's performance in Liverpool.
The Loughborough-based triathlete covered the 6.7km course in 21:13 to win by 15 seconds from Stanford University student Charles Hicks, while Southampton's Zak Mahamed was third with 21:31 and Hamish Armitt of Giffnock North fourth (21:34), one second ahead of Will Barnicoat who completed the line-up of automatic qualifiers.
Louis Small of Ashford was an impressive U17 winner, breaking the tape in 18:26 for 5.5km, and followed by a close fight to the finish between Guildford & Godalming's Sam Martin (18:31), Exeter Harrier Johnny Livingstone (18:33) and Middlesbrough's Archie Lowe, who was given the same time.
Lewis Sullivan of St Edmunds Pacers won the U15 boys' 3km in 9:50, while the U13 title went to Chiltern Harriers' Alden Collier (10:41) and first winner of the day was Charlie Collins in the U11 race, clocking 6:53 for 2km.
Full Liverpool Cross Challenge results can be found here
» For more on the latest athletics news, athletics events coverage and athletics updates, check out the AW homepage and our social media channels on Twitter, Facebook and Instagram