Wheelchair racer enjoys emphatic mile victory on The Mall as the British capital celebrates the two-year anniversary of London 2012
Returning to the scene of his London 2012 marathon triumph, David Weir raced to a comfortable win over one mile on The Mall on Sunday.
Nearby, on Horse Guards Parade, another London Paralympics winner Hannah Cockroft blasted to victory in the 100m as a host of global stars and Commonwealth Games hopefuls took to a temporary arena in the spectacular city centre setting.
"It's been two years since the Paralympics and it's great to finish down The Mall," said Weir after clocking 3:20. "Memories started flooding back, as conditions are similar to those when I did the marathon. I'm just glad it was a mile and not a marathon today!"
With the Commonwealth Games track and field starting in seven days, many were using the meeting as a final sharpener and confidence-booster. No one looked sharper and more confident than Tiffany Porter either as she ran 12.71 (0.9) to beat USA's 2013 world champion Brianna Rollins (12.75) and Australia's Olympic gold medallist Sally Pearson (12.79) to boost her hopes of winning gold in Glasgow 2014 for England.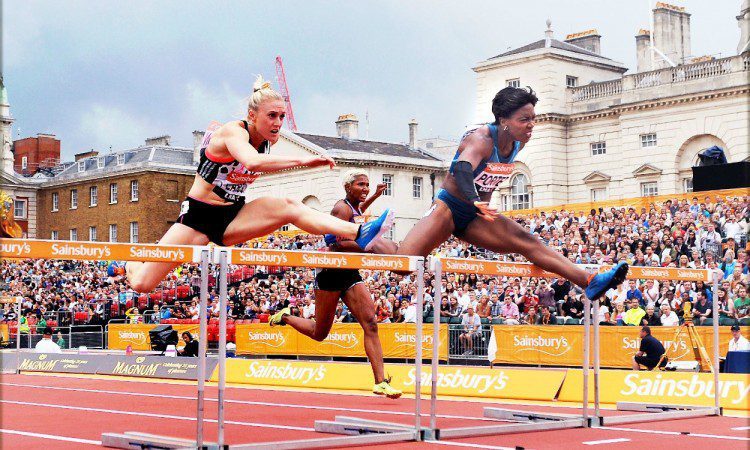 Mike Rodgers won the men's 100m in a fast 9.91 (1.0), but behind the American the 38-year-old Kim Collins set a St Kitts & Nevis record of 9.96 with Nesta Carter of Jamaica third in 10.00 and CJ Ujah of Britain fourth in 10.13. Earlier, Harry Aikines-Aryeetey had won the 'B' 100m in 10.26 despite a clear faulty start.
A high-quality and nail-biting men's 110m hurdles saw world record-holder and Olympic champion Aries Merritt relegated to fourth as Ryan Wilson of the United States, Shane Brathwaite of Barbados and British No.1 William Sharman were all awarded the same time – 13.24 into a 0.4m/sec headwind – with the verdict going to Wilson with Brathwaite second.
Andy Turner won the 'B' 110m hurdles in 13.49 as he prepares to defend his Commonwealth title in Glasgow next week. The women's B 100m hurdles saw Canadian heptathlete Brianne Theisen-Eaton edging ahead of Kristi Castlin to upset the American in 13.00 (-0.6) to 13.01
In the field, Blanka Vlasic of Croatia beat a strong line-up in the women's high jump with a world-class 2.00m clearance. Fabiana Murer of Brazil won the pole vault with 4.65m, while Derek Drouin won the men's high jump on countback from Erik Kynard after both athletes cleared 2.32m.
In the men's pole vault, Renaud Lavillenie, the world record-holder and Olympic champion from France, sealed victory with a 5.70m clearance. Behind, Luke Cutts was second with 5.60m and Steve Lewis equal third with Brad Walker with 5.50m.
Chris Tomlinson enjoyed a good pre-Glasgow boost with a 7.94m victory over British champion JJ Jegede, as Olympic decathlon champion Ashton Eaton was third with 7.87m.
Germans dominated the shot put contests. First, David Storl threw a 21.97m PB to beat Joe Kovacs of the United States as four men beat 20 metres. Then Christina Schwanitz won a closely-fought women's shot with 19.92m from American Michelle Carter's 19.80m.
Allyson Felix powered past Shelly-Ann Fraser-Pryce to win the women's 100m, although there was a problem with the timekeeping meaning no mark could be awarded.
With sponsors Sainsbury's and television broadcaster Channel 4 being big supporters of para-sport, disability events formed about one third of the programme and another British Paralympian in action was Jonnie Peacock.
He was beaten, though, by Richard Browne of the United States in the men's T44 100m with 10.90 to Peacock's 11.00.
Wheelchair racer Cockroft won the 100m in 18.44. Youngster Sophie Hahn, who was inspired to take up athletics after London 2012, took the T37/38 100m in 13.48, while Stef Reid took the T42/44 long jump with 5.39m.
Weir was the big name on The Mall, but in Farah's absence the popular 39-year-old Bernard Lagat beat fellow American Garrett Heath to win the two miles in 8:27.00 as Emmanuel Bett of Kenya was third and top Briton was Luke Caldwell in fifth.
Genzebe Dibaba of Ethiopia held off American Morgan Uceny to take the women's mile in 4:28.00 as Helen Clitheroe was the best of the Brits in fifth.
» More coverage in the next issue of Athletics Weekly, out on July 24