Blanka Vlasic is defying injury to try to win the Olympic gold that has always eluded her
The women's high jump at the 2015 World Championships in Beijing was a brilliant competition, with Mary Kuchina and Anna Chicherova of Russia going head to head with Blanka Vlasic, all three clearing 2.01m and then failing at 2.03m.
Kuchina took gold on count-back, with Vlasic taking silver and Chicherova bronze. But to Vlasic her silver medal meant as much to her as most of her career golds.
"It was a huge victory for me and God showed his greatness," she explains. "I can actually say the moment where he picked me up. It was at 1.95m which I cleared that the first attempt and everything started to be amazing. It was one of the greatest competitions of my life.
"Coming into Beijing [2015] I was in a bad condition. I was in a lot of pain. I remember saying to my coach on the bus to training, 'if I feel pain even when I'm sitting, I don't know how I will be able to jump. Am I going to make it – to be able to run properly?'" she remembers.
Vlasic grew up in a home where sport was very important. Her parents were PE teachers with her father competing as an elite decathlete. When he retired from competition, Josko Vlasic became a fitness trainer for track and field athletes, tennis players and other sports at the local stadium.
When Vlasic was about 11 she started going along and became part of the small group of her father's squad of athletes. She recalls: "I did sprint, long jump, high jump – you know how it happens, you try everything, you join the group and you're having fun. You try all the events and see what suits you best."
Looking back she feels that the discipline she learned about going every week and being committed at an early age, stood her in good stead for her career.
When she was 14 her father made what proved to be a very significant decision, bringing in Bojan Marinovic as a specialist high jump coach. Marinovic and Josko still constitute Vlasic's coaching team and Marinovic knew the high jump inside out. He had jumped from right side but when he got injured he taught himself to jump from the left, so from day one he stressed to Vlasic the importance of a good technique.
She says: "He had – and still has – a great ability to communicate knowledge with simplicity, and high jump technique is not easy."
"When everything came together in 2003 it was just a magical night for me"
Her first real breakthrough came in 2000 when she qualified for the Olympics aged 16. Her PB at the start of the year was 1.81m which she improved to 1.93 during 2000. She knew she needed the A standard to qualify for the Olympics, as another more experienced Croatian already had the Olympic B standard. Not many people expected her to achieve it but in Zagreb – where she would later jump two metres for the first time and also set her PB of 2.08m – she jumped a PB of 1.93m to secure the Olympic A standard.
In the Sydney Olympics she jumped 1.92m – she would have needed 1.94m to make the final. She was initially disappointed until Marinovic told her: "You should be happy you jumped close to your PB. Many athletes with more experience than you did not do that well."
The trip to Sydney was the first time she had flown and from there she and Marinovic flew on to Chile where she won gold at the World Junior Championships – not a bad trip for a 16-year-old.
She retained the world junior title in 2002 and won the European Under-23 title in 2003. In 2004 she was 11th in the Athens Olympics jumping 1.89m in the final after clearing 1.95m to reach the final.
She also cleared two metres for the first time in 2003 in Zagreb, as she remembers: "I was waiting for it for such a long time. I think I was ready to jump two metres even a year before but that was the year I finished school, which took a lot of my energy so I fell short of what I was able to jump.
"But when everything came together in 2003 it was just a magical night for me – a magical few days actually because two days earlier I had won the Paris Golden League with 1.99m. So to win a Golden League and two days later to jump two metres in Zagreb was crazy."
From 2007-2010, she won world titles outdoors and indoors twice each as well as the 2010 European Championship. Her first world gold was 2007 in Osaka. "I remember feeling in top shape and that I was ready," she says. "The whole year was just amazing. In every competition I seemed to be jumping over two metres. So I knew I was ready. I didn't have any injuries. I was calm and peaceful."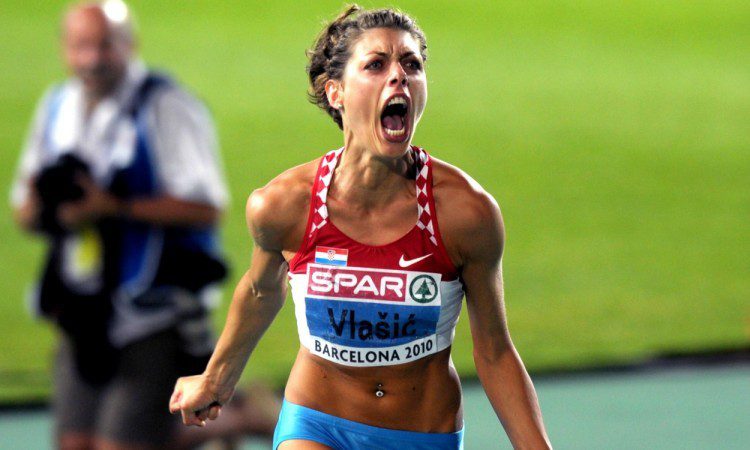 The one that got away was the Olympic gold in 2008. Vlasic and Tia Hellebaut of Belgium cleared 2.05m but neither jumper cleared 2.07m. Vlasic's first time failure at 2.05m gave the gold to the Belgian. It was a bittersweet moment.
"In the moment, it was very frustrating," she says. "Jumping 2.05m in the Olympics and losing – how frustrating can that be? I was very sad – you come so close that you can smell it and then you don't get it.
"But from my perspective I am proud that I was part of maybe the strongest Olympic podium ever in the history of high jump when 2.05m was not enough for the gold medal.
"Now I can't look on it as a failure. But it was a huge emotional drain on me. I had had a long season and afterwards I was tired and emotionally empty."
In her final event of the 2008 season she went into the Van Damme meet in Brussels having won all five previous Golden League events. For the second time that season she was beaten in a major competition on count-back – this time by Ariane Frederick – so ending her chance of winning the $1 million jackpot.
She says: "The Olympics took everything from me and left me emotionally empty. In the circumstances jumping two metres was okay. It was too bad about the money but for me it was never about money."
When asked about frustration with injury, her answer is remarkably positive: "First of all I need to say that I was injury free for such a long time until 2010, even the beginning of 2011. So that is a long time without injury problems. That was a blessing. Then one injury started all the others."
She explains that she was born with what is called "Haglund's heel" meaning that the bone is not quite straight, which results in an irritation of the Achilles.
Years of high jumping brought it to a head and she describes the result as "having a rock in your shoe, a rock behind the Achilles – pushing on it all the time and the Achilles rubbing on it and hurting all the time. Crazy pain".
She continues: "When the bone was surgically removed there were complications with the first operation and I wasn't able to walk properly for a long time, which is why I got all the other injuries. But with the latest surgery it is all in the past and I am working towards being completely injury free."
"With the latest surgery it is all in the past and I am working towards being completely injury free"
As she has mentioned faith in God plays an important part in her life, as she explains: "When I had my first injury and I didn't know if I'd be able to jump again I was in a dark place, very depressed and I tried to find my identity, besides that of a high jumper or sportswoman.
"So I was searching for that identity and I realised that I am a child of God and I always have his endless love no matter what place I finish – first or last, for the gold medal or not able to jump at all and so I found my dignity in God.
"I changed a lot in my life. Jesus Christ is the most important person in my life. He's with me all the time. When I'm scared I'd give him my fear, and ask him to carry it. When I am jumping, I am not praying to win, I'm just praying to be able to give what I have at that moment."
She continues: "It is a lot easier to go through the difficult things in life when you try to see everything through God's eyes, from his perspective. Sometimes the most painful times are your biggest blessings and that's how I try to think about my injuries."
Vlasic is a living legend of women's high jump. The 2015 World Championships were the 106th competition in which she cleared 2.00m or better and she has had over 160 jumps over that height. Her  website states that Stefka Kostadinova has cleared two metres 197 times, as if to tell you that Vlasic is after her!
She always seems to be enjoying her jumping and confirms she is: "I enjoy training. It's never boring. I'm never thinking, I'm not up to it today. Every competition is a challenge. When I am dancing you know that competition is going well. And when things are going well, it is easy to dance.
"Not every jump is a good one so I don't dance after every jump. But every jump is a challenge and I try to do my best. I feel that I was born to do high jump. That is why there is no place I would rather be than in the field."
Let's hope we see her dancing for a few more years to come.