Ethiopian slices more than two minutes off Brigid Kosgei's mark as Eliud Kipchoge wins men's race in 2:02:42 and Charlotte Purdue goes No.2 on UK all-time rankings
It is 20 years since Paula Radcliffe smashed the women's world marathon record with 2:15:25 in London. Described as a "quantum leap" in 2003, it stood the test of time for 16 years before Brigid Kosgei eventually improved it to an incredible 2:14:04 in Chicago.
Kosgei's mark survived four years but on Sunday (Sept 24) it was decimated in Berlin as Tigst Assefa of Ethiopia ran more than two minutes quicker with 2:11:53.
If Radcliffe's run represented a quantum leap then Assefa employed her warp drive boosters to take the marathon mark to the outer reaches of what the athletics universe believes is possible.
After passing halfway in 66:20 the 29-year-old simply got faster with a negative split of 65:33 to create history. Never mind the 2:14 and 2:13 barriers, Assefa skipped those and went straight for the jugular with a sub-2:12.
All of which meant Eliud Kipchoge's fifth victory in the Berlin Marathon men's race in a swift 2:02:42 was relegated to the second biggest story of the day.
In 2022 in Berlin, Assefa caused a big surprise when she won in 2:15:37 to go No.3 on the world all-time rankings. That run saw her improve her best from a modest 2:34:01 where she had finished seventh in the Riyadh Marathon six months earlier.
More remarkable was Assefa's background as she had specialised in 800m before moving on to the roads, representing Ethiopia at the 2016 Rio Olympics on the track (she didn't make it out of the heats) and with a two-lap best of 1:59.24 set in 2014. Prior to this she was better known as a 400m runner and clocked 54.05 for that distance in 2012.
Maybe that basic leg speed helped her handle the vicious pace in Berlin as she ticked off kilometre splits in the 3:10 range as she passed 5km in 15:59, 10km in 31:45 (15:46), 15km 47:26 (15:41), 20km 62:52 (15:26), 25km 78:40 (15:48), 30km 94:12 (15:32), 35km 1:49:41 (15:29) and 40km 2:05:13 (15:32) before running her final 2km at 3:03/km pace.
Significantly given her upbringing in Ethiopia, she ran quicker than national hero Abebe Bikila, the 1960 and 1964 Olympic champion, who ran a world record of 2:12:11 in 1964.
Berlin is a notoriously fast course featuring a combination of smooth, flat roads and invariably a great climate for marathon running at this time of year. Assefa was also wearing adidas super-shoes on her feet and this was also a victory for a sponsor that has its origins in Germany and whose latest road racing shoe – the Adizero Adios Pro Evo 1 – was released this month costing $500.
"I think this is the result of hard working which I have done for the last year," said Assefa.
Did she believe she could break 2:12? "I expected to break the record but not by that much," she said.
On the Paris Olympics next year, she added: "The decision lies in the hands of (Ethiopian federation) committee members but I've set a record now which can't be ignored so I hope to run in Paris."
Phenomenal run in Berlin as Tigst Assefa of Ethiopia clocks 2:11:53 to smash Brigid Kosgei's world marathon record of 2:14:04.

The former 1:59 800m runner was running only her third marathon. 🤯 pic.twitter.com/F5CmvFy0sq

— AW (@AthleticsWeekly) September 24, 2023
The race almost failed to get off on time after climate protestors invaded the start area and threw orange paint on the ground. But once the runners were away Assefa settled into her stride as she was joined by fellow Ethiopians Workenesh Edesa, Senbere Teferi and Zeineba Yimer plus Kenya's Sheila Chepkirui in the early stages.
Accelerating through 17km with a 2:59 kilometre split, Assefa dropped her female rivals and just had some male pacemakers for company. Just after halfway she speeded up again with a 2:48 kilometre – the fastest of the race at that point – as she continued at world record pace.
Entering the final couple of kilometres it was clear Assefa was going to smash the world record but the big question was whether she could get inside 2:12. With her final pacer peeling away to leave her alone, she stormed home to break the barrier by seven seconds.
Behind, many of her rivals had also been operating inside world record pace, despite being dropped, for much of the race but they faded as Chepkirui placed second in 2:17:49, while Magdalena Shauri took third in a Tanzanian record of 2:18:41.
"Berlin is very special to me and after my win last year I had big plans for today," Assefa continued. "I trained very hard over the last few months to accomplish the fastest time I have ever run. I'm very thankful for the support of the crowd along the race, but also for my partner adidas equipping me with their lightest racing shoe ever – the Adizero Adios Pro Evo 1 – which gave me that extra boost today to go and achieve a world record time. I could not be happier."
Charlie Purdue comes home in 2:22:17 to go No.2 on the UK all-time marathon rankings.

The Brit puts a vital marker in the ground ahead of Paris Olympics selection. pic.twitter.com/9fMDQzqNTM

— AW (@AthleticsWeekly) September 24, 2023
On a day of fast times another adidas athlete, Charlotte Purdue, ran 2:22:17 to go No.2 on the UK all-time lists with a big PB.
Purdue had previously sat fourth on the rankings with 2:23:12 from London 2021 but the 32-year-old overtook Mara Yamauchi's 2:23:12 from London 2009 and Jess Piasecki's 2:22:25 from Seville in 2022 to put herself in pole position for Olympic marathon selection.
Purdue was also the first non-African runner home whereas just over a minute behind the 43-year-old Malindi Elmore of Canada ran a PB of 2:23:30, with Domenika Mayer the first German home in 14th in a PB of 2:23:47.
For much of the morning it looked like there could be two world records as Kipchoge passed through halfway in 60:22. He was on pace to break the 2:01:09 record he set in Berlin 12 months ago but he began to drift off the pace from halfway onwards.
Kipchoge had company as well for much of the race in the shape of the unheralded Derseh Kindie of Ethiopia. But Kindie's challenge ended at 31km as Kipchoge broke clear with the final remaining pacemaker, Hillary Chepkwony.
Moments later Kindie stepped off the road, too, as did Chepkwony as Kipchoge was left alone for the final 11km.
With Vincent Kipkemoi of Kenya, Amos Kipruto of Kenya and Tadese Takele of Ethiopia seemingly closing on Kipchoge, there was a moment when it looked like he might be in trouble. But he continued to cruise along effortlessly and despite a strong late surge from Kipkemoi, Kipchoge held on to win by 31 seconds as Kipkemoi ran 2:03:13 on his marathon debut.
Takele clocked 2:03:24 in third with Ronald Korir of Kenya 2:04:22 in fourth and Haftu Teklu of Ethiopia 2:04:42 in fifth.
Belay Shiferaw of Ethiopia ran 2:04:44 in sixth, Kipruto 2:04:49 in seventh and Philemon Kiplimo of Kenya 2:04:56 in eighth with Amanal Petros running a German record on home soil of 2:04:58 in ninth as he went to No.4 on the European all-time rankings.
There was also a Swiss record and world M40 record of 2:05:10 for the 41-year-old Tadesse Abraham.
On struggling to add another world record to his amazing CV, Kipchoge said: "I was expecting to do the same but that's not how it happened and that's the way sport is. Every race is a learning lesson."
With a number of Brits travelling to Berlin in search of fast times, Louise Small ran a PB of 2:30:54 as Weynay Ghebresilasie also clocked a PB of 2:09:50.
Marcel Hug (83:07) and Catherine Debrunner (94:16) won the wheelchair races.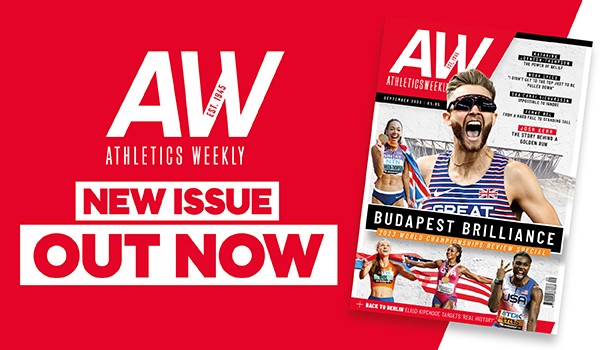 » Special offer – buy our World Champs review issue for only £1 here