Leeds City take men's 12-stage and women's 6-stage glory at the ERRA Road Relays at Sutton Park
Leeds City AC completed an impressive double at the English Road Running Association (ERRA) Spring Road Relays at Sutton Park near Birmingham.
Racing in fine weather on Saturday (April 6), firstly Leeds City took the women's 6-stage crown – successfully defending the title they won 12 months earlier as Jenny Walsh (pictured below) anchored them home.
On a day when the sporting spotlight in the UK was on the Grand National horse race at Aintree, the domestic athletics focus fell on Sutton Park and Leeds City demonstrated their staying power in abundance as their men's squad matched the achievement of their female clubmates by taking victory in the 12-stage as Joe Townsend brought them home in 4hr 12min 19sec.
In the battles for the minor medals, Bristol & West took silver and Aldershot, Farnham & District bronze in the men's race, while the women's event saw Herne Hill Harriers finish second and Birchfield Harriers third.
In addition, the men's race saw the three recent English area champions fill the top three places with the three fastest times in the five years this exact course length has been used.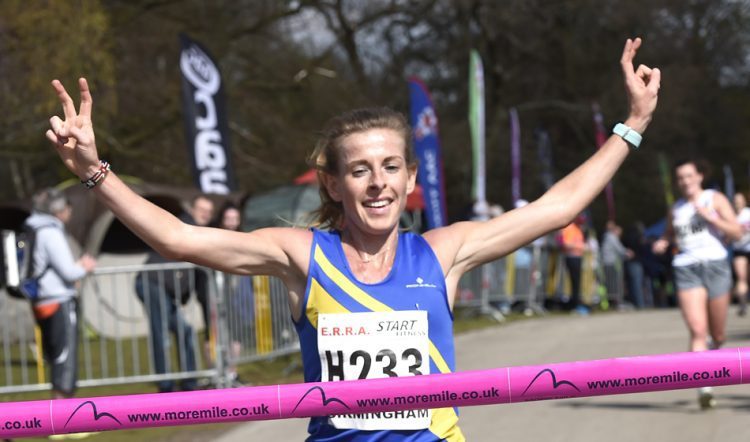 When it came to fastest stages, Kent AC's Alex Yee ran 25:00 with Dewi Griffiths of Swansea the second fastest with 25:06, while Emile Cairess of Leeds clocked the fastest short leg with 14:43 on stage 10.
One week after placing top non-African in the World Cross Country Championships women's race, Danish runner Anna Emilie Møller clocked 28:01 for Aldershot ahead of Blackburn's Jess Judd's 28:07 on the opening stage in the women's race, while Katie Snowden of Herne Hill ran fastest short leg of 17:02.
Anna Emilie Moller running the fastest long stage at Sutton Park. #ERRArelays pic.twitter.com/wPRdTQjZij

— Athletics Weekly (@AthleticsWeekly) April 6, 2019
» See the April 11 issue of AW magazine for full coverage from Sutton Park