Olympian completes cross country double while Inverclyde man impresses with front-running display in Falkirk
Steph Twell and Adam Craig underlined their class at Callendar Park with impressive performances to take the senior men's and women's titles at the Lindsay's Scottish National Cross Country Championships in Falkirk.
There were a number of highlights throughout a packed day of action at an event which was enjoying its biggest entry levels in 25 years and, for Olympian Twell, who made her marathon debut at the end of last year, it meant she added the Scottish crown to the English National victory she enjoyed back in 2010.
Running for Kilbarchan, the European and Commonwealth bronze medallist took control on the second lap of the race and broke the tape in 38:38, ahead of Cambuslang's Moira Stewart (38:51), who is a Czech international and will compete at next month's World Cross, and Central AC's 2017 winner Morag Millar.
Twell admitted a return to cross country had been something of a shock to the system but was delighted with her day's work.
"I could tell my body wasn't quite used to the undulations, the turns. You've got to learn your trade in cross country," she said.
"I tried to stretch out but it was hard to do that. Moira had a fantastic run and I could hear a lot of commentary getting behind her, Mhairi (last year's winner Mhairi Maclennan, who was fourth) and Morag so I was trying to work out what was going on in the race. I did feel tired on the last lap because it is a testing, true cross country course. I loved it and I hope to be back."
There was extra significance to the win for Twell, whose mother is from Paisley.
"To run for Kilbarchan was special," she said of the club whose athletes include the Hawkins brothers and Jemma Reekie. "I've always wanted to run for the club closest to where my Mum's lived. I'm following in a lot of amazing footsteps. I think to strengthen that and support the clubs here I think is enormous. I think quite often in the sport you can drift away so to get the win is brilliant."
Fife AC were team champions, coming in ahead of Hunters Bog Trotters and Shettleston Harriers.
Craig certainly seemed to be enjoying himself in the men's race, too, despite the bright sunshine which had shone for much of the day giving way to heavy rain as the starter's gun was fired.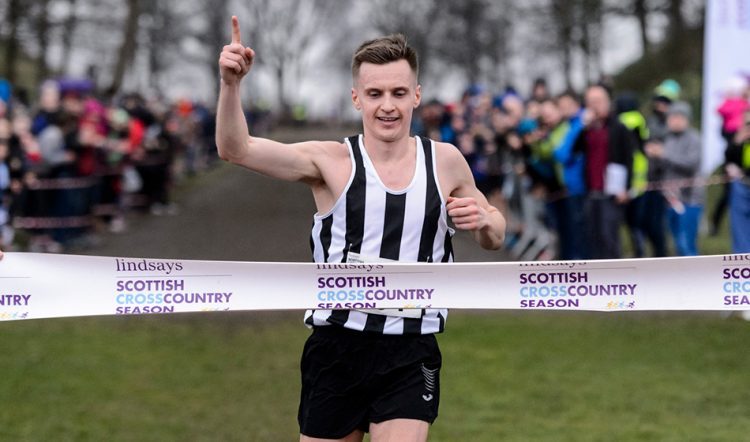 None of the rest of the field could match his surge to the front in the early stages and the 23-year-old, who was second in running 13:45 for 5km in Armagh earlier this month, stretched away to take what was a very convincing victory.
He clocked 33:50, winning by almost a minute from Fife's Kevin Wood (34:48) and Michael Christoforou of Edinburgh.
"I knew I was fit," said Craig, who had been aiming to make the 3000m selection for the European Indoors. "Everything was geared to the indoors and that didn't quite go to plan. Getting out in Armagh was probably the best thing for me, to get my confidence back up and build it up from there. I knew I was fit. Coming in here, I was a bit cautious. I waited half a mile but then I took over and just felt better and better."
Craig's performance couldn't stop Central AC from winning the team prize for the ninth time in a row, ahead of Cambuslang, with Inverclyde third.
Edinburgh's Freddie Carcas took the under-20 men's title, the international orienteer's 24:49 for the 7.5km course giving him a fine win over Edinburgh University Hare and Hounds' Max Milarvie (25:08) and Central AC's Hamish Hickey (25:13). Edinburgh University Hare and Hounds won the team title ahead of Cambuslang and Central AC.
There was more success for a Scottish capital club when Edinburgh's Eloise Walker, last year's under-17 winner, stepped up to win the women's under-20 title in 28:25 from Giffnock North's Erin Wallace (28:50) and Naomi Lang of Edinburgh University Hare and Hounds (29:02). Lang's side took team gold ahead of Giffnock North and Glasgow University Hares and Hounds.
In the under-17 races, triathlete and Inter-District champion Hamish Armitt further underlined his potential with a commanding win, clocking 21:04 over the 6km course to win by 44 seconds from Garscube's Jack Trainer. Falkirk Victoria Harriers' Kane Elliott ran 22:00 for third.
Kilbarchan took the team honours from Giffnock North and Cambuslang.
A strong finish from Inverness Harriers' Megan Keith gave her victory in the women's race as she clocked 23:50 to see off Cera Gemmell from Team East Lothian (24:05) and Livingston's Isla Calvert (25:21). Giffnock North were team champions, with Aberdeen second and Inverness third.
Lasswade's Harry Henriksen was under-15 boys' champion in a tight race, winning by four seconds from Deveron Harrier Shaun Macdonald and Aberdeen's Samuel Griffin, who were both given the same time of 14:06 for 4.1km.
Giffnock North won another team gold, Cambuslang and Inverness completing the podium.
Fife's Anna Hedley continues to impress and the Inter-District champion was a convincing under-15 winner, taking victory by 30 seconds from Giffnock North duo Julia Cash (15:42) and Hannah Ryding (15:44).
Not surprisingly, Giffnock topped more team standings ahead of Fife and Kilbarchan
The first winner of the day was Anna Cairns of Inverness, who took the under-13 girls win over the 3.1km course in 12:49, five seconds ahead of Fife's Isla Thoms (12:54) and Phoebe Armstrong of Aberdeen. Inverness took the team title ahead of Fife and Giffnock North.
The under-13 boys winner was Finlay Ross, the Harmeny AC athlete clocking 11:21 to finish three seconds ahead of Team East Lothian's Corey Campbell, while Garscube's Fergus Currie was third in 11:36. Giffnock North won the team honours, ahead of Aberdeen AAC and Garscube Harriers.
Full results from all of the races can be found here.
» For more on the latest athletics news, athletics events coverage and athletics updates, check out the AW homepage and our social media channels on Twitter, Facebook and Instagram