Continuing a series featuring AW content from years gone by, here is our report of the Jamaican sprint star's world junior 200m win as a 15-year-old
Edition: July 24, 2002
'Thunder' Bolt strikes in 200m
July 19, 2002
IAAF Coca-Cola World Junior Championships, Kingston, Jamaica
FIFTEEN-year-old schoolboy sensation Usain 'Thunder' Bolt sent the home fans into delirium after landing the host nation's first gold medal of the championships and becoming the youngest ever world junior champion.
The remarkable 6ft 5in youngster shattered the world 200m record for a 15-year-old in the heats, recording a mind-boggling time of 20.58 – and although he didn't run quite as quickly in the final, nobody in Jamaica cared as he crossed the line a champion in 20.61.
The victory sparked the whole stadium into a spontaneous carnival as 10,000-plus fans started singing in unison and tears were unashamedly shed.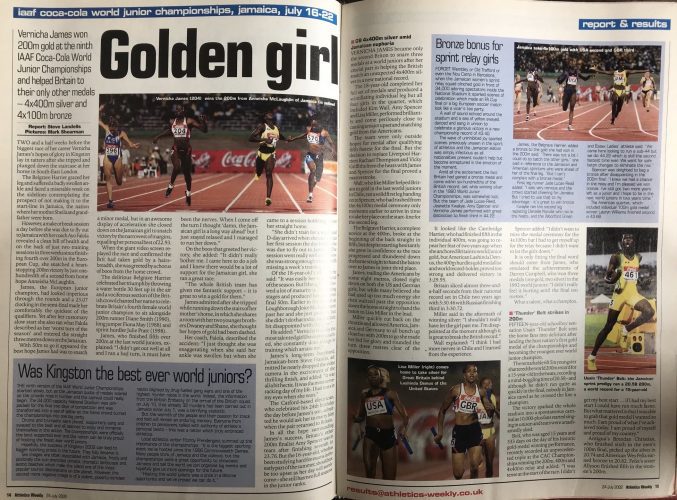 Bolt, who was aged 15 years and 333 days on the day of his historic gold medal-winning performance, recently recorded an unprecedented triple at the CAC Championships winning the 200m, 400m and 4x400m relay and added: "I was tense at the start of the race. I didn't get my best start … if I had my best start I could have run much faster.
"But what mattered is that I was able to grab that gold medal I wanted so much.
"I am proud of what I've achieved today. I am proud of myself and proud of my country."
Antigua's Brendan Christian, who finished sixth in the men's 100m final, picked up the silver in 20.74 and American Wes Felix earned bronze in 20.82.
Felix's sister Allyson finished fifth in the women's 200m.
Report by Steve Landells.
Click here for more in our 'From the AW archive' series.
» For more on the latest athletics news, athletics events coverage and athletics updates, check out the AW homepage and our social media channels on Twitter, Facebook and Instagram