World champions underline their strength as Anniversary Games also sees impressive long jump and 800m events
Great Britain's male 4x100m line-up set the tone for day two of the Anniversary Games when they produced a world-leading 37.61 in securing victory on an afternoon which saw a number of fine performances unfold at the London Diamond League meeting.
At the stadium where they were so memorably crowned world champions last summer, the team of CJ Ujah, Zharnel Hughes, Adam Gemili and Nethaneel Mitchell-Blake stormed their way to the line first, seeing off Japan (38.09) and Netherlands' national record 38.21.
The home quartet, racing together for the first time as Hughes was brought in following the injury to Danny Talbot earlier this year, came perilously close to the European record time of 37.47 set at London 2017 and sent out a message to the rest of the continent ahead of next month's European Championships in Berlin.
"It was nice to come out here in front of the home crowd and feel the same sort of vibe we felt at last year's World Championships," said Ujah. "The boys have all done an amazing job and, going into Berlin, it is only good luck."
Hughes, running the first changeover after Gemili moved forward from his customary position to the third leg, said: "I saw CJ coming around the bend and I was like 'I have to get out,' so I got out (quickly). I held my own and passed onto Adam and Adam was so good on the bend. Nethaneel just had to finish it at the end and he did.
"We are confident as a team. This team right now is amazing to be a part of. I call it a golden era of British sprinting so it is a nice feeling and now we move on to Berlin."
Gemili and Mitchell-Blake had a particularly busy afternoon as both were later involved in a 200m contest which was won by Akeem Bloomfield's personal best of 19.81 (+0.1) as the Jamaican rounded off his season in style.
Panama's Alonso Edward was second with 20.01 while third place was taken by Ecuadorian record holder Alex Quinonez after he ran 20.13.
Mitchell-Blake's season's best of 20.21 secured him fourth, with Gemili fifth in 20.30.
"I'll take that because a season's best is never bad," said Mitchell-Blake. "I'm happy to run that and feel the way I do because I have a lot more in the tank and I needed that as a stepping stone ahead of the Europeans because I feel like I can drop something special there.
"I had a great lane in great conditions and I'm pleased with where I am. I'm dropping my times slowly but surely and I have a lot left to build on."
As a multiple major champion in the form of Greg Rutherford said his farewells at his favourite venue, one of the key figures in the future of the long jump – Luvo Manyonga – was setting a meeting record in the pit during the Diamond League event.
The world and Commonwealth champion reached 8.58m in beating fellow South African Ruswahl Samaai's 8.42m and Jarrion Lawson's 8.25m. The top three all produced season's bests, as did Britain's Dan Bramble with 8.15m for sixth.
The winning mark still fell behind the world lead of 8.68m set by Juan Miguel Echevarria, the Cuban who unfortunately had to withdraw from this meeting, but Manyonga said: "I don't need to close the gap to Juan Miguel, I just need to do my job and focus on me. We have to meet at work, that's the only thing I can do."
He added: "Sending Greg off was special and made it an exciting competition. I'm heading home to prepare for the African Championships but South Africa will have an exciting team for that."
Korir wins 800m in record time
There was another hugely exciting African performance in what turned out to be a remarkable Diamond League 800m, Kenya's Emmanuel Korir lowering the world lead which Nijel Amos had only just set in Monaco last Friday.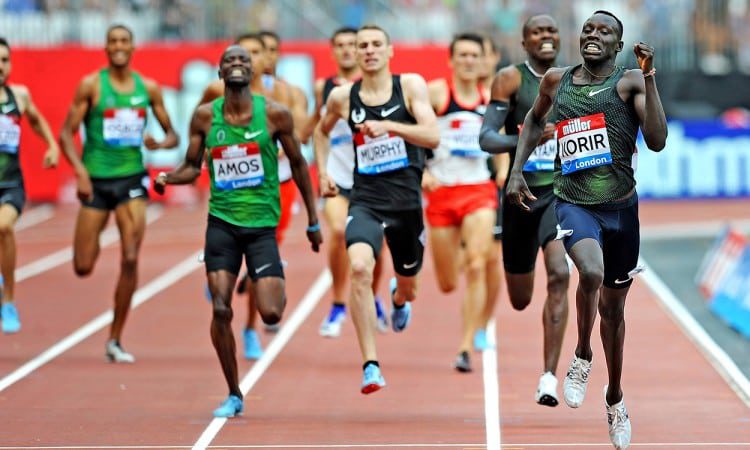 Korir's 1:42.05 was also a meeting record, while American Clayton Murphy clocked a season's best of 1:43.12 for second and another Kenyan, Wyclife Kinyamal, landed a personal best with exactly the same time. Amos had to settle for fourth this time in 1:43.29.
Jake Wightman has never run faster for the distance, either, his 1:44.61 in coming fifth puts him only second to Tom McKean in the Scottish all-time rankings. Guy Learmonth is right behind him after his best of 1:44.73 gave him seventh.
Daniel Rowden impressed on his Diamond League debut with a personal best of 1:44.97 in seventh, with Elliot Giles marginally behind in a season's best 1:45.04 and Andrew Osagie clocking 1:45.25.
Commonwealth bronze medallist Wightman has booked his 1500m place when it comes to Berlin but his UK-leading 800m time certainly staked his claim to a two-lap place too. In the three and three-quarter lap event in London, Olympic champion Matt Centrowitz took the honours.
In a tight race, the American's 3:35.22 was just enough to beat Australian Ryan Gregson (3:35.35) and Kenyan Justus Soget (3:35.56). The eldest Ingebrigtsen brother, Henrik, was fourth in 3:35.61 to follow the record-breaking exploits of his siblings in Monaco.
Britain's Neil Gourley strengthened his case for European selection with a personal best of 3:35.93 in coming eighth, while Jake Heyward's best of 3:36.90 in 13th – three seconds faster than his previous best – puts him second on the British juniors all-time list. British champion Chris O'Hare dropped out of the race after a back spasm affected his breathing.
Commonwealth champion Ronald Levy clocked a season's best 13.13 (+0.2) to win the 110m hurdles ahead of American duo Devon Allen (13.30) and Freddie Crittenden (13.33).
World indoor champion Andy Pozzi, who ran the 100m a day previousy, produced a "solid" 13.36 for fourth ahead of Berlin and said: "I wanted a bit more, but it is not the end of the world. There were some good bits in there.
"The 100 yesterday was just to have a bit of fun. I did it at a day's notice, no prep for it, but I really enjoyed getting back out again in the blocks and getting another competitive start in.
"I definitely need to do better than I have done so far this season, but the aim in Berlin will be to medal so I have to improve but I know I can do that when I need to at the championships."
In the boys' 4x100m relays, Croydon Harriers won both the under-17 title in a time of 42.16, as well as the under-20 event in 41.19.
Shaftesbury Barnet Harriers ran a club record 44.06 to win the under-15 event, while victory in the under-13 race was claimed by Newham and Essex Beagles in 48.70.
A report on women's events action in London can be found here.
» See the July 26 edition of AW magazine for further coverage from London