AW coaching ed David Lowes considers whether the old training methods stand up
In distance running it's often suggested that we should train like athletes did 30 or 40 years ago. David Lowes, pictured above (10) on his way to finishing as runner-up to Ian Stewart (9) over 3000m in Gateshead in 1975, has had a closer look at the idea from the perspective of both an athlete and coach.
How many times have we heard the phrases, "if it's not broken, don't fix it" or perhaps "it worked then, it will work now"? These statements are not wrong, but three or four decades on, they are also not necessarily helpful.
Looking recently through some of my training diaries from the 1970s and early 1980s made some interesting reading. As a Level 4 endurance coach I'm always looking for better and more productive ways of achieving an end result that we all seek. After all, the training I now give to athletes is much different to what I used to do.
Technology
The changes over the last three or four decades have been immense – some good and some bad. Back in the day, from an athlete's point of view, the very best shoes were atrocious by today's standards – poor cushioning, no motion control and they didn't last too long either. Achilles problems were a rarity.
Running apparel was mainly cotton or nylon. There was no dri-fit or compression wear, and so when you got wet, you remained wet! If you wanted to time yourself, digital watches hadn't been invented so you went out, for example, with your analogue watch at approximately 6:05pm and came back at around 7:07pm.
The major change to the world undoubtedly is the demise of the pen, with the advent of computers and the internet and email. How does this impact on training and coaching? It has had a gargantuan effect on communication and information, all at the press of a button. All of those years ago, if you only went to your club once a week then your only reliance on communicating with someone was a landline phone or maybe writing a letter! Today, results and stats are posted on websites almost as soon as they occur and there's an app for almost everything – everything that is apart from the humdrum of a hard work ethic. From a coaching aspect all of this technology is utopia – you can contact anyone, anywhere in the world and get an almost instant response.
I remember back in my English Schools days, I knew something about the opposition through the pages of Athletics Weekly, but I never knew their most recent performances. I'm not sure if that was a good or bad thing, though.
Training history
Most elite athletes from the bygone era had jobs, which for many meant training at 6am and then again at 6pm. Many worked in heavy industry too, but maybe that was unknowingly their core work. Those athletes might bemoan that set-up now, but in the day they just got on with it as it was the norm.
So why is it many of today's athletes cannot get anywhere near the performances of some of our world-stars of the past? It cannot be that everyone lacks talent. Talent needs to be nurtured well and perhaps the available competitive outings presently are just too great a lure with a yearround calendar of events. There is rarely a fallow period and those involved heavily with their clubs will find additional pressure to do relay events over cross country and roads. Add to these an already burgeoning list of events such as schools events, regional, national, invitational and open meetings and the temptation is undoubtedly hard to resist. There is nothing wrong with any of these events, but selectivity needs to be a major thought process.
Training changes
Below is an example club session of 10x400m with 80sec recovery and how the interpretation may differ between the two eras. It worked then and today's strategy does too, but which is the best?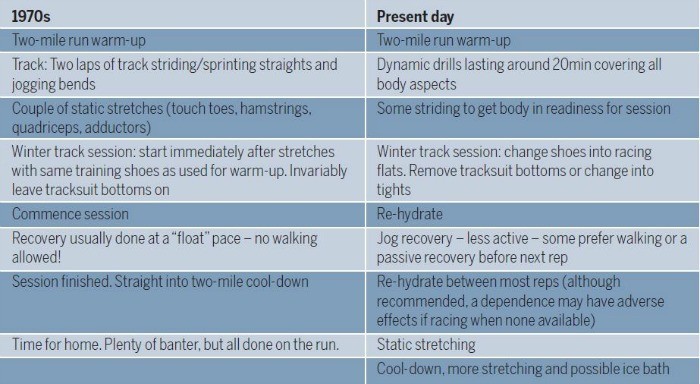 Those who think that old is best should think again. Would Mo Farah, for example, be as successful using the bygone training methods? Almost certainly not – but I bet some of those traditional sessions are still included in his plan, albeit in a modified way. He would of course, still be a fantastic athlete, but his recovery programme, including such things as cryogenics, Alter-G and underwater treadmills, daily therapy and coach Salazar's watchful and meticulous eye, leaves nothing to chance. Runners of the past era would only enter a physiotherapist's room when something had gone wrong, unlike today's elite where recuperative massage and preventative treatments are part of their plans.
The common denominator in modern training versus training from 40-50 years ago is that the long Sunday run remains a stalwart feature. Fartlek and repetition running in their various forms still exist, as do the allimportant recovery days. So has anything changed at all?
Changes have only been made by those who think that what they used to do was good, but not good enough. Certainly, the older methods centred on a constant obsession for hard work with recovery days not given enough respect. Some survived, but many did not. The bygone runners were paranoid about resting – a day off was a day lost. My own "rest day" involved a four-mile run in the morning and then a six-mile run in the evening.
I like to think that whoever I coach it is done with the mantra of getting the best out them with the least amount of possible work. In the end it gravitates down to the quality versus quantity syndrome. Both are good, if done at the right level, in the right proportion and at the right time.
Philosophy
Coaches in particular, and athletes, should have some sort of philosophy to their overall programming. In short, they should know what they're trying to do, and how they will achieve it. I have often looked back at my first taste of running as a 13-year-old and where some of my early philosophies were ingrained.
When you first enter the sport you are totally naive, you do what you are told and when. Looking back, my early sessions were most certainly derived from Arthur Lydiard and Percy Cerutty – all club coaches utilised their undoubted knowledge. The first athletics book I bought, The Jim Ryun Story, opened my eyes. He was a supremely talented runner, coached by Bob Timmons, who also worked extremely hard to rewrite the record books and included some innovative stuff in his repertoire.
All of the usual outlets help to solidify a coach's belief – reading, conferences, asking, talking and most importantly doing and doing it right. It's at the "coalface" where you learn, distinguishing athlete traits and their highs and lows. I do wonder if anyone really gives some thought as to why and how they act in certain ways and in differing scenarios. You do your coaching awards and in reality it's a statement of intent. To be honest, though, I haven't gained any practical knowledge from these, although they have helped in changing a mindset from athlete to coach and that is vitally important. They say you learn from your mistakes and it's from these that you benefit. The day you stop learning is the day you die!
If you accept a philosophy, you have to be willing to adapt it and for it to evolve into something that benefits individual athletes. As we all know, athletes are not all built in the same way (and neither are coaches) and some need to be treated much differently than others. Nothing stays the same forever – if it does, then how can you expect to enter a new dimension? Maybe some educated guesses need to be made along the way, but these need to be ones that will be of little detriment to the athlete. The coach needs to have an analytical mind in this respect.
To those who think that you don't need a coach all I can say is that I and countless others don't turn up just to get some fresh air – we value the athlete(s) and they value us!
Training diaries
So back to those old hand-written training schedules of mine (see right). The first thing that is notable, especially in winter training, is that everything was done on the roads, so much unnecessary pounding was inevitable. Recovery days at times weren't quite that and perhaps there should have been more of them.
Today, I always advise as much running on grass as possible and there is no excuse with the advent of some excellent trail shoes. I prefer no speed faster than 3-5km pace on the unforgiving tarmac or concrete.
So make of these sessions what you will. They worked for me and countless others up and down the country. Were they perfect? … No! Could they have been improved upon? Yes! If only we could turn back time.
Training advances
What are these major changes that I have made to a training plan over the years? I've always been a fan of multi-pace sessions. When I first started integrating these into a weekly stint as a coach I may have done 800/1500m in one session, 3/5km paces in another and maybe for the quicker runners some quick 400m work too later
in the week.
As time moved on I began comparing what was the accepted way back in the day and why it was successful and also why it also had its flaws. It has become more and more apparent to me that what training modes took around three weeks to implement into a plan could be delivered not only in one week but sometimes almost in one session.
You may say you already use multi-pace. However, what I also include is multi-surface training to that multi-pace work and that's what makes a huge difference in covering many energy systems in one session as well as giving the body a fair chance of remaining uninjured. For example, a session may be made up of 10 minutes tempo pace on grass and after a suitable recovery something like 7x3min at 5km pace with a relatively short recovery before moving on to some short powerrelated hill running.
This type of workout was done by a couple of athletes in my group in various guises before ending on the track after an eight-minute recovery with one recording a sub-50sec 400m and the other 50.7 (it wasn't meant to be that fast, but athletes are competitive!). This is not a one-off workout and similar scenarios may be done once a week without the sprint at the end (the session may start on the track, move to grass and then revert back to track).
It now becomes apparent that the world stars of today need to train differently to icons of the past. What they did simply wasn't enough or of the necessary quality to match the current top superstars. Time marches on and training must be constantly reviewed to look at ways to move forward. At club level though, the old ways might just still be the best with some modifi cations and more and better recovery periods.
So there you have it. Is there a right way to train? Of course there is, just as there is a wrong way to train. However, what's right for one runner may be totally wrong for another.
» David Lowes is AW's coaching editor, BMC Academy chairman, Level 4 coach, ex-GB runner and speaker at conferences in the UK and Europe