With national titles by the bucket load over the last year, Ben Dijkstra spoke with AW about his winning streak and dual sport involvement
Ben Dijkstra's first race was at the age of four when he took part in a fun run in Boulder, Colorado, at 5300ft above sea-level.
On his return to the UK after his mother finished working abroad, he started to take more interest at around age eight when he attended primary school in Burton-on-the-Wolds in Leicestershire where he prepared for the local and county cross-country races.
He says: "I would train once a week on a Friday at my school with my teachers, Alistair Parkin and Derek Mullan. I see them at races even now and it's always good to catch up. I won my first race at Leicester's Western Park and was undefeated at every primary schools cross-country race after that. In year four, I began training with Alan Maddocks, who is still my coach today."
Dijkstra's first real success was breaking the national mile record when he was 10 years old with a time of 5:27, which still stands as an unofficial record. As for naming his favourite surface he is less than certain and says: "It's hard for me to say which surface I prefer because they all have different atmospheres associated with them.
"I love cross country because of the off-road training and the simplicity and joy of running through lots of mud and up and down hills. However, at track races the atmosphere at major competitions such as the English Schools is electric, much bigger than you'll find at the majority of cross-country races.
"I love the simplicity and joy of going out for a run – all you really need is a pair of shoes and then the world is your oyster"
"My road racing experience has only come from racing in the Mini London Marathon – once you turn right on to Birdcage Walk, the crowds are so loud and in some places up to 10 deep!"
So why was the recent cross-country season so hugely successful for him? Dijkstra has no doubt and explains: "A lot of cross training (running, swimming and cycling). I get the same volume of training, but work different muscle groups and reduce stress on specific muscles. So far, I have been lucky with few injuries or illnesses plus I also have great running and triathlon coaches."
The multiple national champion has been coached by Maddocks since he was nine. He remarks: "Alan carefully plans my training sessions and which races I take part in before the season begins and his memory of previous results is incredible!"
His triathlon coaches Jonathan Riall and Steve Casson make sure he does the correct type of training at the right time of the year. They also work with Maddocks to make sure each sport knows what commitments and goals are set for that year.
The Leicester athlete states his short-term target is having a successful track season, although his priorities will be focused on triathlon this summer. He says: "I still hope to improve both my 1500m and 3000m PBs and lower them to around 3:59 and 8:35."
The longer distance is his favourite. "It's an endurance event, which I like," he says. "My PB of 8:53, which was achieved last year, put me at the top of the UK rankings by around 11 seconds and was also the sixth fastest of all time. However, I love the speed and tactics involved in a 1500m race."
Before this winter season began, did Dijkstra think it was going to be as successful as it has been? He ponders before adding: "I knew that, off the back of my previous track season, I was in good form. I had spoken to my coach regarding which races I would target or miss and he carefully created my training plan. However, you can never predict how a season will materialise because of the chances of picking up an injury or illness and other athletes improving greatly on their previous results."
Apart from his running goals, he is also targeting a top-three place at the British elite junior duathlons and triathlons and also to be selected to represent GB at the European triathlon youth relays in Penza, Russia, this season.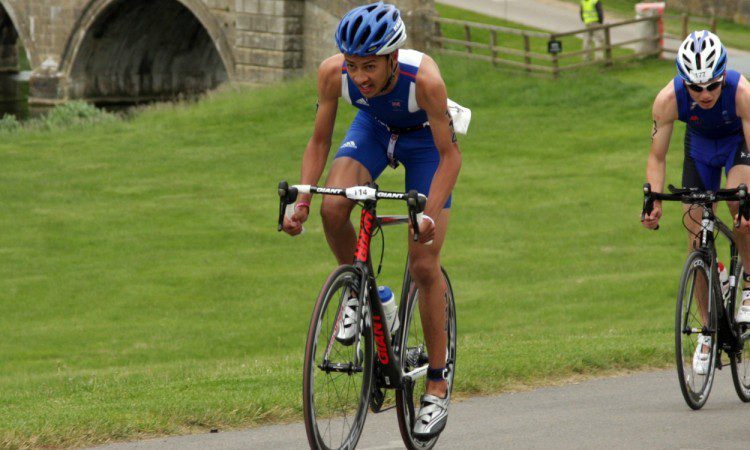 Dijkstra values the help and guidance of his coaches and says: "They are absolutely critical. They have the skills that you need to do the right type and volume of training. Running is not highly technical, but the right preparation for it is. Despite the common misconception of thinking that for middle and long-distance running you need a lot of volume and mileage, it is the specific sessions which are vital in making you faster and stronger. And triathlon demands a range of skills, techniques and strategies for the swim, for the transitions and the bike rides."
With eight national titles thus far, which one does he rate as his best performance? "That's easy," he says. "Winning this year's English Schools cross country and the Schools International because I was in the bottom age group and managed to win against boys a year older than me and it was the first time for over 40 years that someone had won junior and intermediate championships back to back."
The 15-year-old claims his favourite sessions are his long runs around Bradgate Park. "They are always enjoyable runs and the guys I train with are really friendly and everyone gets along well so there is always something to talk about," he says. "I love the simplicity and joy of going out for a run – all you really need is a pair of shoes and then the world is your oyster."
What sport will we see the Loughborough Grammar School student doing in future years – running or triathlon? "I'm giving both a good shot at the moment. Fortunately the cross-country season ends as the triathlon season starts. I know in a couple of years I will have to choose which path to follow, but for the moment I am enjoying both and giving them 100%. I do love the gadgets that come with triathlons though – especially the nice bikes!"
Reccently Dijkstra continued his winning ways at the British Elite Duathlon Championships in Corby. The youngster, who has seemingly forgotten what it is like to lose, is very appreciative of his primary school of all those years ago for getting him into running and last year donated the "Ben Dijkstra Shield" to the school.
This gesture sees the shield awarded annually to the child who has persevered most with sport. In a presentation he told the eager children about how he started out and what he has achieved so far, saying: "I look forward to returning to the school again this year with a copy of my article in AW."
So what about the somewhat unusual surname? Dijkstra explains: "It's Dutch, specifically a Friesian name from the northern part of the Netherlands. There it is as common as Smith. My dad is Dutch and my mum is from Trinidad – so apparently a winning combination."
TYPICAL TRAINING WEEK
Monday: One hour swim (about 2500m), followed by one hour bike turbo session in winter and a bike ride or run in spring and summer.
Tuesday: 90 minutes swim (total distance about 5000m).
Wednesday: 90 minutes run – the sessions can vary depending on the time in the season and whether racing the following weekend.
Thursday: 90 minutes swim total distance (about 4500-5000m).
Friday: A short run session (half hour) if day before a race. Otherwise, two hour swim during the triathlon season with a total distance of up to 6500m.
Saturday: 90 minutes run, which varies according to the time of year – it may be hillwork, VO2max or a tempo run. This summer he will do a 60-minute swim before the run session.
Sunday: 80-minute long run in open countryside or a long bike ride.
Dijkstra is part of the East Midlands Regional Academy for triathletes. Once a month there is a training day, which runs from 8.45am and finishes at 5pm and covers swimming, nutrition, mental preparedness, transitions, cycling and running.
» The above sessions are specific to the individual athlete and may not be suitable for other athletes