With a 100m PB of 11.11 at the Müller Anniversary Games, Imani-Lara Lansiquot sealed her place for the European Championships and AW finds out how she trains
Imani-Lara Lansiquot has certainly begun to develop her potential and, at only 20, is one of a crop of British sprinters, led by Dina Asher-Smith, who are becoming potential world beaters.
Many years ago, when I was a competitive athlete, I coached Imani's dad and, she tells me, her mum too. So, it seems the sprinting genes have been passed on. Me, I'll take no credit other than athletic match-maker perhaps!
AW: Where are you based? And tell us about your coach and training group/set-up
IL: I train at Lee Valley Athletics centre, with coach Steve Fudge. My training partners are Asha Philip, Ojie Edoburun and Seye Ogunleye (Nigeria).
AW: What's it like training in a group with other sprinters? Can it be too competitive, or in any way intimidating?
IL: It's a very motivating, supportive, yet professional environment. It elicits the right amount of competitiveness within training, but we also have fun and know how to make sure things don't get too serious.
AW: What do you do away from the track in terms of work and what do you do to relax?
IL: I am a student at King's College London, reading psychology. That takes up the majority of my time outside of track as I usually travel straight from training to university every day. In my free time outside this (which is rare), I like to spend time with my friends and family, go to the cinema and read. At the moment, I am really enjoying African literature.
AW: How did you get started in the sport?
IL: When I was younger I would win my school sports days and, eventually when I got to secondary school, I would beat the older girls. From there, my dad took me to my first ever training session when I was about 12 and I began competing properly at 14.
AW: Were you always a sprinter?
IL: I actually started out doing the long jump, I think in a sports day I jumped around 5m and then tried to do a proper competition and found it really difficult! Long jumpers have nerves of steel! Sprinting in a straight line with no jumping is much easier. However, I still joke with coach that I would love to return to the long jump one day.
AW: What are your particular strengths as a sprinter and what do you think you need to do some more work on?
IL: I'm very ambitious, driven and I really like to be challenged. However, sometimes I can be a perfectionist and, in a sport that is never perfect, I have to remind myself to let things go and trust what I'm doing.
AW: What's it like lining up in front of big crowds and getting down into the blocks?
IL: I actually love big atmospheres and although my career hasn't been that long, I've been lucky enough to experience a few. Although the pressure is definitely evident, I find that my natural reaction is to be as calm as possible, and in the blocks my mind is pretty empty and clear. I used to fill my head with loads of cues in the blocks, but I found that this ended up clouding my ability to run freely.
AW: Who has motivated you throughout your career? Do you have any heroes/role models (inside and out of track)?
IL: Dad has always motivated me and believed in me from the beginning – he is a big part of my team off the track. I am really inspired by successful women in and out of track too, for example Oprah Winfrey and Serena Williams, as I too want success away from the athletics track, and these women are really well-rounded and driven towards greatness.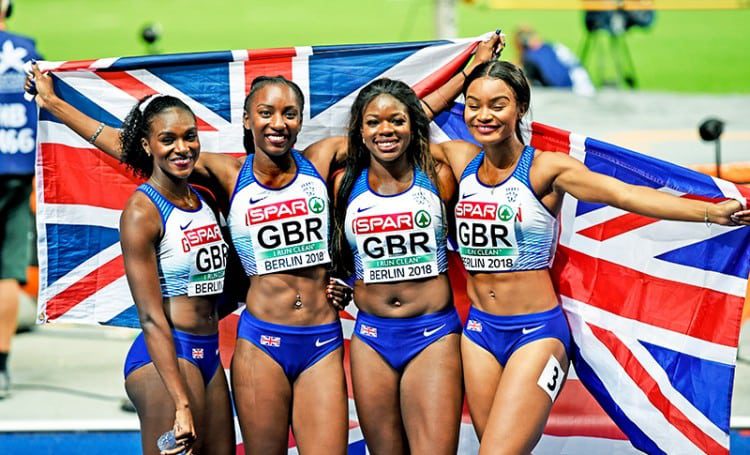 AW: Who have you been coached by?
IL: My first coach was Lorna Boothe, I then moved to Joe Felix, Jonas Tawiah Dodoo and now I am with Steve Fudge.
AW: What advice do you have for young sprinters wanting to do the event?
IL: I would say to have lots of fun and be open to every single opportunity that the sport offers. There's not one opportunity that I've had that I haven't really enjoyed or learned from! Although there are many highs and lows, and sometimes it might feel like you're training hard for a day that hasn't come yet, I promise it's so worth it when you get it right! Just don't stand in your own way.
AW: What do you think has changed in the way the sprints are coached?
IL: I haven't been in the sport long enough to have any kind of perspective, but I would definitely say that biomechanics are utilised more to elicit greater efficiency in running. I have also noticed a more holistic and interlinked system between the different spheres of track, gym and medical care to optimise performance.
AW: Should young athletes specialise in the sprints at, say, 14-15?
IL: I certainly specialised at that age, and before that I took track and netball equally seriously. I don't think the specific age is important, I think that work ethic matters the most.
AW: With travel between meets, how do you maintain condition?
IL: I just focus on eating well, sleeping well and hydration. I will often bring snacks and porridge from home, as you can't always rely on food at competitions!
AW: Do you think being a sprinter and doing athletics has had additional benefits?
IL: For me, athletics has completely transformed my life in that it helped me build up confidence as an insecure teenager. It's taught me about maturity and dealing with failure, it's helped me be a better organiser of my life and given me lots of opportunities that have pushed me beyond where I thought I would ever be at 20. I would really recommend any young people interested to take a trip down to their local track and give it a try, because there are so many different events within the sport to excel in and there really is something for everyone!
IMANI-LARA LANSIQUOT'S TRAINING

TYPICAL TRAINING WEEK – ALL YEAR ROUND

Monday: Accelerations, plyos, power cleans
Tuesday: Speed endurance, conditioning in gym
Wednesday: Rest
Thursday: Accelerations, plyos, power cleans
Friday: Speed endurance, conditioning in gym
Saturday: Circuit conditioning
Sunday: Rest
(Sets and reps, and speed requirements change as and when we are competing or in a building or tapering phase).
These sessions are for illustrative purposes only and reflect Imani-Lara Lansiquot's requirements, training and maturity
SPRINT TRAINING
AW: What physical qualities make for a great sprinter?
IL: I think having natural strength, elasticity and good motor co-ordination.
AW: What's your technical focus when leaving the blocks?
IL: Being purposeful, powerful and patient.
AW: Are you aware of technical requirements in a race? Are you thinking about the drive phase etc, or does it all happen automatically?
IL: We train and practice these things every day, so on race day I just have to trust that I'm well drilled enough to piece it together naturally. I can't overthink it, because that won't reflect in a confident run.
AW: What are the cornerstones of great sprinting technique-wise?
IL: I think power, utilising your whole physicality and trust.
AW: How much technology is used in your training?
IL: We actually don't use too much technology compared to what I did with my previous coach, but sometimes we use the "Optojump" (this measures for example, reactivity, jump power and can be used to measure sprint parameters such as, contact time, stride length, fatigue – Ed).
AW: Sprinting is a tough event, what do you do to minimise injury?
IL: I have had quite a few injuries and learned from all of them, so I'm in a pretty good place with my body in that I know what I can train through and what I can't. I've also begun to build a consistent medical team around me that also know my body well. I focus on my weaknesses in the gym, as usually my injuries arise due to a lack of strength or control in a specific area. However, I'm still young and still growing and changing, so injuries aren't unavoidable – it's about having a good plan of action moving forward.
AW: What are the cornerstones of your training?
IL: In a typical week, I train five times and every day is a "double day", so I do both a track workout and a gym workout. We target accelerations, speed endurance, conditioning and power in a typical week.
AW: What are your go-to plyometric/other exercises for sprints and why?
IL: Standing long jump, bounding on the mat, rhythmic bunny hops and skips for height.
AW: Do you do any specific drills that you think are really beneficial?
IL: I really like doing bounds on the mat and accelerations on the ladder that coach sets out, as I feel these have helped me the most in the front end of my race, because they've taught me how to utilise my upper body better.
AW: How important are weights in your training and what are your key exercises and why?
IL: Weights have been quite important and I've seen some really positive changes in my body over the last year. Weights have contributed to me being more robust, as in the past I've been quite a fragile athlete, and they have also helped me to negotiate my power in slower movements, a skill that I struggled with a lot.
AW: How much running do you do in your training?
IL: We run every day, whether it be long runs on the track or the grass, speed sessions from blocks, or more technical days in flats. Running is a big part of our programme.
AW: What sessions do you think are really beneficial?
IL: My favourite session is a technical acceleration one because I always leave them better than the last time, and it's a great opportunity to improve something that I considered the weakest part of my race in the past. I also enjoy 120s and 150s as speed endurance sessions.
AW: Tell us a little bit about your nutrition, do you follow any specific programme?
IL: I eat pretty well and in the lead-up to a competition I will work with a nutritionist to target the specific food groups that I need to optimise performance, i.e. white meat, veg, pulses. I also struggle with iron levels, so we look for foods to supplement this.
AW: Do you do any work on the mental side of training and competing?
IL: I don't work with a psychologist at the moment, but I use my support team a lot and I am as open as possible about my honest thoughts and feelings with them so that they can help and we can work together towards a common goal. I speak a lot with Jeanette Kwakye, the Olympian, and she has really helped me to grow as both an athlete and a young woman.
» This article first appeared in the August 2 issue of AW
» Photographs by Mark Shearman