Events, expert advice, kit and more
If running 26.2 miles is on your mind then you have come to just the right place.
Have you decided where to run in 2020? In our latest marathon guide we'll take an in-depth look and provide plenty of information on some of the best event options available to you – and there are plenty to choose from.
We'll give you some hints, too, on how to work out which one of the many options could be the best fit for you and the extra preparation involved should you opt to run abroad.
There's also expert advice and insight from elite athletes, while you'll find tips on nutrition, how best to prepare mentally and making strength training a part of your routine.
In need of new kit? We've put the latest gear to the test as well. So click the link below to have a read and good luck with whatever your 2020 vision turns out to be.
CONTENTS:
» How to go about choosing the race that's the perfect fit for you
» Take your pick of British marathons taking place in 2020
» Are you fuelling your run the right way?
» Elite athletes give their top tips on running 26.2 miles
» Looking to run abroad? Make sure you get your planning right
» From Stockholm to San Sebastian. A calendar of international marathons in 2020
» Prepare your mind for the marathon
» Are you strong enough to tackle the distance?
» A close look at the career of Eliud Kipchoge, the fastest marathon runner in history
» Paul Freary tests the latest kit to help you cover the miles in comfort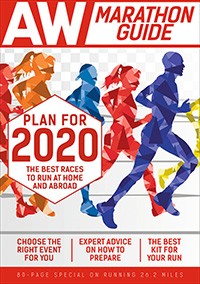 » This guide was first published with the October 31 edition of AW magazine
» For more on the latest athletics news, athletics events coverage and athletics updates, check out the AW homepage and our social media channels on Twitter, Facebook and Instagram