Forty years on, the two-time Olympic champion reflects on his rivalry with Steve Ovett and 1500m redemption
On the first day of August, 40 years ago, Sebastian Coe opened his eyes and saw an urgent chance of redemption lurking ahead.
Six days before arguably his finest hour, he had arrived at Moscow's Lenin Stadium, fully intent on procuring Olympic gold in the 800m final.
Instead, by his own admission, the race tactics went horribly wrong and he could only hunt down silver as long-time rival Steve Ovett bolted out of sight, his pre-ordinated tactics shredded when he was forced to divert around a blockade of East Germans, escaping their path just too late.
"It was tough," Coe recalls. "The following morning I was buried in bed, I didn't particularly want to get up after the race, there was no great incentive. Daley Thompson marched into the room and said 'come on, you're getting up'.
"I said something lame like 'what's the weather like out there?' And as he ripped open the curtains he said 'it all looks a bit silver to me'. It was the Daley Thompson school of psychotherapy."
The 1500m finale offered an opportunity to cure the pain, a second bite at the succulent cherry with the added spice of another Coe-Ovett duel. A battle of the Brits, within a war of the world.
Back home, the re-match was hyped to the max. The pair had both secured and traded world records over the previous two seasons, a head-to-head that might have been ratings gold if they had squared off more than just seven occasions.
But Coe admits: "I know it sounds odd but it didn't matter to me that I'd lost to Steve, it really didn't. It wasn't a good feeling because it was what everybody was focusing on. But I know I would have felt exactly the same if I'd lost to Marajo or Busse or Wagenknecht or Kirov. It was just the realisation of something that I thought was so in my ability to have wrestled, I didn't.
"The only thing that drove me for those days between the 800m and the 1500m was I never, ever wanted to feel like that again at the end of a race. I've been beaten by better people, faster people than me on the day, people who have got more talent.
"But I just knew that if I was going to walk out of Moscow with anything I had to know that I was prepared to die with blood in my boots in the stadium for the 1500m. Above all, I never, ever wanted to feel the way that I did after the 800m."
"The only thing that drove me for those days between the 800m and the 1500m was I never, ever wanted to feel like that again at the end of a race"
Second time around, the future London 2012 mastermind left nothing to chance, boldly bolting clear off the final bend, keeping Ovett at bay, and then sinking to his knees at the finish in sheer relief, with East Germany's Jürgen Straub holding on to separate the Brits and a youthful Steve Cram back in eighth.
"In essence the way the race was run I suppose I had the last laugh because it was an 800m race with two warm-up laps," the victor recounts. "The English Schools women's title that year was quicker through two laps than that.
"So I had two warm-up laps and then an 800m blast. In a way that was back into my territory. If you look at the race, Jurgen looks down at the ground, almost like he was looking for a marker on the track to make that mark for home.
"Once I'd got past Jurgen I couldn't contemplate that Steve hadn't got the silver. I turned round and I shook his hand and said 'gold, silver, that's what we've ended up with'. I think he thought I was taking the piss because I hadn't realised that he had actually got the bronze.
"And then Crammy was so far back that he automatically thought that Steve had won. So he went up to Steve afterwards and said 'congratulations'. So between me thinking he'd got the silver and Crammy thinking he'd won, I'm sure he thought we were … a bit like putting tin tacks on the electric chair."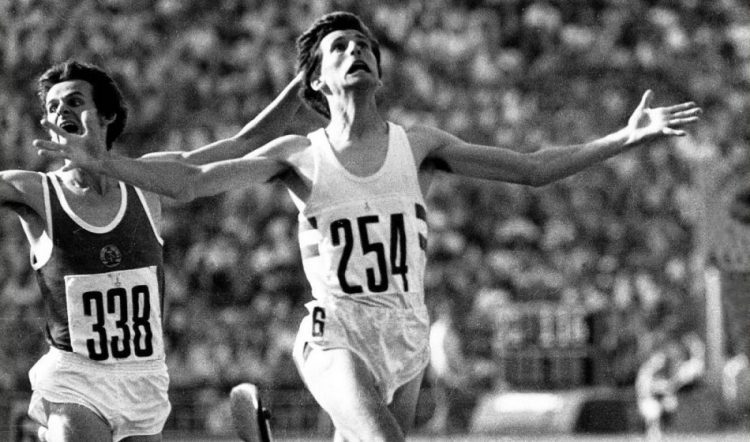 The old foes rarely cross paths now. Ovett lives in Australia. Coe, who would repeat his gold in Los Angeles four years hence, inhabits the rarefied air that comes with the job of being World Athletics president, roaming globally to plead the cause.
It wasn't that they avoided each other during their prime out of mutual antipathy or spite, asserts Coe in a demolition of the mythology.
Racing aside, their lives and their journeys were too separate to construct any form of friendship off the track.
"We'd both set off with very different ambitions at the start of 1979," Coe confirms. "In '80 we were into the Olympic year and we both travelled on the same plane. The only amusing moment was when I got on to the plane late and as I was walking down I realised there was only one seat left and it was right next to him.
"A couple of team officials suddenly realised that somebody at British Airways thought this was very amusing and before I'd actually made it any more than another two or three rows down, suddenly another seat was miraculously found for me somewhere else. I think that would have been an interesting journey for three hours to Moscow sitting next to each other pondering the future of the world."
They have reminisced since, trading memories of their glorious pomp. At the 2006 Commonwealth Games in Melbourne, Ovett was working for Australian TV and Coe, then plotting the London 2012 Olympics, dropped by for a talk.
Later over dinner, Coe reflected on a Christmas Day, seven months out from those Moscow Games, when he dragged himself away from watching Dambusters on the TV to go out for a run in the fear that his challenger would himself be putting in the miles.
"He laughed," Coe recounts. "And said 'did you only go out twice that day?' This is 2006, 26 years afterwards and we're still both in the mind-set where we couldn't let it just rest at that. He had to get the last word in.
"Being serious, he was a very talented athlete. For me, the most explosive and the best 1500m outside of Herb Elliott's win in 1960 in Rome, his win in Dusseldorf when he won the World Cup in 1977 was the most explosive piece of 1500m running I'd ever seen. That was a real wake-up moment for me.
"I was sitting with my training partners in Sheffield and they broke into Match of the Day that night to show it and I'm thinking 'this is a guy that in three years' time if I'm going to go to the Games is going to be in pole position'. That moment was really the moment I realised just how good he was and just how good I was going to have to be."
» For more on the latest athletics news, athletics events coverage and athletics updates, check out the AW homepage and our social media channels on Twitter, Facebook and Instagram