Event director Hugh Brasher tells Jessica Whittington why he is constantly looking ahead when it comes to the London Marathon and its portfolio
When it comes to organising arguably the world's greatest 26.2-mile running event, it is – quite literally – a marathon, not a sprint.
The Virgin Money London Marathon may have developed to such an extent that 386,050 people applied to run in 2018, but the finish line is not even close to being in sight. Behind the scenes a dedicated team, led by event director Hugh Brasher, continually strives for better.
The event is in Brasher's blood. What started out as a single race founded by his father Chris and his fellow Olympic gold medallist John Disley following their experience of the 1979 New York City Marathon has become an iconic institution and evolved into the flagship of a series of hugely popular mass-participation sporting events in the UK capital.
The London Marathon's formula – combining incredible elite fields, mass-participation runners, phenomenal fundraising, huge crowds, legacy, passion and professionalism – is already a winning one. But Brasher, who became sole event director in 2013 when he took over from former world 10,000m record-holder David Bedford, believes there's always room for improvement.
"An awful lot of it is looking to the future," says Brasher, when asked about his 'typical' day.
"You're looking at a 10-year business plan. It's more focused on the next three to five years, but it really is always looking to the future, how you can continuously improve what you're doing.
"People are very vocal and passionate about the London Marathon and the other events we put on, and therefore they give us an enormous amount of feedback and we act on it.
"One of the things that we are tweaking for 2018 is the start of the event. We have been doing enormous amounts of modelling over the last two years. Putting in extra timing mats at the marathon, in the narrowest point of the course, then we've modelled people going through it, then we put video cameras on it and as a result we believe that what we will be doing to the start this year will reduce any congestion on the route quite considerably.
"People are very vocal and passionate about the London Marathon and the other events we put on, and therefore they give us an enormous amount of feedback and we act on it"
"We have really interesting plans for the marathon in 2019, 2020 and 2021 and that gives you an understanding about the fact that we really are looking ahead as an organisation. You've always got to make sure that what you are delivering is amazing.
"To get to the point where a world record number of people have applied to get into the London Marathon – it is a real testament to my father and John Disley's vision back in 1979," he adds. "After seeing the New York Marathon, my father wrote an article in the Observer in October 1979 that memorably said what a revelation it had been to take part and that he believed that London had the course and did it have the heart and the soul to welcome people to run 26.2 miles? And I think London has categorically proved that it does. It is the support of the crowd that really makes running that 26.2 miles such an unbelievable experience.
"That sea of positivity from the crowd is something that is so unique, it's what makes people want to do the London Marathon again and again and also makes people want to do it for the first time – they see it on TV, they experience it from going to watch – and we're delighted to inspire so many people to take up the challenge."
Brasher practices what he preaches, having run the London Marathon himself four times (he has a best of 2:53) and also been an accomplished track runner for Hounslow with PBs of 8:54 for the steeplechase, 8:15 for 3000m, 14:20 for 5000m and 24:09 for five miles. His first sport was tennis, however.
"My mother was French Open tennis champion in 1957 and the whole of our family was brought up playing tennis rather than running. I only started running when I started working at Sweatshop," explains Brasher, former chief executive of the specialist running retailer.
"To get to the point where a world record number of people have applied to get into the London Marathon – it is a real testament to my father and John Disley's vision back in 1979"
Having seen the London Marathon grow from having 6255 finishers in 1981 to the more than 39,400 in 2017, with a projection that more than £1 billion will have been raised for charity by 2019 and much left in legacy via the London Marathon Charitable Trust, Brasher relishes his role and is proud of the team he leads.
"The dedication, the attention to detail, the pride that they have and the knowledge is quite incredible," he says of the London Marathon Events staff which has grown from 25-strong when he started in 2012 to now having 72 members.
On his own role, he adds: "It's an amazing job and I feel very privileged to do it because you are helping to inspire people to do sport and sport for me is a real force for good. It's something that teaches so many good things in life – that the more that you put in, the more you'll get out. That even though running can be seen as an individual sport, in reality it's about a team.
"You can have a team of athletes who you train with, you will perform better. You have a coach who is giving you advice on how to get the best out of yourself, a masseuse, a nutritionist. It really is a team event and you will perform better if you get a great team of people around you.
"It teaches you to win, to lose, to accept both of those hopefully gracefully. At the same time, the final output – not only are you giving people a real sense of achievement, you are also improving facilities and leaving a real legacy.
"I think one of the amazing things that John Disley and my father (pictured below) did was make sure that all the profit from the London Marathon goes to the Charitable Trust, whose job it is to improve sport and recreational facilities, originally where we organise events, but now across the UK.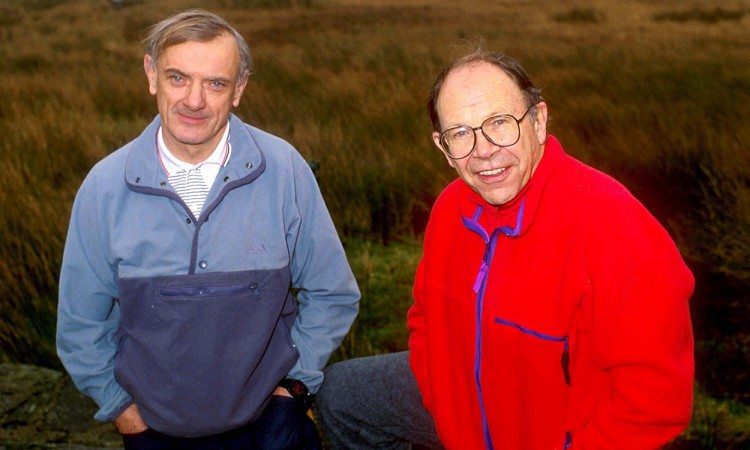 "To say that now the marathon has raised £890 million for charity since its inception in 1981, and that we will go over the £1 billion mark in 2019. That really is something that is extraordinary. I don't think that either he or John could ever have thought that when they set off on the journey to New York in 1979."
With the recent addition of The Vitality Big Half, March 4 marked another important milestone in the London Marathon Events story.
"The Big Half is a celebration of community and life," explained Brasher when launching the new one-day running festival.
"Sport can be an incredible way of joining people together and getting communities to interact together. We are creating an event that is unique, that is fun, that people will want to come back to year after year."
After all, 'To show to mankind that, on occasions, the 'family of man' can be united' was one of the six founding pillars drawn up by Disley and Brasher senior when they created the London Marathon almost four decades ago.
» The 2018 Virgin Money London Marathon will take place on April 22