European 5000m silver medallist hoping she can find success indoors again – and enjoy it with some of her biggest supporters in the crowd this time
On the two occasions when Eilish McColgan has tasted European medal success, there has been something missing. She hasn't been able to share that special medal-winning moment with any of her family.
With her brothers, sister and father Peter based in Scotland while mother, coach and former 10,000m world champion Liz lives in Qatar, the messages of congratulations came in the form of phone calls rather than celebratory trackside hugs.
The fact that the 2019 European Indoor Athletics Championships are being staged in Glasgow, however, means the two-time Olympian and recent Simplyhealth Great South Run winner shouldn't have far to go to find familiar faces in the crowd. As she puts it there's "no excuse" for her siblings not to make it there this time.
It will be very different from the immediate aftermath of McColgan's bronze medal-winning run in the 3000m at the European Indoors in Belgrade last year or the European silver she won outdoors this summer at Berlin's Olympic Stadium, where there was an unexpected reminder of home.
"I was obviously over the moon with my performance in Berlin but none of my family and friends were in the stadium," says the 27-year-old. "It is not really an anti-climax but you are so excited by it, yet you run around and there was no-one really there for you to run to or to hug.
"Weirdly enough, there was a girl I used to train with at Dundee Hawkhill, who was there in the crowd. I just saw her face, out of all those thousands of people, and she was just standing on the stairs, cheering me on. And I almost started crying.
"I hadn't seen this girl in years, it wasn't like we were really close, but we went to school together and she was a couple of years above me in my club. Just seeing someone who reminded me of home, I got quite emotional about that, and having that in Glasgow will be pretty special."
She adds: "Glasgow 2014 (the Commonwealth Games, where she finished sixth in the 3000m steeplechase) didn't go the way that I wanted, so I never got that opportunity. It was great to be with my friends and family afterwards but I was disappointed with my performance so I didn't have the same buzz and excitement afterwards.
"To have what I had in Belgrade and Berlin, but actually have my friends and family there, rather than having to scramble to a phone to call them, it will be so much better having them there in person."
Remarkably, that run at Hampden Park four years ago was the last time McColgan raced in Scotland, due to a combination of injury and illness rather than by design. And despite an athletic education which involved regular visits to Glasgow's famous Kelvin Hall track in her younger days, not once has she been able to set foot on the 200m oval at its successor, the Emirates Arena – venue for the European Indoors in March.
"I haven't even seen it," admits McColgan, speaking at an event at Glasgow's Kelvingrove Art Gallery and Museum – which sits directly across the road from the Kelvin Hall – to mark the passing of the 100 days to go landmark for Glasgow 2019.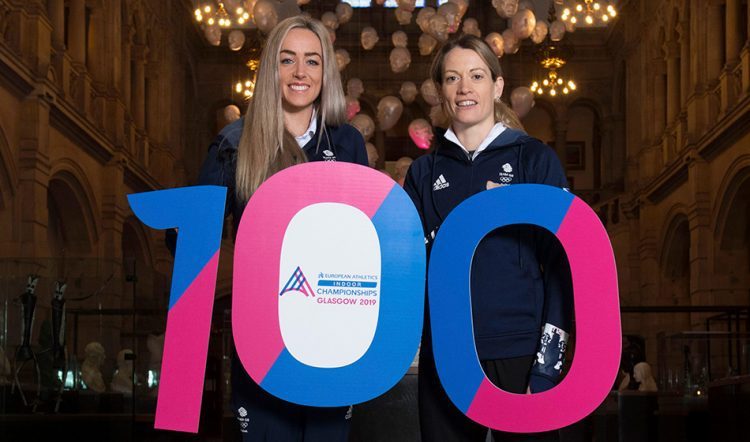 "We don't get many opportunities on the track to race in Scotland. We have that indoor meet (the Muller Indoor Grand Prix) but if you miss it that's it for a year and then it alternates between Birmingham and Glasgow.
"I've only raced in the Kelvin Hall. I wanted to go and train one day (at the multi-sport Emirates venue) but the time I was there there was badminton or something on indoors so I have only ever trained and raced at the Kelvin Hall. That track was an experience, it was more like a velodrome, but I have heard that the Emirates is a lot fancier than that.
"The Scottish Schools, Scottish Unis, British Unis – all those events for me were at the Kelvin Hall. For me, the only chance I have ever had (for competing at the Emirates) are those Grand Prix events and I missed it.
"I was gutted because I remember saying to my mum 'I can't wait to go and race at the Emirates' then I missed that one opportunity and it has just not come around. Fingers crossed, I get to see it and compete in it this time around."
Though McColgan would never say never to the 1500m and has ambitions to break the four-minute barrier over the distance, she feels her 'best chance' of medal success in Glasgow will come in the 3000m – the event which brought her the first major podium appearance of her career last year.
Upcoming training spells in Kenya, Doha and South Africa will lay the groundwork for what she dearly hopes will bring another honour and that chance to celebrate with her family.
Though she will be up against fearsome opposition there won't be any fear on McColgan's part, given her recent championship performances and another chance encounter on that night to remember in Berlin which highlighted just how far she has come.
"I didn't know that girl was in the crowd," she says of the unexpected reunion. "And when I got to the bottom corner, there was another girl I used to race cross country against, Laura McCord. We used to race against each other at under-13s. Again, I hadn't seen her.
"But I saw her face out of the whole crowd, it was bizarre. Two girls I used to run against. Myself and Laura were always battling against each other in cross country and I think she now lives in Germany.
"She messaged me on Instagram afterwards and I even said to her 'you have no idea how much that meant to me, just to see someone's face' and it did. You think of how many years you spend running around Scotland – cross countries in Livingston and Alloa – when it is freezing cold and muddy. To have someone else there who has been through all that with you and cheering you on was pretty special.
"You are so stuck on your training that you don't think about the overall thing of it. She messaged me to say 'I'm so proud of you, because you have stuck at it'.
"Even though you have had some pretty s****y times when it hasn't gone to plan, you've still stuck at it and trudged along and I'm so happy to see you reap the rewards.
"They appreciate how hard it is to keep going when times are tough. It has taken me from the age of 12 to 26 to get my first medal, so it certainly doesn't happen overnight. That was the first time I was able to step back and say 'yeah, I am proud of myself for what I have achieved'. It has taken me a long time to get to this point. But we've got there."
Click here for the full Glasgow 2019 competition schedule and to buy tickets