World 50km record-holder is on pacemaking duty at Sunday's London Marathon but her support for fellow athletes goes far further
Alyson Dixon says that rather than seeing the high standard of British women's marathon running and being disheartened knowing she would likely be unable to match those marks, it has actually been a blessing as it has helped her to decide that now is probably the time to take a step back.
The two-time British marathon champion had originally planned to run the Chicago Marathon this autumn – ticking off her final race in the six-strong Abbott World Marathon Majors series – and then retire. But when the race was cancelled due to the coronavirus pandemic she was left in limbo before deciding to take on a different marathon task.
Now the 42-year-old, who is also a world ultra-running record-holder, is instead preparing to pace a group of Olympic hopefuls towards the Tokyo qualifying time of 2:29:30 at Sunday's Virgin Money London Marathon and she is relishing the role, with mentoring and coaching very much part of her future plans.
READ MORE: Aly Dixon wins world 50km title on ultra running debut
"Once I knew that I wasn't capable anymore of running the full thing at that pace and doing what I would need to make an Olympics, I thought 'how can I help some of the others do that?' I've had help from other pacemakers in the past. I love helping people," Dixon says.
"People have said 'you could be helping to pace people to beat your PB and knock you down the list!' But it doesn't make me any faster or slower! If somebody beats my PB they don't then put 10 seconds on my PB and make it slower each time. I've done what I can do and if the girls run faster then that's great.
"Seeing the resurgence of the marathon over the last year with the British girls, it has been a good thing for me," she adds, "because while I was still up there as one of the fastest I was like 'I can do this, I can keep on going'. But as soon as they started running times I know I'm not capable of I was like 'that's good' – it puts it out of my hand and I can take a step back.
"This year I think it is going to be a lot harder to run fast because there's no crowds and it's all the laps so the mental game comes into it a lot more. If I can help them, that's great. I've given some of the girls shoes and that sort of thing because they've not been able to get access to the Nike shoes and that kind of stuff. I know how hard it is, when you're trying to get a bit of support to make that breakthrough and get more support."
Jess Piasecki led the list of impressive marathon times last year, running 2:25:28 in Florence in November, while Charlotte Purdue clocked 2:25:38 in London in the April and Steph Twell ran 2:26:40 in Frankfurt in October. Stephanie Davis was also inside 2:28 with her 2:27:40 from Valencia in December.
Twell is among the athletes racing in London on Sunday and she will be joined by a number of fellow Britons, including 2018 British champion Lily Partridge who is looking to secure that qualification time.
"I just want to be involved with the sport and give back," says Dixon, who ran her own marathon PB of 2:29:06 in 2017 and broke the world 50km record when winning global gold in Romania last year. "I'm now 31 years involved in the sport, I want to try and give back and get people to have the same enjoyment as I've had over these years.
"Maybe not even a formal role but to help some of the other girls. I've ran decent times and performed at decent levels. I've got quite a bit of knowledge and experience I can pass on. If I can stop one girl making some of the mistakes I did then that would be really helpful."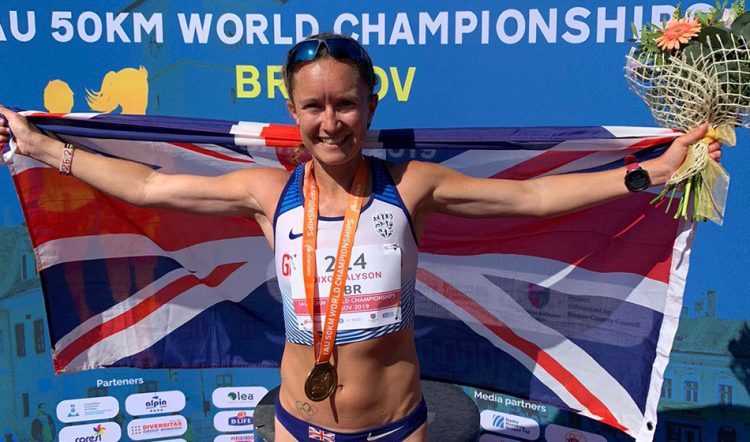 Sharing insight into how the disruption this year has impacted her own career, she adds: "I started the beginning of the year thinking if Tokyo (the Tokyo Marathon, which she ran in March but suffered with stomach problems) goes to plan, I would hopefully be able to run quite fast and maybe scrape the qualifying time for the Olympics.
"It would have been a short turnaround to London in April but I would have given the trial a go, however deep down I know that I'm not capable of running the 2:26 or 2:27 that it's going to need to make the team. But if you have already got the qualifying time, what have you got to lose from doing the trial? But when Tokyo didn't go to plan I thought I'd have my usual break, maybe do some shorter stuff and then do Chicago in October.
"My big plan was to do Chicago and then retire but obviously Chicago was cancelled and I'm now getting my head around 'do I still stick to that retirement plan?' And by that I mean backing off the international stuff and the higher-level competition. I would still run locally and domestically because I still love it and get that buzz from racing.
"Now it's a case of whether my body can continue on for another year to hopefully do Chicago, and will Chicago even go ahead next year? One of the big reasons I want to do it is to tick off the six Majors and I'm now kicking myself even more for dropping out of Chicago two years ago, otherwise I would be sitting with my feet up by now! But there's nothing stopping me in 10 years' time doing the mass race and getting the Six Stars. It is just a case of getting all six.
"I'm going to see what happens over the next few months," she continues. "Some days I wake up and I think I'm 27 again and everything is fine. There's other days I wake up and I feel like I'm 97 and I don't want to go on any more.
"I've always said it will be my body that tells me when to retire because I'm too stubborn to listen to my head and my heart."
» For more on the latest athletics news, athletics events coverage and athletics updates, check out the AW homepage and our social media channels on Twitter, Facebook and Instagram