Alan Pascoe is a trailblazer, having driven advances in the athletics and business worlds. Jessica Whittington sat down with him and his wife, fellow former athlete Della, to hear their thoughts on the sport's past, present and future
When someone with the stature of Alan Pascoe offers advice – "Take chances as they come, work hard and make your own luck" – you would do well to take it.
One of the most influential figures in British athletics – he's twice put the sport back on a sound financial footing when it had nothing – there are not many people who have worked harder to benefit the sport than Pascoe and the former hurdler's successes far transcend track and field.
But his athletics journey is fascinating and his route from "a council house kid who had quite severe childhood asthma" to an Olympic, European and Commonwealth medal-winning athlete is proof of what can be achieved with the right mindset, no little effort and coaching support.
It was athletics, too, which opened the doors to his business career.
"I've said it as I was sat at the table in many important and influential places and meetings all around the world, including Buckingham Palace – I wouldn't be here now if it wasn't for athletics!" Pascoe explains. "And I wouldn't have been in athletics at that level if it hadn't have been for Doug."
The beginning
The 'Doug' in question is Douglas James, the father of Pascoe's wife Della and the man who coached them both to great success.
As I am welcomed into the magnificent Thameside home of the Pascoes, which was once owned by Dave Gilmour of Pink Floyd, Della reflects on their early athletics days.
"Alan and I met at the running track in Portsmouth. I had to slow down for him to catch me," she smiles, reminiscing on 53 years earlier when she was 15 and Alan 17.
"When I look back now I think we couldn't have been fitter," she says, a result of her father's coaching. "He used to have us jumping over walls and in the stadium we'd go running up the steps, jumping over the barriers. It was very hard but we all used to do it all, and we were all really fit. That was the ground rules of his training – the fitness aspect."
So which qualities did James instil the most? "Discipline, commitment, focus and confidence," replies Alan, and it is clear he has not restricted those characteristics to only his track career.
Track success
After claiming European 110m hurdles bronze in 1969 to go with his European indoor gold from the winter before, he went one better to secure 110m hurdles silver two years later before winning double gold in the 400m hurdles and 4x400m in Rome in 1974.
Earlier that year he had added Commonwealth 400m hurdles gold and relay silver to his haul and followed that up with 400m hurdles bronze four years later. His Olympic silver – claimed alongside Martin Reynolds, David Hemery and David Jenkins – came in Munich in 1972. Alan also won a total of 13 AAA titles, including doubles in the 110m hurdles and 200m in both 1971 and 1972.
So what was his competitive career highlight?
"Every time I won," he says. "Because, for a long while, it was quite a surprise to me!
"I guess the real highlight would be winning the Europeans on the back of winning the Commonwealths. We won the relay as well. It was just fun doing it. Competing made up for all the grind on the training track.
"I was never somebody that trained very well, especially in winter. Hill work, high numbers of reps and turnabouts were not my thing – I suppose the asthma heritage accounted for most of that!"
Turning to her husband, Della, who adds that her own highlight was equalling the British 100m record as a 19-year-old in Mexico in 1968, says: "You were a competitor, that was your strength. You could overcome anything because you were so strong mentally."
While Alan's career would continue through to 1978, two-time Olympian Della (pictured below, second from left) retired just four years after her record-equalling run.
"I stopped running in 1973 because I didn't make it on to the Commonwealth Games team, despite finishing in the top three in both sprints at the trials," she explains.
"Della also suffered from the fact that I had been team captain and I was the athlete's representative on the British Amateur Athletic Board," adds Alan. "I don't think I was particularly outspoken, I just said it like it was. I tried to represent the athletes and improve their lot. The management in those days was pretty poor to say the least and I was seen as a rebel or a troublemaker by the powers that be but I was an automatic selection, so they couldn't get at me. It was Della that suffered! Unfortunately, that's what we had to contend with in those days."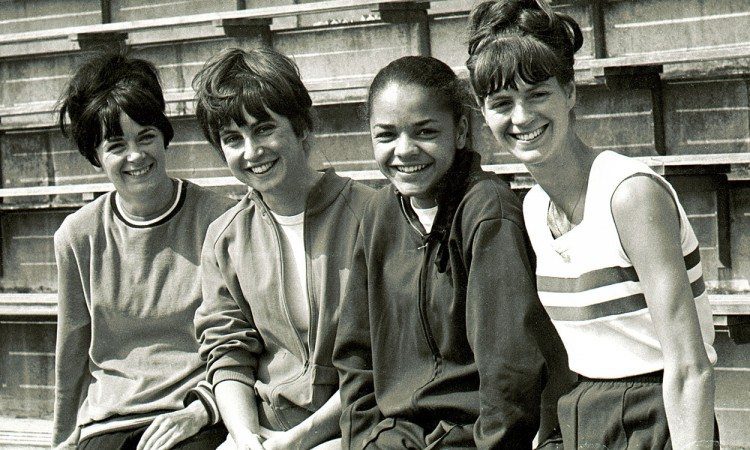 The business of athletics
While he was still competing, Alan – who was also a teacher at Dulwich College from 1971 to 1974 and a lecturer at Borough Road College in Isleworth from 1974 to 1980 – became involved with broadcasting and "unwittingly" entered the world of sponsorship, sports marketing and managing events.
A pioneer of UK sports marketing, he went on to create Alan Pascoe Associates Ltd (APA), later named API, and Fast Track, which became CSM Sport and Entertainment and a division of Chime plc.
From 1984 to 2012, Alan led APA and then Fast Track to raise over £100 million for the sport and put on more than 200 televised track and field events. He created new events, including The National Fun Run which was the precursor to the London Marathon, and was also at the forefront of the transformation of in-stadium presentation.
Alan is now a Trustee of the London Marathon Charitable Trust and Non-Executive Director of London Marathon Events Ltd, while he is also a Trustee of the 'sport for development' charity Sported.
"Take chances as they come, work hard and make your own luck" – Alan Pascoe
Della was also heavily involved with charity work and has raised almost £200,000 for the Princess Alice Hospice through events, including a series of popular garden parties, although her work has been curtailed somewhat since she developed Parkinson's.
"We opened with a coffee morning and we made £477 but I thought we could do better than that," she says as Alan smiles and replies: "Not competitive, of course."
Vice-chairman of London's successful 2012 Games bid, Alan also helped Glasgow successfully bid for the 2014 Commonwealth Games and most recently led the panel to carry out a feasibility study for Birmingham's Games bid.
When it comes to what Alan is most proud of in his business career, aside from being a part of the 2012 winning bid, there is certainly plenty to choose from.
"Making a difference to a lot of sports," he decides. "In athletics, putting on those early events and building on one or two experiences I had at events abroad, that we could put on far better events than the governing body was organising.
"At one of the last White City events, I remember the announcer saying, 'next in the long jump: L Davies of Cardiff'. Well he was Olympic champion then. He was also my hero. So I was really p***** off. I didn't have any background in event management then, but I knew that if you wanted to engage the fans and the people who paid their money to come in, they had to feel part of it: 'Will you welcome our Olympic champion … the great Lynn Davies!'
"So transforming the event presentation of track and field worldwide, which I was prompted to do by the then head of sport at Channel 4, Mike Miller. He said: 'It's not like watching football, rugby or basketball or virtually anything else. There's five or six things going on all at the same time, I never know where to look at the right time.'
"Then we started experimenting with all sorts of presentation options," Alan continues. "We upset the traditionalists because we started playing music and did track-side interviews. Every sport now does event presentation and have upped their game as a result of what athletics led."
The future
Ultimately, Alan believes the sport as a whole needs to progress and recent comments from IAAF president Seb Coe about ideas designed to shake athletics up suggests the powers that be agree.
"It's got to start with kids, you've got to welcome them into our sport," Alan says. "Unless the national schools championships and everything just above it and below it are thriving, the sport is going to struggle."
He adds: "I'm really concerned that the headway the sport made in the 15 years up to the Olympics in London has largely been lost. Without Mo (Farah) and Jess (Ennis-Hill) we have no individual medallists – you have to have 'names' to bring the paying public in, to inspire the next generations and to keep television interested. With less television you have less sponsor opportunity, and therefore less money coming into the sport.
"I know you can't totally create these things but if I had been running the sport and looking at what we need I would have made sure that we had a programme for decathletes that matched the good fortune that we've had in the heptathlon ever since Mary Peters.
"Why do you need decathletes and heptathletes? It's four days of television at the major championships and it's the only time in athletics when you've got a natural story. Television is about big moments but it's also about storytelling and it's about how you engage with viewers."
"I will be forever grateful for the opportunity athletics gave me" – Alan Pascoe
Alan himself clearly has a way of engaging with an audience. Sadly, it's time for me to leave the Pacoes in peace, but not before hearing one last bit of advice.
"Over the years I've had lots of parents tell me, 'my son/daughter is at national schools level (in various sports) and wants to carry on but I want them to get their A-Levels and go to university and I don't think they can do both'," says Alan. "I'd always say, 'let them follow their sporting dream, they will keep up or catch up their education, but the experience they gain through top-level sport will be of greater value than their A-Levels'.
"One of the things that I learned as an employer was that there are plenty of people that got 2:1s or Firsts who wanted to work with us, but the ones you are looking for usually have a different quality – personality. Often, I took people that had been to art or drama school, or had reached the top level in sport – even if they didn't have a 2:1! It was their understanding, focus, commitment and drive that counts.
"That's why so many sports people do so well out there in the business world – because they've got the focus, they've got the dedication but they've also got the experience and the confidence because they've travelled the world and they've met so many significant people.
"I guess that personifies what happened to me, and I will be forever grateful for the opportunity athletics gave me."