Britain's Katrina Wootton finishes third on a day that sees thousands of runners and supporters take to the city's streets for half-marathon and 10km events
Tirunesh Dibaba claimed a dominant fourth victory while Dathan Ritzenhein held off fellow American Bernard Lagat to take the 10km title at the Simplyhealth Great Manchester Run on Sunday.
On an emotional day for the city, tens of thousands of runners were joined by huge crowds of supporters, with a minute's silence held before both the half-marathon and 10km events to remember the 22 people killed in Monday's bomb attack. More than 100 people were also injured in the blast at the Manchester Arena and applause for the emergency services also took place, while many participants wore yellow ribbons in tribute.
Dibaba – who previously won in Manchester in 2013, 2014 and 2016 – had Britain's Katrina Wootton for company in the opening stages but broke clear around a mile into the race.
Never challenged, Ethiopia's three-time Olympic champion and five-time world track gold medallist clocked 15:40 at half-way and went on to secure a more than two-minute victory, crossing the finish line in 31:03 ahead of France's Christelle Daunay, who ran 33:08.
Wootton, returning to road racing just a week after finishing third at the Highgate Harriers Night of the 10,000m PBs, finished third in 33:18 and was followed by Sophie Duarte of France and Britain's Gemma Steel.
"I am very happy to win this race again," said Dibaba. "This is a very important race for me because of what happened this week in Manchester, I wanted to give my support to the people of Manchester and England. It is special to me."
Wootton, who ran a 32:27.47 10,000m track PB at Highgate, said: "I really enjoyed it until about 5km and then I felt last week's race creep up on me quite rapidly! I just raced as hard as I could to the end."
Ritzenhein faced a stronger challenge. Joined by Lagat, Kenya's Wilson Kipsang, Australia's Collis Birmingham and South Africa's Stephen Mokoka, the 2016 Great North Run runner-up pushed the pace and the group went through 5km in 14:09.
Ritzenhein, Lagat and Mokoka broke away before it was down to the two Americans. Lagat looked comfortable on Ritzenhein's shoulder but couldn't stick with the pace and the race was eventually won in 28:06, with 42-year-old Lagat seven seconds back.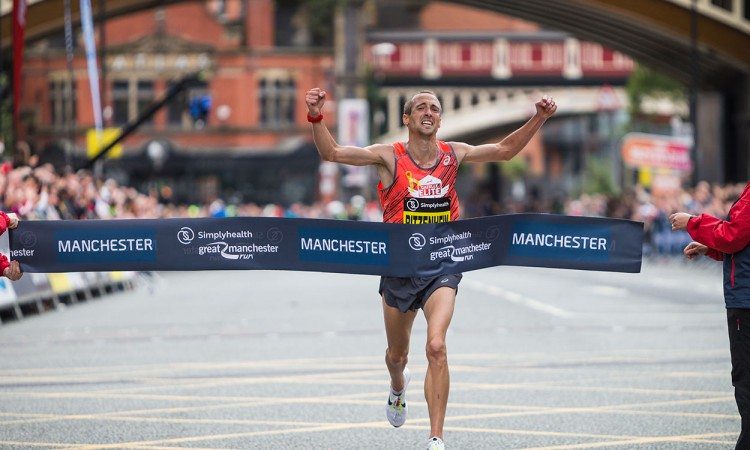 "I wanted to press the pace because Bernard Lagat was there and he's fast," said Ritzenhein. "I didn't want it to come down to a kick."
Mokoka ran 28:22 for third ahead of Birmingham and Kipsang. Olympian Andy Vernon was top Brit, clocking 28:36 for sixth.
Rio Paralympian Simon Lawson was a dominant winner of the elite wheelchair race, clocking 21:53, while the women's winner was paratriathlete Lizzie Tench in 33:11.
Spenborough's Joe Sagar had been the very first athlete across the finish line as he won the earlier inaugural Simplyhealth Great Manchester Run half-marathon.
Clocking 72:54, he finished ahead of Springfield Striders' Mark Newton with 73:10 and Herne Hill's Abdi Madar with 73:59. The women's race was won by Notts' Lucy Niemz in 84:24 from Louise Cartmell of Moray Road Runners in 85:31 and Annie Byrne in 85:51.
» See the June 1 edition of AW magazine for full coverage