Think a marathon seems like a long way? Think again. Robbie Britton tells Running Monthly what it takes to last the pace when the race you're in goes on for 24 hours
Robbie Britton admits it didn't take long for things to "spiral out of control". One minute, he was entering his first marathon to stop his friend from winning some bragging rights. No sooner had he completed that, things changed.
"It was 2009 and the London to Brighton ultra-marathon was just a few months later," he says. "I thought I'd give it a go. I was intrigued about what my body was capable of. From there, as soon as you've done one you think: 'maybe I can go further, maybe I can go faster'. Before I knew it I was doing 100-mile races and then I got asked to run for 24 hours in a circle."
It turned out he was rather good at it. Britton won bronze at last year's IAU 24-hour World and European Championships in Turin and was part of the Great Britain men's line-up which took team gold.
He has the European Championships on the horizon later this month, but the big target – the main goal which drives him on – is finishing top of the world pile next year. As he points out, motivation is a huge factor behind even contemplating running for that length of time. Add in the fact that these championships take place either on a standard athletics track or a short loop on public roads and it's a far from inconsiderable undertaking.
"It is weird," laughs the 29-year-old of his chosen discipline. "Anyone who does a 24-hour race, it is a fantastic achievement, but I do appreciate that it is also really weird. To not look at the funny side of it — a load of people running round a 400m track, or a loop of a couple of kilometres — you're kind of missing the point."
"Anyone who does a 24-hour race, it is a fantastic achievement, but I do appreciate that it is also really weird"
That challenge is just as much mental as it is physical. Imagine setting off for a run in full knowledge of the fact that you won't be finished until a full day later. The championships set-up is simple — everyone runs round and round for the same length of time but, rather than crossing a finishing line first, the winner is the person who has covered the greatest distance when the hooter sounds and everyone has to stop in their tracks.
Britton admits it does take a while to wrap your head around the situation but it's all part of the joy – and the agony – of the challenge.
"Unlike a point-to-point race where the harder you go, the closer you are to the finish, it doesn't matter in a 24-hour race,' he continues. "You can sprint as quickly as you can – or you can sit on the floor crying – and you'll get to that finish line just as quickly.
"You have to be very self-motivated. Without that drive to keep moving forward it does seem extremely pointless at times. One of the ways you deal with that is by breaking it down.
"I'll quite regularly time each lap. I'm not doing maths the whole way through, but it's more 'okay, I'm on target'. Then you're just thinking about that one lap – and going at 4:30-5min kms. That's not too hard, is it?!"
He may make it sound easy but Britton knows the truth. If you consider how much preparation is needed – and how much needs to line up perfectly – for optimum performance at a standard road marathon, those factors increase exponentially for an event of this kind of scale.
There may not be much margin for error but, as he puts it, "When you get it right, I think it's one of the best feelings I've had in racing – and I've raced everything from 3km, right up to 24 hours being my longest.
"You do get low points but, then, you have moments when you question yourself in any type of race. If you're in a 5km and you're running hard, you can be three quarters of the way through and be thinking 'why am I running this hard? Maybe I should just slow down and ease off. In a 24-hour race, it happens when there's still 20 hours left to go.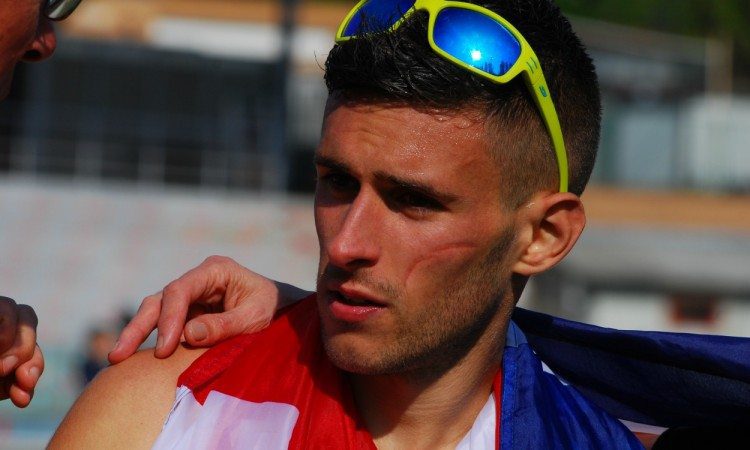 "The general muscle soreness and fatigue hits you about five or six hours in and just stays there. Your legs get tired and sore, but it doesn't get significantly worse. The issue a lot of people are going to have is either that they are going to run out of energy because they don't get nutrition right, they pick up an injury or suffer from chafing. Now chafing sounds like it might be a small thing but, believe me, it's not when it's over that length of time."
It's enough to make you laugh or cry. Britton opts for the former.
"I think you've got to have a good sense of humour and to be able to laugh at yourself, even at your lowest point, otherwise it becomes a whole lot harder," he says. "People who take themselves too seriously or are too focused on perfection – they struggle with an ultra because stuff goes wrong and it's bloody miserable at times.
"You can keep improving year on year — and you might have trained worse than the year before but achieve a better result because you got the nutrition right, or the pacing was spot-on, or you were mentally strong. It's such a complicated thing at times but in a way that's good because there are so many areas for improvement.
"It's a constant search. For the Worlds, I think I was six metres off the British road record (he covered a total distance of 261.14km) and I was 40 metres — 40 metres — short of the silver medal. I could see him (Poland's Szynał Pawel). This guy knew I was charging after him, but 40 metres over 24 hours… I'm not sure of the sums but it turned out that it was only a matter of millimetres per step that would have made the difference."
"You have to be very self-motivated. Without that drive to keep moving forward it does seem extremely pointless at times"
To run so far and come so close – does that not make him bitter? Adam Gemili was rightly distraught in Rio to miss out on his podium place by the tiniest of fractions in the 200m, but he hadn't spent the previous 23 hours, 59 minutes and 50 seconds getting himself into contention.
"It's part and parcel of it, isn't it?" shrugs Britton. "To have a race that close is a nice thing. With an hour to go I found out I was sixth – they let me know because we secured the team gold. Then they said 'right, you've got a chance of an individual medal – go for it'. I thought I was chasing European bronze and European silver, but it was in fact world bronze and world silver so I was pleased with that and there are plenty of positives.
"At the end of the race I walked over to the guy who was second. He was Polish and I only know one word in Polish – it's quite rude – and I just said that to him. He burst out laughing and said 'great race'. You can't really ask for much more.
"I'll get there. I wasn't expecting to get on the podium that year so I can say I was 40 metres short of second but I was only 2km behind the winner. It really made me realise it is possible for me to win the world championships. That was what I took from it more than anything else.
"Plus, you meet some great people. Some do it for the wrong reasons – for vanity or whatever – but for most it's journey of self-discovery. And that transfers into the rest of your life."
A TYPICAL TRAINING WEEK?
"It depends on what I'm getting ready for," says Britton. "In the weeks running up to 24-hour races there will be quite a few easier runs – maxing out at a couple of hours. I don't like to run huge, huge distances in training. If I'm running and I'm on the flat then it will be two to two and a half hours at most because I don't think the body can take that continuously.
"But I will include speedwork, I will include hill work during the week. I know what an elite marathon schedule looks like and it's not too different from getting yourself in marathon-style shape but then it is about the pacing, the nutrition, etc.
"I worked last year with a marathon coach and asked him to adapt my training in terms of the marathon – and then I would swap in the other elements for longer racing. The easier it is to run at three-hour pace, the easier it is to run for 24 hours."
» For more information on Robbie Britton's coaching services see robbiebritton.co.uk. Read more from an interview with Britton in September's ultra-marathon running special edition of Running Monthly