Kenenisa Bekele's world record attempt ends in disappointment, while Worknesh Degefa wins women's race on debut
Tamirat Tola broke the course record with 2:04:11 to win the Standard Chartered Dubai Marathon on Friday (January 20) as Ethiopian athletes dominated, but there was further disappointment in Dubai for Kenenisa Bekele who was forced to drop out for a second time.
Bekele had made no secret of his target ahead of the race, telling a pre-race press conference: "I plan to run the world record." But the 5000m and 10,000m world record-holder's dreams were dashed when he was forced to withdraw around 22km into the race, the second time the 34-year-old has failed to finish at the event after dropping out in Dubai two years ago.
Speaking to broadcasters after the race, manager Jos Hermens said that Bekele had suffered a fall at the start after there was no countdown to the starting gun and some pushing from behind.
"There was no countdown, so the start came out of the blue," he said.
Footage of Bekele's heavy fall was posted to Twitter by @Sub2hrs.
Unofficial footage from the Dubai marathon. Incident involving Bekele at the start resulting in a hard fall. Updates to follow. pic.twitter.com/5ElKCtPYEF

— Sub2hrsmarathon (@Sub2hrs) January 20, 2017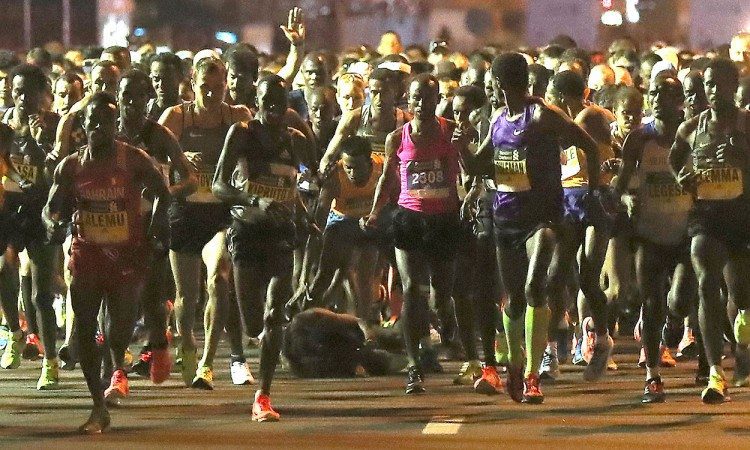 It was Rio Olympic 10,000m bronze medallist Tola that dealt best with the warm conditions and the blistering pace. The leaders passed 10km in 28:52 and the front group of seven, led by pacer Amos Kipruto, went through half way with 61:33 on the clock, compared to Dennis Kimetto's world record split of 61:45.
From there the field began to string out, with Bekele over a minute back on the leaders before he pulled up and started to walk. He had clocked 62:48 at the half-marathon mark. The extent of Bekele's injuries were not known immediately after the race, but the three-time Olympic gold medallist is due to be running the London Marathon in April.
Kipruto's duties were done after 30km was passed in 1:27:39, which left Tola running solo just off Kimetto's world record split from 2014 which had been 1:27:37 at that point. He couldn't maintain that pace, but the 25-year-old never let his advantage drop and eventually clocked 2:04:11 to improve his personal best by over two minutes and win by more than two-and-a-half minutes. Tola's winning time puts him third on the Ethiopian all-time list behind Bekele's 2:03:03 from Berlin last year and Haile Gebrselassie's 2:03:59 from 2008, while it ranks him ninth on the world all-time list for record-eligible courses.
Completing an Ethiopian clean sweep, Mule Wasihun closed on Sisay Lemma, clocking 2:06:46 for the runner-up spot, while Lemma ran 2:08:04 for third, finishing five seconds ahead of Sisay Jigsa.
"The pace was very fast at the start," Tola told the IAAF. "The 15km time (43:26) was much too fast. But when we found that Kenenisa was well behind, I became more confident. I'm happy to win, but I think I could have run under 2:04."
Bekele said: "I was at least in the same shape as in Berlin and ready for something special today, but after a hard fall just after the start, my body was out of balance and I got cramps in my left calf trying to run at world record pace."
There was another Ethiopian top-three in the women's race as national half-marathon record-holder Worknesh Degefa secured success on her marathon debut, clocking 2:22:36 to beat pre-race favourite Shure Demise with 2:22:57 and Yebrgual Melese with 2:23:13.
The eventual podium placers were always to the fore, but by 35km Degefa, who won last year's New Delhi Half Marathon, had made her move and created a gap of 23 seconds. Two-time Toronto Marathon winner Demise began to reel her in but the 26-year-old held on for victory and the $200,000 winner prize, which Tola will also receive.
Spain's Rafael Botello won the men's wheelchair race in 1:31:19 from Ireland's Patrick Monahan and GB's JohnBoy Smith, while Margriet van den Broek of Netherlands clocked 1:45:50 in the women's race.
» All times unofficial at the time of publication