The great Ron Pickering died 25 years ago this month but how many of today's young athletes know his fascinating life story?
Ron Pickering died 25 years ago this month. His legacy lives on with the Ron Pickering Memorial Fund, but the passing of time means that not all of the young athletes who are helped by the charity are aware of their benefactor's background.
Ron died on February 13, 1991, shortly after having a quintuple bypass operation. He was only 60 yet was a familiar face to the athletics fraternity mainly due to his role as a BBC sports commentator.
Many who knew him might be surprised to hear it is a quarter of a century since his death. It is no surprise, though, that many of the athletes helped by the eponymous fund do not know much about him, because increasingly they were not even born until the beginning of this century.
"Ron was more than just a commentator," wrote friend and colleague Tony Ward in Athletics Weekly several years ago. "He was a visionary, teacher, coach, inspirer, crusader, believer – believer in the intrinsic values of sport, believer in the worth of sport to young people, believer in the principles of life and sport that his mentor, Geoffrey Dyson, had part instilled in him. Above all he was a master communicator."
Ron was born on May 4, 1930, in Hackney and became synonymous with the East End of London. He was head boy at Stratford Grammar School and it was there that he met his future wife, Jean Desforges.
Jean was a world-class athlete who won long jump gold at the 1954 European Championships, 4x100m gold at the 1950 European Championships and Olympic 4x100m bronze in 1952. She married Ron in 1954 – they had a son, Shaun, who reached the Olympics and won a Commonwealth medal as a shot putter in the 1990s, and daughter, Kim, and since Ron's death the family have devoted themselves to setting up and carrying on the fund in Ron's name, although Jean sadly died in 2013.
"He was a brilliant school teacher and great communicator and motivator. And he gave you incredible confidence. He believed nothing was impossible" – Lynn Davies on Ron Pickering
After gaining a diploma in PE from Carnegie College in Leeds and a degree in education at Leicester University, Ron became a PE teacher at Stratford School and then Wanstead County High School before moving to Cardiff to become national coach for Wales from 1961-66. There, he met a young Lynn Davies (pictured with Pickering above), whom he would guide to the 1964 Olympic long jump title.
"Ron was the first guy who gave me an indication that I could be an international athlete," says Davies. "It was June 1961 and he was in Cardiff looking for talent. He was in London at the time but moving down to live in Cardiff."
Davies says Ron gave him a letter suggesting how he should train and the long jump legend adds: "Had it not been for Ron I would have played rugby and soccer and given up athletics but such was his belief and personality and drive and belief in me, it made the difference between me doing athletics or not.
"He was a brilliant school teacher and great communicator and motivator. And he gave you incredible confidence. He believed nothing was impossible and told me the Americans and Russians just had two arms and legs, the same as me, and that I could do anything."
Davies continues: "He was always conscious of the need to raise your sights the whole time and to not be satisfied with your level of performance. Within three years of meeting Ron, I was Olympic champion and it was thanks to him that I'd achieved this incredible dream as a sportsman."
Ron has gone down in history as a man who looked after the soul of the sport and who has made a lasting impact.
"During those years he was to leave an indelible mark on the landscape of Welsh athletics," writes Gwyn Williams in a tribute on the Welsh Athletics website. "Many athletes, coaches and teachers were lucky enough to tap into and feed off his enthusiasm, energy and sheer love of the sport. Ron's impact at all levels is still remembered by many in Wales today."
Williams adds: "Ron was a big, good-looking man with a strong, forceful personality, a powerful voice bursting with enthusiasm and confidence and with a great sense of humour. As a coach he expected dedication, commitment, high moral standards of discipline and behaviour. This is because he cared about athletes as people.
"He also recognised the danger of his athletes becoming too dependent on him and sought to make the athletes take ownership and responsibility for their athletics careers and especially in decision-making when competing. His sheer magnetic personality drew many talented Welsh sportsmen and sportswomen away from other sports and into athletics."
Moving to the BBC, Ron was TV commentator at the 1968 Olympics and continued in sports commentary for more than 20 years. As well as athletics, he worked in sports such as gymnastics and was host of the popular BBC programme We Are The Champions and co-presenter of Superstars.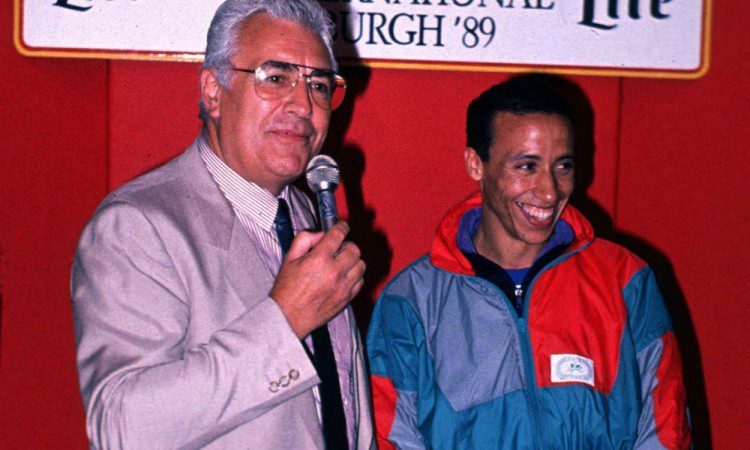 Mary Rand, the Olympic long jump champion in 1964, remembers: "Ron and Jean became my dearest friends and some of my happiest memories are from spending time at their home. Ron always had an open door to athletes. John Le Masurier coached me but Ron would always help me out if I was at meetings – he was a big influence and died far too young and I miss him to this day.
"The athletes are very fortunate to have had someone like Ron, for someone whose heart was very much in the sport and they should be able to see who he was and what he did for them."
Renewing his London links, Ron was president of Haringey Athletics Club, whose members included Seb Coe. "I first met Ron in 1977," Lord Coe recalls. "When I eventually left the north and moved to London he was instrumental in me joining Haringey. He knew I liked club life and had always enjoyed running for an athletics club."
Lord Coe continues: "Ron had a strict code of values and of course everyone had to pay club membership. In fact he used to walk around with my club membership cheque in his pocket (to illustrate that even Olympic champions had to pay to join)."
Lord Coe adds: "I never stand up and speak about Olympism without quoting Ron and one of the quotes I use is that Olympism wouldn't have survived three weeks, let alone 33 centuries, if it had been based on anything other than open, free and fair competition.
"He would have had a central role in London 2012 because he worked valiantly on the Manchester and Birmingham bids. He would have been talking about a part of London that he lived in, worked in, taught in, coached in and was absolutely deep in his DNA. He would actually have made a very good chairman!
"And if I have one abiding memory, it was his extraordinary sense of humour and the fact that he came to his commentary with an insight that few commentators have because few are coaches and Ron was a sensational coach. He understood the athletes – their motivations, their foibles and the fact they are all slightly mad. But he understood more about the people than the events."
"He came to his commentary with an insight that few commentators have because few are coaches and Ron was a sensational coach" – Seb Coe on Ron Pickering
One athlete who had more dealings with Ron than most was Daley Thompson. The decathlon legend lived with the Pickerings for a year when he was making his way up the athletics ladder and he remembers: "I first met Ron in 1978 and I knew he'd coached Lynn Davies, an Olympic gold medallist, which is not too shabby!
"One of the great things about Ron was that he was such a perfectionist on how he saw the sport and for me as a young kid it was such an education to learn from somebody who had been to the top and was full of enthusiasm but knew about all the hard work that had to be put in.
"He was very old school. He was very much against anyone breaking the rules, taking drugs or any kind of cheating. And in that regard we both saw eye to eye."
On living with the Pickering family, Thompson continues: "I totally immersed myself in the sport and every night we'd have talks about ethics and it was such an education and he really taught me to see the big picture. It was one of the best times of my life.
"He was a great champion of the sport and he had a strong view that people often do not have these days. We could do with men with his kind of vision now."
In 1986, Ron was appointed an OBE for services to sport and died five years later. Soon after, the Ron Pickering Memorial Fund was set up and has supported many athletes, including the bulk of recent British Olympic athletics teams.
Indeed, the fund gives tens of thousands of pounds' worth of support to youngsters every year and just before London 2012 it hit its target of giving £1 million to support British athletes, with much of this being thanks to the charity money raised by runners – or "Ronners" as they are known – in the London Marathon every year.
"Ron was the conscience of the sport and the guardian of the sport," says Davies, who adds that Ron was keen on politeness and fair play from thanking officials at competitions through to a fierce opposition of doping.
"If Ron were around he really would be the sounding board. He was such a respected commentator and observer and had such a large range of values."
And on today's fund for young athletes, of which Davies is one of the trustees, the Welshman adds: "To be recognised by the RPMF is a great honour and privilege for the kids. The amount of money and work that has been put into it is incredible and it's very important that the young people remember and recognise what he did."
» For more about the Ron Pickering Memorial Fund, see rpmf.org.uk