The free-to-enter, weekly timed 5km runs have boomed in popularity and 10 years on organisers voice their hopes about turning some "parkrunners" into "athletes"
Bushy Park, Teddington, saw a reunion this morning of 13 runners who 10 years ago began the global phenomenon now known as parkrun.
At nearly 500 locations around the world a total of about 75,000 are taking part in the free-to-enter, weekly timed 5km runs.
What started off as the Bushy Park Time Trial now accounts for more participation than in traditional road and multi-terrain events in the UK, with around 50,000 runners having toed the line at nearly 300 locations this morning.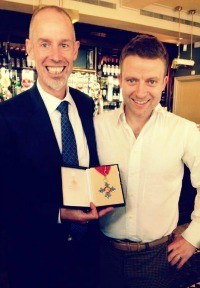 On Thursday, 10 years to the day since he founded parkrun, Paul Sinton-Hewitt received his CBE, which he was granted in this year's Queen's Birthday Honours for services to grassroots sports participation.
Indeed, getting the masses off their sofas was the primary aim of Sinton-Hewitt and that continues to be the case for the small organising team of staff. However, some of those at the core of more traditional running, a portion of which are suspicious that parkrun is having a harmful effect on club athletics, are unaware that the organisers are passionate about turning some parkrunners into what we might term "athletes".
parkrun managing director Tom Williams met this week with Jog Scotland, Athletics Northern Ireland, Welsh Athletics and England Athletics to discuss, among other things, how talented runners – senior and juniors – could be brought into club athletics.
As a 2:49 marathoner, he says of he and the team behind parkrun, which includes four-time world ironman champion Chrissie Wellington and 2:39 marathoner Danny Norman: "We're all lovers of our sport at elite level and we all lament the good old days. We'd love to see a return to the glory days and we'd love to be able to help out."
Some of his ideas include emailing the faster runners to encourage them to run in the more traditional events like the county championships.
Initiatives like this are partly why attitudes towards parkrun from the traditional element within athletics are changing.
As Run Britain chief executive Geoff Wightman pointed out: "When we undertook Run Britain roadshows four years ago, there was hostility from some parts of the established sport towards parkrun.
"It was around the fears that it would detract from established events and that parkrun wasn't applying the medical cover that would be appropriate for a 5km. When we made roadshow visits last year, most of those concerns had disappeared. The sport has accepted that parkrun brings in a completely different kind of participant and volunteer than we have previously been able to reach. The format spreads the workload evenly across a good number of volunteers who also feel empowered locally and have a strong sense of ownership of the event."
Former international Wightman was in his heyday during the initial running boom of the 1980s and he calls parkrun the "running phenomenon of the past decade".
Junior parkruns for children aged 4-14 have now started up at 21 locations too and Wightman adds: "The area of parkrun that excites me most for the future is the development of junior parkrun and what it might achieve for basic fitness and enthusiasm for running at a key age group. Nobody has really cracked that one this century."
While parkrun, which did not extend to a second event until 2007, has increased its locations at a rate of around 50-70 over each of of the last three years, Williams does not expect the expansion to dry up any time soon.
"We expect to grow at least through 500 or 1000 (in the UK) if you include juniors before we see any slowing in growth rate," said Williams, who added that 7000 were registering on the parkrun website each week in this country alone.
parkrun has come a long way in its 10 years, but the movement which has helped spark a new running boom shows no signs of slowing.
» Read more about Tom Williams' ambitions to use parkrun to help the performance side of running in next week's Athletics Weekly – out on October 9