Jessica Ennis-Hill remains on course for victory with one event to go but a no mark in the long jump dashes Katarina Johnson-Thompson's World Championships dreams
Jessica Ennis-Hill leads the heptathlon by 86 points with one event to go at Beijing's Bird's Nest stadium, but after starting day two in second behind the Olympic champion, Katarina Johnson-Thompson is out of the medals after being unable to record a mark in the long jump.
The pair had started day two on 4005 and 3925 points respectively, with Nadine Visser of Netherlands on 3871 and Canada's Commonwealth champion Brianne Theisen-Eaton with 3865.
But while Ennis-Hill kept her position after a best of 6.43m in the long jump – which is among her top 10 performances ever and put her fourth in that event behind Germany's Claudia Rath's 6.61m, Theisen-Eaton's 6.55m and Anastasiya Mokhnyuk of Ukraine's 6.51m – Johnson-Thompson fouled her three attempts.
The European indoor pentathlon champion's last jump was incredibly close and looked like it would have been the longest leap of the competition, but after protesting the decision British Athletics withdrew the appeal.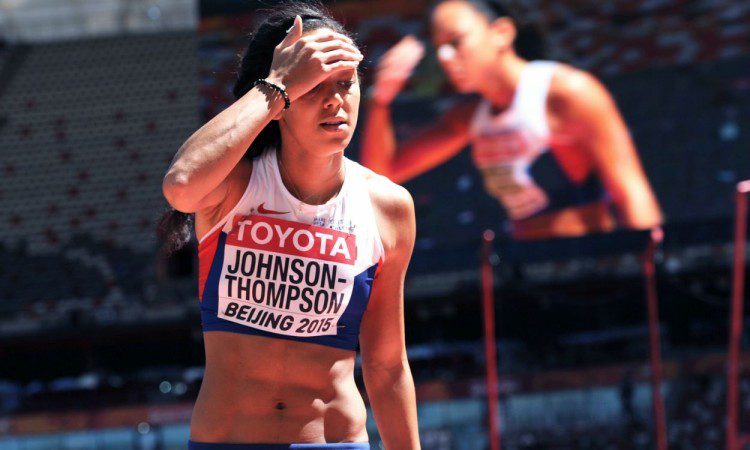 That left Ennis-Hill on 4990 points after the long jump, while Theisen-Eaton moved up to second with 4888 points and Mokhnyuk to third with 4847 points, while Johnson-Thompson went to 30th.
With Johnson-Thompson also contesting the individual long jump event in Beijing, her heptathlon campaign continued with the javelin, with British Athletics explaining that there would need to be a medical reason for her to withdraw and then medical confirmation that she could compete again.
So she warmed up for the sixth event, knowing that she would not be leaving with a medal, and returned to action to throw 39.52m. Ennis-Hill, meanwhile, threw 42.51m which put her 20th in an event led by Greece's Sofía Yfantidou with 56.19m but her consistency prevailed and she remained at the top with one event to go. A throw of 53.52m moved world indoor pentathlon champion and European silver medallist Nadine Broersen from sixth to second, ahead of Theisen-Eaton who threw 42.94m in the first round before fouling in the second and passing her third attempt.
With an 86-point advantage going into the 800m, Ennis-Hill is set to get the gold as long as she finishes within around six seconds of her rivals. Her best over the two lap distance is 2:07.81 from 2011 and she ran 2:09.21 in Gotzis in May and 2:08.65 en route to her Olympic title, while Broersen (5620 points after six events) clocked 2:11.11 for 800m in Gotzis last year and Theisen-Eaton has a PB of 2:09.03 from Moscow two years ago. Laura Ikauniece-Admidina with 5606 points sits just behind Theisen-Eaton with 5612 points and the Latvian has an 800m best of 2:11.83.
Speaking ahead of the championships, Ennis-Hill had said that being away from her young son was her hardest challenge and that she wanted to make sure that the trip was "worthwhile". It doesn't get better than gold. The heptathlon reaches its finale with the 800m at 19:40 on Sunday (12:40 UK).
Over in the first round of the women's 100m, Shelly-Ann Fraser-Pryce and Tori Bowie both ran identical times to win their heats, the Jamaican Olympic and world champion clocking her windy 10.88 despite easing up as she approached the line.
Britain's Asha Philip ran 11.28 to finish third behind Bowie to also progress to the semi-finals.
Other heat winners included Michelle-Lee Ahye with 10.98, Dafne Schippers with 11.01 and Blessing Okagbare with 11.07.
» The August 27 edition of Athletics Weekly magazine will include much more in-depth coverage from the first four days at the World Championships