The better you get, the more tactics rather than pure ability come into it, writes Matt Long
In the March 19, 2009 issue of AW, performance editor David Lowes wrote that tactics were both "an expedient for achieving a goal" and "a technique for securing an objective". His article pointed out that due to the considerable demands which the 800m and 1500m place on the lactate and aerobic energy systems, effective tactics can only be successful when fitness levels are high.
Peter Coe referred to knowledge of self and the opposition as well as spatial awareness as the prerequisites of effective tactical deployment in his book Winning Running. The father and coach of double Olympic 1500m champion Seb Coe wrote: "Smart tactics depend on the athlete knowing what is happening all around them. The successful use of tactics depends on knowing your ability and having a justified confidence built on comprehensive training and a lot of good and varied experience."
It was the late national coach Dave Sunderland in his book High Performance Middle-Distance Running who wrote extensively about the methods of running a race and here we analyse his beliefs.
Type 1: The front-runner
This type of runner aims to break the opposition by sustaining a hard pace throughout the race. This is a great tactic if you want to have a relatively uncluttered run, but you must be close to the peak of your fitness to sustain this type of running.
Over two laps, a great example of this was the giant Cuban Alberto Juantorena – aka "White Lightning". He only momentarily surrendered the lead in dominating the 1976 Montreal Olympic 800m final and similarly David Rudisha was never headed when winning the 2012 London Olympic in world-record figures.
Over 1500m, this tactic was used by the sensational Tanzanian Filbert Bayi, who went through the opening lap at the 1974 Christchurch Commonwealth Games in an unbelievable 54.4sec and 800m in 1:51.8, before tiring but still prevailing over Kiwi John Walker with a world record 3:32.2.
Type 2: The even-split runner
The aim here is to achieve economy of effort through the achievement of well judged "even splits". This is unusual, if not rare, especially over 800m where most two-lap races have a faster first lap and in many cases, perhaps foolishly too fast.
This said, in the 2004 Athens Olympics 800m final, Kelly Holmes famously ran from the back of the field as the front-runners sped round the first lap only to suffer badly over the final stages. Holmes' pace was virtually identical for each 200m split and she took the gold by being able to attack when it mattered most.
Another famous example was the American Dave Wottle, whose "come from nowhere" victory over 800m at the 1972 Munich Olympics perhaps misleadingly earned him the nicknames "Wottle the Throttle" and "Head Waiter". His apparent surge in the last 100m was in fact an illusion – he was maintaining his pace while the opposition floundered.
Type 3: The kicker/waiter
This type of athlete will typically wait to deploy a devastating and relatively short sprint anywhere between 200m and 100m from the finishing line. This sort of finish was famously exerted by 1980 Moscow Olympic 800m champion Steve Ovett when winning the 1977 World Cup 1500m in Düsseldorf and destroying the field with 200m to go.
In the 1964 Tokyo Olympics, Ann Packer waited until there was around 130m to go before launching an amazing sprint, which saw her overhaul French star Maryvonne Dupureur with around 40m remaining and clinch the gold medal in a world record of 2:01.1.
The benefits of this tactic is that it is very hard for the opposition to respond to a massive increase in pace when the "kicker" has moved into the lead. On the downside, this tactic cannot be effected unless the athlete has both good basic speed and acceleration.
Type 4: The "winder"
Typically this athlete will wind up the pace from between 300m and 400m from the finish line and in some cases even longer with the explicit aim of neutralising the "sting" of the above "kicker".
A great example of this was Steve Cram's world mile record set in Oslo in 1985 where he ran a phenomenal last lap of 53.2 to nullify any sprint finish which could be offered by Seb Coe, who placed third that night.
A second example is that of Fermin Cacho, who reputedly ran a shade over 36 seconds for the final 300m, which saw the Spaniard take the 1992 Olympic 1500m gold in Barcelona. This tactic requires massive self-confidence and unswerving commitment.
Type 5: The incremental pace-builder
Unlike the kicker and the winder who strike with a lap or less to go, the incremental pace-builder tends to build the pace between 600m and 500m to go, with the pace getting progressively quicker.
This tactic has typically been used by the Moroccan great Hicham El Guerrouj, who took the lead with around 750m to go of the Olympic Games 1500m final in Athens in 2004 and in running an unbelievable 1:46.70 for the final two laps just managed to hold off the challenge of rival Bernard Lagat.
El Guerrouj was so proficient at this type of running that it didn't look as if he was increasing his pace. While exceptional basic speed is not needed for this tactic, a combination of both speed and strength endurance is most certainly a prerequisite.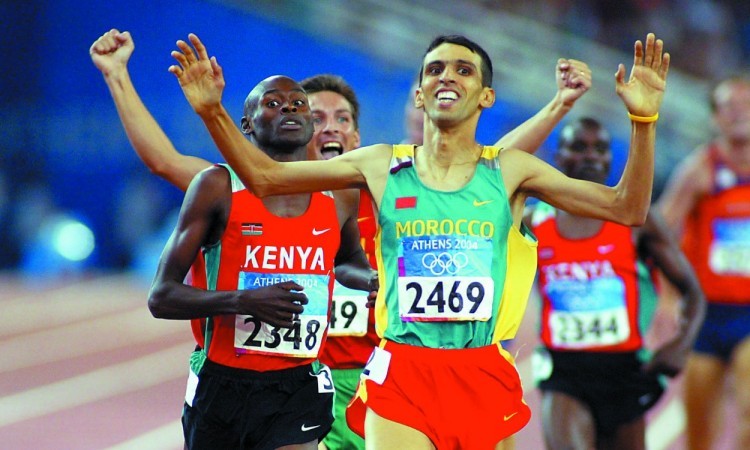 A further two types of tactical ploys are mid-race attackers and surgers. However, these types of tactics are far more common in long-distance events, particularly over 5000m and 10,000m.
Although the above examples highlight some of the great exponents of tactical nous, many of the world's best middle-distance runners are not one-dimensional in their approach to races. Indeed tactics are not only a means of
securing the best possible race in terms of position or time – they are the element of surprise that the opposition may not be expecting!
Checklist
Use the following self-reflection questions to help build tactical awareness as an athlete or coach.
Do you:
» Regularly reflect on tactical strengths and weaknesses?
» Seek to build up knowledge of your opposition through mediated technology such as Power of 10?
» Routinely practise tactics within sessions? As Lowes has written: "In sessions try to put yourself into positions which you are not at ease with. You will eventually get used to these and be able to adapt much better in competition."
» Take into account conditional variables such as climatic conditions? For example, it is much harder to effect front-running tactics in humid or windy conditions.
» Take into account situational variables such as the fact that the requirement to follow the pace in a British Milers' Club race with a "hare" is very different from the tactics needed to win a county or regional title?
» Allow for contingencies in terms of having a plan B or plan C in covering every eventuality?
» Matt Long is editor of BMC News magazine and a winner of the Horwill scholarship for coach education research