Toth takes 50km race walk title, while Liu wins close race over 20km in Rio
Matej Toth claimed Slovakia's first ever Olympic athletics gold medal, taking the 50km race walk title ahead of Australia's Jared Tallent, while China's Liu Hong also added Olympic 20km walk gold to her World Championships win from last year.
The men's race had featured the defending champion, the world champion and the world record holder – with Tallent, who received London 2012 gold following the disqualification of Russia's Sergey Kirdyapkin for doping, going up against Beijing 2015 champion Toth and best ever Yohann Diniz.
The trio had differing fortunes as Toth pipped Tallent to the title – 3:40:58 to 3:41:16, while Diniz struggled with stomach problems but battled on to place eighth in 3:46:43.
"I'm so happy and I'm so looking forward to singing the Slovakian anthem," said Toth ahead of his medal ceremony. "I can't wait for this."
On the race, he added: "It was a very tough race because it was very warm. Nobody could do the final attack.
"It was very important to wait until maybe 40km, 45km. That's why it was very close, because we were a very big group. Nobody wanted to push hard."
Bronze went to Japan's Hirooki Arai but only after he was reinstated after an initial disqualification, with the athlete having come into contact with eventual fourth-placer Evan Dunfee of Canada.
The pair clocked 3:41:24 and a national record of 3:41:38 respectively. A statement from Dunfee can be found here.
Ireland's Robert Heffernan finished sixth in 3:43:55, while Britain's Dominic King was disqualified just before the half way point for a bent knees infringement.
Earlier Olympic race walk action had seen King's team-mate Tom Bosworth place sixth in a national record in the 20km event.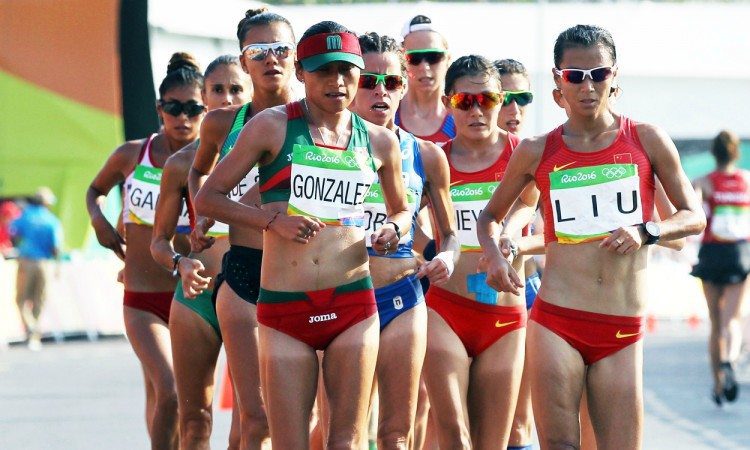 In the women's race, world champion Liu clocked 1:28:35 to win a close race ahead of World Race Walking Team Championships winner Maria Guadalupe Gonzalez of Mexico with 1:28:37.
Liu's Chinese team-mate Lu Xiuzhi, the world silver medallist, had a time of  1:28:42 for bronze.
Italy's Antonella Palmisano was just outside the medals with 1:29:03 for fourth.
"It means a lot to me,' said the winner. "I have been doing this sport for more than 10 years now and at the last Olympics I was fourth. This time I was doing my best to get a medal and I am pleased I could get the gold today."
For race updates check out the Athletics Weekly Twitter feed here.