Roger Robinson pays tribute to fellow former runner and friend Mike Turner, who has died aged 77
Mike Turner would have made a good monk. Like a devoted monk, he was happiest when he was most rigorous. Running for him was the discipline that gave meaning to his life, yet was also a source of joy, a radiance. To us lesser runners he was the Iron Man, but he was also light-hearted, laughing company at all times – except in the middle of a fierce repeat across a field of glutinous Cambridgeshire mud.
A much better and more dedicated runner than I was, he tolerated my lapses and complaints generously. Almost sixty years later, I still describe the condition of being exhausted and flat from excess of hard training as being "turnered." I claim his most common phrase was, "Get up, Robinson, only two to go."
We were the same age almost to the day, and at 19 arrived at the same college of Cambridge University in England. He was always the leader among the student runners, sure in his beliefs (train harder than anyone else), iron-willed in his example, yet kind, never stern or critical. That gave him a charismatic genius for transforming modest talents into good runners, and making student team running something to be remembered and valued through life.
He did that for me. I'd been a runner since my early teens and always loved it, but had never really committed myself. Three runs a week and not at all in summer is how I remember my teen years. I didn't start a running diary until after I met Mike. Life was too full, and I didn't see myself as good enough. We had no coach at my high school, which was great for learning independence but made it hard to set your sights high. Then I went to university and met Mike.
Training with a friend who was a better runner, better informed, confident in his opinions, and also likeable and encouraging, my amateurishness about running began to change. Just before turning 21, I ran seven days in a week for the first time, four of those days with Mike (according to that diary I had only just started to keep).
Mike and I became regular training partners during our twenties. For some periods we ran together every day, or twice a day. The friendship became a close bond when we were paired in the Cambridge University John o'Groats to Land's End Relay, a team of ten students running the entire length of Great Britain (850 miles) in just over three days. It's a short-cut to lifelong friendship when you learn in the heat of action that you can absolutely trust the other person to deliver.
The best years came when we were both working on our PhD research, in different subjects, a time of blissful freedom from schedule constraints. For a while I lived in his Harvey Road flat, famed far and wide among runners for its free hospitality and unwashed tea towels. Now in our mid-twenties, we ran together, often very hard, in the middle of every day ("the only time it's worth being outside in winter", Mike said in his definitive way). Our staple was long repeats across tough country (8 x 5 minutes, say). Then we would have a hot soak in the deep old-fashioned college baths, and from the next cubicle Mike would sing, in his lyrical light tenor, folk songs, mostly, sometimes hymns, from his days as a boy treble in the Liverpool Cathedral choir. Then we lunched cheaply, and talked and laughed a lot. It all knocked a hole in the day, and meant working late in the university library, but what I learned from Mike, from the million topics we discussed, and from the English countryside that we explored so rigorously, made it time well used.
A favourite Mike Turner story: on a complicated rail journey home from a mountain race in Scotland, Mike had some late darkness hours to kill at a remote Scottish train station. So he put on running shoes, and started to run, up and down the gloomy and totally empty platform. After a while, the station master came out of his warm office and told him he had to stop. "Why?" asked Mike politely. The Scottish official thought for a moment. "Well," he said, "…they'd all be doin' it."
He took on club duties. Profoundly loyal, he would race to the limit for one of his teams – college, university, club (Liverpool Harriers), county (Lancashire), country – and perhaps fell just short of greatness because he gave so much so often to so many teams. He would do anything for another runner. "No bother, no bother at all!" was his rhythmic mantra, chanted almost musically. He was happy in the dedicated male community of runners. Yes, he would have made a good monk.
By now Mike was among the world's best cross-country runners. He was England's captain in a supreme era. Team-mates during his ten years at that level, 1961-70, included Basil Heatley (Olympic marathon silver), Bruce Tulloh (European 5000m champion), Ron Hill (European and Boston Marathon champion), Tim Johnston (8th Olympic marathon, 1968) and Roy Fowler (1st International XC, 3rd European 10,000m). Among such colossal heroes, as they seemed from my level, Mike was liked, admired, and feared, just as he was by me. He beat Hill for the British Universities title, and came literally within an inch of beating him for the England cross-country championship in 1966. That was the closest and most exciting finish in the history of the great old race. That day, a little further back in the field, I made it to international selection for the first time. Mike was a key factor making that unlikely leap possible.
Mike did win the Inter-Counties cross-country (1964), and several British University titles. His best international placing was seventh in the International Cross-Country in 1970. Later he took senior positions in British Athletics, including treasurer, and we trained together once again on the Olympic training track in Seoul in 1988, when he was British team manager and I was a New Zealand TV journalist, two ageing and slowing friends keeping the inside lanes free for the fleet Kenyans.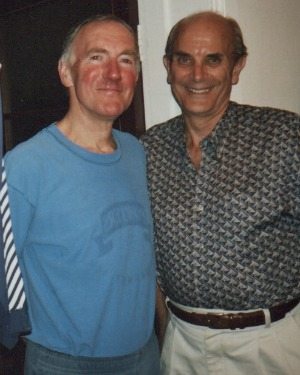 He stayed on in Cambridge, as a lecturer in Land Economy and college fellow. He was famed among generations of students for his frayed and faded running gear. Monk-like, he thrived on the collegiate life that combines a solitary scholar's rooms with communal gourmet meals. His relish for good food and wine extended to home, and I was one of many who often took advantage of the legendary hospitality that he and his lifetime partner Glenda provided. Part of the allure was the expertise he had gained from carrying special responsibility for selecting the college fellows' vintage wines.
Mike (pictured with Roger in 2006) kept racing well into his fifties, though heart arrhythmia sometimes stopped him. That trouble deepened and he hit seriously bad health in his later sixties. Some of us attributed it to his insistence in later years on going for his daily run at 4.30am (the rigorous monk again). In 2012, he had a stroke, suffered blood clots, eventually a leg amputation. That was unthinkable, for such a supreme runner. Supported by Glenda, he lived a restricted life with stoic resolve, and their flat became yet again a buzzing centre for the many visitors who remembered his support and leadership in their youth.
To his death (at age 77 on January 6, 2017), Mike has remained one of the main reasons I go back every year to England. He was, and will remain, the friend of rich contrasts – light-hearted yet stern-minded; generous yet disciplined; the fiercely private individualist who sacrificed himself week after week for his team; the singing iron man who could run away from me with such zestful rigour.
Mike Turner was the first to show me that running is worth doing well, worth committing yourself to do well, and worth thinking about well. He showed me that running can be an intellectual challenge and an emotional passion as well as a physical sport. That helped shape my life.
"May the gods direct you to the best," said Shakespeare. Or if you're lucky, you'll find a friend like Mike to do it.
» The funeral service for Mike Turner will be held on Tuesday January 31 at 1.45 pm in St Botolphs Church, Cambridge
» Roger Robinson wrote Running in Literature and other classic running books. He lives, runs and writes in USA and New Zealand