Olympic sixth-placer Tom Bosworth among those in action as he storms the streets of Southsea in race walk vs run challenge
Teenage runners claimed victories at the Great South Run 5km on Saturday (October 22) as a weekend of road race action in Southsea and Portsmouth got underway.
Continuing a successful year so far, 15-year-old City of Portsmouth runner Lachlan Wellington shaved eight seconds off his PB, which had been set when winning at the Lakeside 5K Series race in July, clocking 15:18 to triumph in the men's race ahead of Poole Runners' James Share with 15:50 and Winchester & District's James Heneghan with 16:03.
"It's a PB, so I'm really happy," he said. "I was second last year so coming back and racing in my home town, I'm definitely glad to win."
The women's race was won by Aldershot, Farnham & District's Maisie Grice as the 16-year-old also ran a PB of 18:35 to beat City of Portsmouth AC's 14-year-old Nicole Ainsworth with 18:45 and Karen Andrews of Hedge End Running Club with 18:54.
"It was really hard and tiring because I haven't done a 5km in a while but I enjoyed it," said Grice, who after crossing the finish line was congratulated by club mate Andy Vernon, who jogged the course ahead of racing the following day's 10-mile Great South Run.
Another Rio Olympian in 5km action on Saturday was Tom Bosworth as the race walker returned to the roads after his sixth-place finish in Brazil to challenge participants in Portsmouth to a race walk vs run challenge.
Organisers The Great Run Company had announced that any runners to beat Bosworth's time would secure themselves free entry into the 2017 5km. With a PB of 18:54 and a target time of 20 to 21 minutes, Bosworth was spot on as he crossed the finish line with 20:10 on the clock and just 40 runners ahead of him.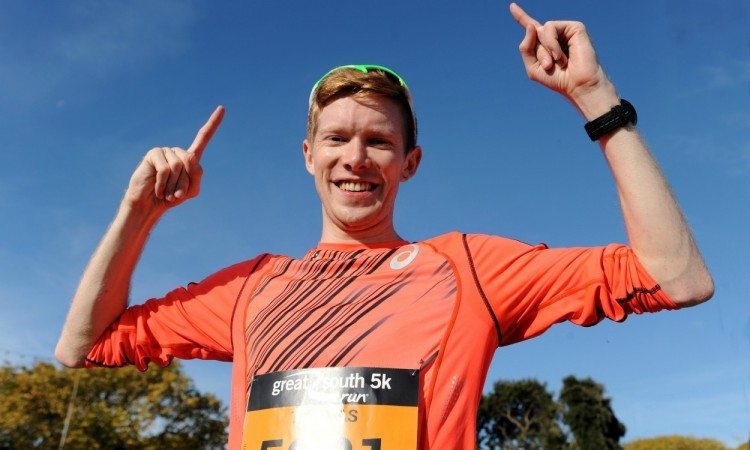 "I loved it, though I wish I had warmed up a little bit more!" said Bosworth on a sunny but chilly morning. "Starting off with the front runners meant we set off at a good pace which actually really helped me. It was a lot faster than I thought it would go which just shows I haven't lost too much fitness!
"It's such a great event, thanks to the organisers for inviting me down and setting up this brilliant challenge," he added. "I think I did all right, I don't think they will be too disappointed – not too many free entries next year!
"The support here was amazing. It's so nice to do a race where there's no pressure, people cheering you on, and it's great exposure for race walking."
The day continued with Junior & Mini Great South Run races, with three-time Olympic gold medallist Tirunesh Dibaba, who contests the 10-mile on Sunday, among the race starters.