The European junior 800m champion is Beijing bound and one of the youngest members of GB's World Champs team
Barely a few years go by without a young Briton being labelled as the next Coe, Cram or Ovett.
It is a mantle that is viewed as a burden for many, but Kyle Langford, who last month became Britain's third fastest junior 800m runner in history, appears to carry it with relish. He wants not merely to match former world record-holder Seb Coe and 1980 Olympic champion Steve Ovett.
His 1:45.78 at the Sainsbury's Anniversary Games put the 19-year-old 0.14 short of the UK junior record of David Sharpe and just a hundredth behind Ovett on the age-group all-time list. Learning he was so close in time to Ovett, Langford said: "Hopefully I'll follow in their footsteps, him and Seb, and better them.
"Hopefully I'll break the record this year and I'll strive on for an Olympic gold next year."
"Hopefully I'll follow in their footsteps, him and Seb, and better them" – Langford on the achievements of Coe and Ovett
Even as early as last year he was talking about being in contention for medals in the Rio Olympics and his coach, George Harrison, believes his confidence is well founded.
"I'd like to think along the lines that Kyle one day might be matching those times," said the renowned Shaftesbury Harriers coach, who thought his charge capable on that day at the Olympic Stadium of going under the 1:46.00 qualifying mark for the IAAF World Championships.
Although Langford was seventh, he was within a second and a half of the winner, world champion Nijel Amos, and world record-holder David Rudisha.
"I expected him to do that time, but I didn't think for a moment he would get that close to Rudisha and Amos," said Harrison. "Just over a second behind two 1:42 merchants if not better. So I think the time is much better than the 1:45.78."
Particularly impressive is that Langford's run at the Anniversary Games came after he lined up not feeling 100%.
He had recently returned from Sweden, where he ran three races in three days en route to becoming European junior champion, and said: "I take every single race as a positive thing because, even if it's not been great, you can learn from it.
Speaking at the Anniversary Games following his 1:45, he added: "Today I learned I can go out there, not feeling great and still run the time. And last weekend I learned I could do tactical racing."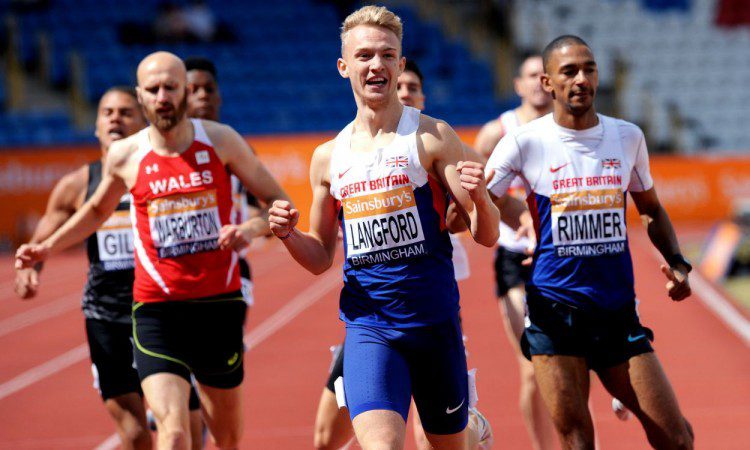 Explaining how he felt going into the race, he said: "I've just come back from running three rounds in three days. My tummy didn't really mix with the food out there so. I did one session on Tuesday and went a bit faster than I thought I should have."
Harrison described the run as "incredible" given that he had six days in Sweden followed by the same amount of time back home.
Langford added: "If I hadn't been doing the Euro Juniors I'd have probably peaked more for this race, so I'd have probably been more competitive. I trust in my ability to be able to test these guys. I've got a lot more in the locker and hopefully I can prove that in races to come."
"I take every single race as a positive thing because, even if it's not been great, you can learn from it" – Langford
Langford's run ultimately earned him a place on the team for the World Championships. According to British Athletics' criteria, that makes him a contender for a top-eight place in Beijing or a future medal prospect.
Harrison said: "I would be very surprised if he doesn't make the semi. I wouldn't like to say he could make the final. Just for the experience alone would be the best thing for him.
"He's the sort of lad that can take it in his stride. The big occasion doesn't seem to get to him. I'm hoping for the semis and we'll see where we go from there. I think he's aiming to make the final."
Langford, who begins his campaign in Beijing on the opening day (August 22), will be hoping for a better experience than the last time he competed in a world championships. On that occasion it was the World Junior Championships in Oregon, where he eased his way into the final but then came down with suspected food poisoning the night before the final. He showed great courage to line up, but he struggled home eight in 1:55.
Twelve months earlier he had been out-dipped for the silver medal at the World Youth Championships by Russia's Konstantin Tolokonnikov. He reversed that in Sweden with a much better dip as the fast-finishing Russian took second.
Four major championships in three years would be a remarkable achievement for the man who beat Michael Rimmer to the UK senior title last month (pictured above), given that he only started in athletics at the age of 15.
"He's the sort of lad that can take it in his stride. The big occasion doesn't seem to get to him" – coach Harrison on Langford
He didn't find success straight away. In 2012, he was leading the intermediate race at the English Schools Cross Country Championships, but he ended up finishing 221st.
However, learning to control his youthful exuberance, the Shaftesbury runner, who has Tom Bedford as mentor and agent, improved to 1:48.32 for 800m the following year and then 1:47.41 last year.
Harrison, who has also coached sub-two runner Marilyn Okoro, 1:45 man Paul Herbert and European 5000m silver medallist Gary Staines, insists Langford has much scope for increase when it comes to training load. He said: "People wouldn't believe the work he does. It's nothing in comparison.
"This year we've managed to get him up to 35-40 miles a week, but he was doing those times last year on 20-25. There's a lot to come yet.
"As he gets older and stronger then we can do a little more work. But he gets fantastic results out of the amount of training he's put in."
Harrison compares him to Coe when considering one of his best attributes.
"He's got a tremendous turn of pace," said Harrison. "When I look back to Paul Herbert, he ran 1:45, but he didn't have that turn of pace that Kyle seems to have.
"He can get himself out of trouble. The pace he showed at the world trials to go straight past them, that change of pace is going to put him good positions in races.
"That's what makes good athletes, I think. Not so much Cram, but certainly Coe – he had that change of pace."