New documentary by Ben and Gabe Turner welcomes viewers to the world of the Jamaican sprint sensation
It's fascinating. It also reveals much more than you'd expect about one of the most celebrated sporting figures on the planet.
New documentary I Am Bolt doesn't fall into the trap of trotting out samey platitudes or regurgitating what everyone already knows about its subject – one Usain Bolt, the nine-time Olympic sprint gold medallist. Instead, it is a very honest piece of work which does rather more than scratch the surface. In fact, it actually gets right under the skin of this superstar and reveals a depth not previously apparent in a man usually to be found owning his stage and commanding his crowd.
Bolt clearly trusted producers Ben and Gabe Turner, the men behind this film. In front of the camera he is open and unguarded. The viewer is welcomed in.
"Every year, I worry 'am I still fast?'"
It is definitely Bolt, but here he's different. For example he discusses how, despite his complete and utter dominance of his chosen profession, he begins every year wondering if he still has what it takes.
There is the admission, too, of a serious lack of motivation as the Rio Olympics – what were to be his crowning glory – came looming into view.
That state of mind followed on from an ankle injury sustained in a nightclub which meant he missed a significant chunk of training right when he couldn't afford to. As we learn, however, Justin Gatlin's bravado on a US TV show soon sparked Bolt back into action, but there is a thread running through the film of a man having to fight against himself – largely against his own body. As his agent Ricky Simms puts it: "Injuries have been his biggest rival in his career".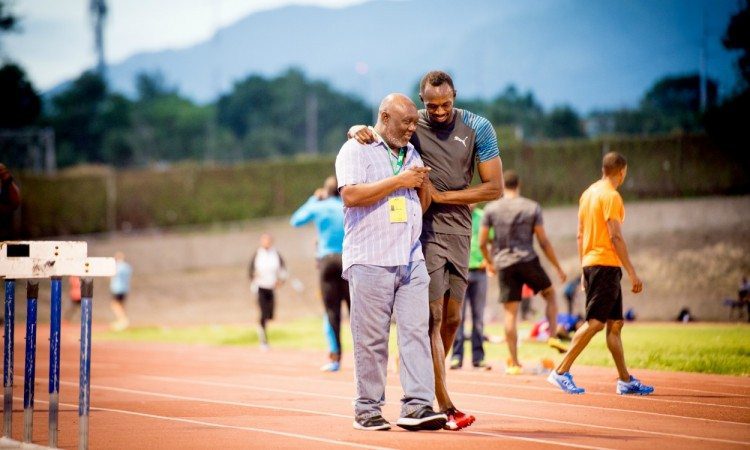 From the footage – which follows Bolt (pictured above with his coach Glen Mills) at very close quarters largely from the World Championships in Beijing last year through to the Olympics of the summer just passed – it's also apparent just how normal he actually is, and how much he enjoys and craves the simple things.
Arguably the most illuminating scene finds our star on the wrong side of boredom in a hotel room, in the early hours of the morning with a handheld camera and a hoverboard. What ensues is considerably more than a mere peek behind the curtain of what it's like to be truly famous.
» I AM BOLT is released in cinemas, on digital download, Blu-Ray and DVD on November 28
» A six-page interview with Usain Bolt features in the AW Review of 2016 bookazine, which is out on December 1 and available to order here