Will Cockerell wrote his book, The 50 Greatest Marathon Races of All Time, in 2006 and now, a decade later, he ponders how the top 20 might look today
I do not think my original book, The 50 Greatest Marathon Races of All Time, has dated too much as the characters that filled its pages, from Bikila to Benoit, Dorando to Dixon, Rodgers to Radcliffe or Zabala to Zatopek were so rich and complex that it would take something pretty special to push them aside.
There are less personalities around these days but that's not to say there haven't been some indelible moments. All four Olympic marathons have been terrific and the men have run faster than we could have imagined.
Incredibly, the world has moved on two minutes in a decade. The women have been more circumspect with few outstanding times to speak of, but until a race director sets up another front-running athlete with the assistance given to Paula Radcliffe of two male chaperones for the entire journey, her world record could remain untouched for decades to come.
Note this list seeks out the great "races", not necessarily the quickest – as that's a far less contentious list and can be found with a few clicks of a mouse.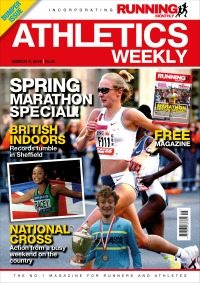 I have seen fit to insert six fresh races into my top 20 list, and after some reflection have a new No.1.
Below you will find Cockerell's top 10. Want to read his full top 20 list? Check out the March 3 issue of Athletics Weekly magazine (which is available to order here or read digitally here) – a spring marathon special bumper edition.
1. 2014 Berlin men
My new No.1 – a tad contentious, and it's taken an awful lot to shift the previous incumbents, but this is something special. Emmanuel Mutai ripped through 30km in the lead in 1:27:37 before Dennis Kimetto took the reigns en route to his 2:02:57. The world record had stood at 2:03:23 by Wilson Kipsang the year before. Kimetto is a worthy holder of the accolade and has a bizarre history. Due to an erroneous passport he competed for years under the name of Koech, and an age 10 years younger which played havoc with age-group world records. The correction has been made, and we can now point to the age of 29 being a likely age of marathon peak as Paula Radcliffe shares the figure. Kimetto's 5km splits were as follows: 14:42, 14:42, 14:46, 14:26, 14:32, 14:30, 14:09 and 14:42. The 14:09 is the one you need to dip under two hours if you're that way inclined.
2. 2002 London men
The respective kings of track, cross country and the road came to do battle over the marathon, and the unfancied Khalid Khannouchi stormed to a world record over Paul Tergat and Haile Gebrselassie who faded in the last mile. London throws serious money at trying to repeat the formula, but something like this only comes along once or twice in a lifetime. Both Tergat and Geb would go on to claim the world records for themselves to show just what a rare and majestic trio this was. London's mark has been reduced numerous times since, and the mark now stands at 2:04:29 by Wilson Kipsang in 2014.
3. 1982 Boston men
The subject of a book called Duel in the Sun, the day itself with its heat, gladiatorial battle and glorious music of Vangelis' Chariots of Fire audible much of the way, lent the race its magical atmosphere. At the end, Dick Beardsley very nearly won, and Alberto Salazar very nearly died. "A dried-out, dehydrated, unsalted, flat, crisp, cold potato chip," was how the doctor described Salazar's condition, who was not new to post-race medical emergencies. As Salazar went on to be one of the world's foremost endurance coaches, Beardsley became addicted to painkillers, was arrested for forging prescriptions and got mangled in a farming accident. But he ran with a balletic ease and has his place in history, not least too for co-winning the first London.
4. 1960 Rome Olympic Games men
The day Abebe Bikila, he of the smooth glide and bare feet, introduced himself to the world. With race favourite Rhadi be Abdesselem of Morocco grimly hanging on at world-record pace, unknown Ethiopian soldier Bikila won in a world record 2:15:16. He proclaimed afterwards that 26 miles was nothing to him and won again by four minutes over Basil Heatley at Tokyo in 1964. Injured at Mexico '68 he commanded teammate Mamo Wolde to go it alone at 17km. "Sir! Yes sir!" Wolde replied, and duly won. In 1969 Bikila swerved his Beetle given to him by the government to avoid protesting students and landed in a ditch. He became a paraplegic and died of a cerebral haemorrhage on October 25, 1973. Some 75,000 attended his funeral.
5. 1952 Helsinki Olympic Games men
The day Emil Zatopek achieved "the five, the dime and the big one." It's not an easy triple and will never be repeated. But the thrashing, churning, agonising, grimacing running automaton carried out the feat. Britain's Jim Peters was the big pre-race favourite, but simply couldn't handle Emil's ferocious early pace, and ended up disconsolate and bewildered by the roadside late on in the race, akin to another strong British favourite 52 years later. Many years on, Zatopek gave his gold medal to Ron Clarke, something the Australian had never won himself. Clarke said, "His enthusiasm, his friendliness, his love of life, shone through every moment."
6. 1982 Brisbane Commonwealth Games men
Rob de Castella, the poster boy of Australian sport at the time, was the big favourite to win this marathon, but his only concern was having to lead the whole way. His worries were assuaged as two Tanzanians, defending champion Gidamis Shahanga and new kid on the block Juma Ikangaa, set off as though in a 1500m race, and then kept on going. At 20 miles 'Deek' was a minute down and sensed the crowd were resigned to his coming third. But he attacked the hills and slowly reeled in his prey. Shahanga went quietly but Ikangaa fought back to show what a top runner he'd become, and an epic 2km duel ensued, before Deek finally prevailed by 50 yards. Afterwards the Tanzanians bemoaned they hadn't gone out even harder. "Rubbish," replied Deek. "If they had, they'd have only died sooner and I'd have won by more." Fair point, well made.
7. 1908 London Olympic Games men
Controversy and spell-binding drama as a delirious Dorando Pietri shuffled into the White City Stadium, collapsed several times and was aided through the finish line by officials, to be treated by Arthur Conan Doyle in his former career as a medic. A robust John Hayes (USA) entered next and the Americans protested and hailed him as the winner. Due to a dire state of relations between US and British officials, the hearing was delayed until after the Italian flag had been raised. Only then was Hayes declared the winner. Pietri was lauded by all and even given a gig at a music hall. "Verily, we are a strange nation," mused The Times.
8. 1996 Boston women
Seen as a runner's Woodstock, the 100th Boston was blessed with glorious weather after a freak spring snowstorm the day before. And the women's race was one of the most dramatic ever seen as the tiny Tegla Loroupe took a stranglehold on the race that she never looked like relinquishing. Defending champion Uta Pippig almost dropped out after the horrors that enveloped her in the early miles. She wasn't using the water stops to drink but to freshen up. But at 24 miles a rejuvenated Pippig grew wings and gave chase ("I never thought I could fly"). A tiring Loroupe was narrowly vanquished but would go on to great things like breaking the world record twice and winning seven big city marathons in total.
9. 1984 Los Angeles Olympic Games men
All the giants of the 1980s were up for this one and the smart money was on the favourite Rob de Castella, the US darling Alberto Salazar, the great Toshihiko Seko of Japan or the ever more dangerous Tanzanian Juma Ikangaa; with the So twins, Rod Dixon, Hugh Jones, Joseph Nzau, Ahmed Salah and many more poised to strike. But it was Montreal '76 10,000m silver medallist Carlos Lopes that carried the day in an absorbing race with a surprise silver from the late decision of John Treacy of Ireland to run, just two seconds up on Charlie Spedding. Recalling the day, Lopes notes: "Everything was hitting just perfectly, all cylinders were on go."
10. 1988 Seoul Olympic Games men
There's little to choose between this and LA of four years before except many of the marquee names had gotten old. What followed though was an inevitable race-long duel between the two hottest runners of the day in Douglas Wakiihuri and Ahmed Salah. Surely one of them would go onto win and it looked like Salah who broke free; but with a mile to go he had an exhausted glance over his shoulder and the situation in all its ghastliness stared back, grinning. It was the supreme judgment of Italy's Gelindo Bordin that prevailed. After 80 years, Italy had another man cross the line first – but this time for keeps.
» See the March 3 spring marathon special bumper edition of Athletics Weekly magazine (which is available to order here or read digitally here) for Will Cockerell's full top 20 list