Allyson Felix is targeting a rare Olympic double over 200m and 400m this year. As Stuart Weir says, she is already one of the greats
When the US trials and their rigid selection system deprived the nation of world No.1 Francena McCorory and Olympic champion Sanya Richards-Ross, it looked as if the chance of an American victory in the 2015 World Championships 400 metres had gone.
That was until Allyson Felix, after keeping us waiting for most of the year, announced that she would run the 400m and not the 200m. In the event, Felix ran 49.26 (a PB and world leading time) to take gold.
Felix started running in high school. As she recalls: "My brother ran track in high school and I've always kind of followed after my brother and just wanted to be just like him. So my brother is really what got me started in track and field."
She went to her first track practice straight from basketball, still wearing her basketball shorts and basketball shoes, which didn't impress the coach. Then when he timed her for 60 metres he could not believe the time and wondered if the distance was wrong.
"I ran it a couple more times and the time was consistent so he pretty much figured out I was fast," she says.
Even then it took her the rest of the season to convince herself how good she was. After that she started to do extra training, go to the the weights room and be more dedicated about it.
The brother she referred to is Wes, who is now her manager and travelling companion. Wes is not averse to pointing out that Felix, for all her medals, is the second fastest in the family! "In 200m my PB is 20.43, hers is 21.60. In 100m mine's 10.23, hers is 10.89," he says.
"My brother ran track in high school and I've always kind of followed after my brother and just wanted to be just like him. So my brother is really what got me started in track and field"
Her first major success was the silver in the 2004 Olympic 200m behind Veronica Campbell at the age of 18. It was a bittersweet moment. "As soon as I finished the race, I wasn't sure about how to take getting the silver," she says. "I think when you go into any race you go into it wanting to win. So it was definitely a little bit of a letdown but then my family quickly put me into perspective and I realise what I had accomplished so it was definitely a success".
She loved the whole Olympic phenomenon. "I had a great experience in Athens," she says. "It was amazing. I'll never forget it. I just remember going into the opening ceremony and just seeing how many people there were. It was great being with other sports and being able to interact with them and talk with them and get a perspective on what they go through also."
She won the World Championships 200m in 2005, 2007 and 2009 but again had to settle for silver in the 2008 Olympics, again behind Campbell (by then named Campbell-Brown).
In 2011 she took the unusual step of doubling up and was third in the defence of her half-lap title. In the 400m she ran a PB but finished three hundredths of a second behind winner, Amantle Montsho. Afterwards she said: "I'm pleased with my experience here. For this was all about doing something new and different, to step outside of my comfort zone and just go for it. Even though I came up short in the individual event it was a great learning experience. If you had asked me a few years ago I would never have thought that I would be in a world championship 400m final. I am so very happy to be here".
It was a case of third time lucky in the 2012 Olympic 200m – although it was much more to do with talent than luck. She won in 21.88 from Shelly-Ann Fraser-Pryce with Carmelita Jeter third. Campbell-Brown had to settle for fourth on this occasion.
Reflecting on her Olympic gold a year later, after being asked if winning the Olympics had taken pressure off her, she replied: "I really just feel pressure from myself – I know there was pressure and expectation from other people – but I feel that I put the heaviest weight and pressure on myself. It was definitely very satisfying and great to have that accomplishment, but I still feel there is a lot left to do.
"There is certainly relief that I have that accomplishment but for me it doesn't change much. I still have the same passion and drive. Winning London gave me confidence and a feeling I am in my prime."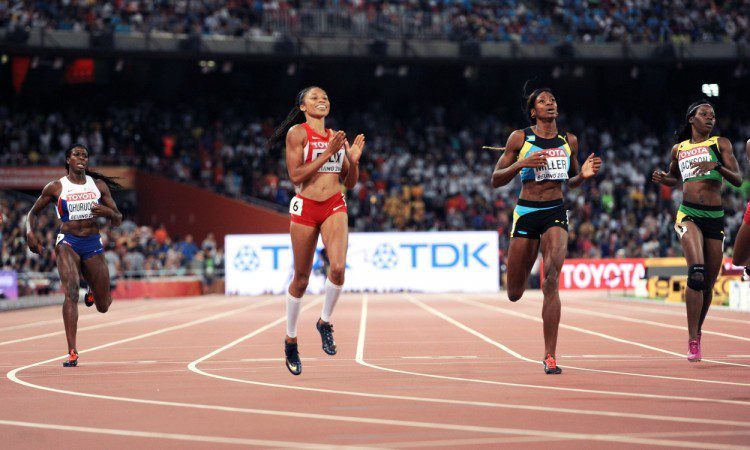 In the 2013 World Championships 200m final she tore her hamstring, which brought a disappointing end to her clash with Fraser-Pryce, who had already won the 100m and would go on to double up.
In 2015 there was immense speculation as to whether she would run the 200m or the 400m in the World Championships. She made enigmatic comments: "The 200m has always been my favourite event, but I love the 100m and the challenge of it. I wouldn't say I love the 400m, but it is a challenge for me and I love a challenge. It is always interesting to learn a new event and put a good race together."
She also feels that running 100m, 200m and 400m make her a more complete athlete and that they benefit from each other. "Running the 100m and the 400m help my 200m," she says. "The 100m gives me the basic speed and the 400m helps my endurance. Because I am a versatile type of sprinter, I need all those different things and we touch on them all in training."
She feels that she is still learning how to run the 400m, which begs the question, if she can run 49.26 now, what would she run if she masters the event? She describes the 400m as "a very strategic race", adding: "The most difficult part of the 400m is being patient. As a true sprinter I like to run fast all the time. When I have to slow down or follow a strategy, I find it a little difficult to lock into that but with experience I will become more comfortable with it".
Felix said that ideally she would have run both the 200m and 400m in Beijing but the scheduling made it impossible with the 200m semi-finals being on the morning of the 400m final. However, the IAAF have recently revised the schedule for Rio, giving her and potentially others an easier route to accomplish the rare double.
"The most difficult part of the 400m is being patient. As a true sprinter I like to run fast all the time"
As well as her individual events, Felix is a serial relay medallist with her major event gold medals in double figures, from both the 4x100m and 4x400m. In London 2012 she was part of the USA sprint relay team which broke the world record.
Felix has been a frequent visitor to the UK, including running in the Great CityGames in Manchester and Newcastle-Gateshead. She is a fan of CityGames: "It's fun. It's different," she says. "You don't get to do it all the time. It is more low-key and you get to interact with the crowd more. I find it a nice change. It takes you back to when you're were younger and running in the street – of course you didn't have a track."
Felix's former manager, the hurdling legend Renaldo Nehemiah, has a nice phrase to sum her up: "I think she did not take herself too seriously. She embraces competition but it does not define her."
Felix elaborates: "I love competition; I thrive on competition. I love competing against the best women in the world, but I don't think that's all of who I am. It's only a part of it and I have so much other stuff that I want to accomplish in life and that interests me, as well."
The other interests include charity work and serving on the President's Council on Fitness, Sports and Nutrition. She is an ambassador for Right to Play. "I went to Africa and it was one of the most amazing trips I have ever taken and got hands-on with children," she says. "Right to Play uses educational games – not sports – to help children in places of poverty and war-stricken situations to deal with their situation. I'd been to Africa and the Middle East. I believe this is something which has a lasting impact on lives."
As an athlete Felix has certainly made her mark but she is keen to make a difference beyond her sport, although that is mainly on hold at the moment as she focuses on her fourth Olympic Games and two individual gold medals.