The coach of British 1500m record-holder Laura Muir outlines his methods
I try to create a fun environment for training. I have a large group, encompassing sprinters and distance runners, but I put emphasis on a long warm-up all together, so that everyone feels involved and can benefit from the social side. Middle-distance running is hard, so it needs to be fun.
University-aged athletes don't want to be running with 14-year-olds or with veterans. I have a big group that I have built up over the last 10 years, with over 60 athletes actively training. I feel it is important to provide athletes of each age group with a set-up that they like and want to be part of to keep them in the sport.
My group is divided into short sprinters, 400m runners and middle-distance runners, with an elite group within it. I am a big advocate of the university championships and I have BUCS and Scottish champions within my group. Most are university athletes, but alongside this I have a more elite middle-distance group, which includes athletes such as England Athletics under-20 indoor 1500m champion Jemma Reekie.
I place emphasis on a balanced training programme. We train in blocks, with lots of grass training and cross country through the winter, a big block of hill training in the spring and more speed training in the summer. We do sprints technical drills and strides a few times a week right through the winter, so it takes less time to get the speed back or it never leaves and it encourages range of movement.
A secret to our success is getting my athletes to do a long warm-up. We warm up for about 40 minutes and this provides a conditioning effect alongside being a warm-up and bringing benefits speed-wise. I have also seen the frequency of injuries in the group plummet since I introduced this long warm-up.
The biggest ingredient to success is to stay healthy. This means you get more training in and it is consistent, which leads to improvement.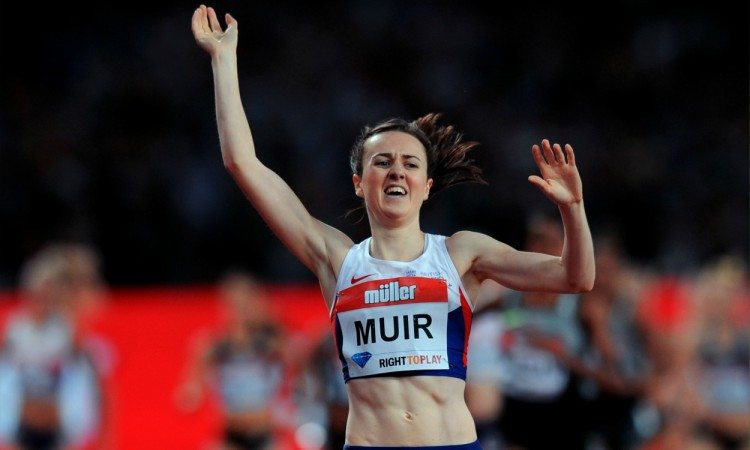 I can usually spot if an athlete has something special, even if they have not done much training. Naturally talented athletes have that change of pace and can run well at the distance above and below their main event.
It is important to understand the type of athlete you are working with. You can figure out what works for them and what they need to get the best out of themselves.
Successful coaching is all about patience. I knew instantly that Laura (Muir) was going to be a good athlete, but we didn't rush things. As it happened, she did progress quickly, but we weren't trying to squeeze out every second we could by upping her training too quickly. We took a long-term strategy, based on year-on-year improvements.
I was a GB junior and under-23 international in my day. I won the world schools 800m title in 1994 and I developed knowledge from being a good junior and also learning different disciplines. I was invited to attend national squad weekends, BMC training weekends and altitude camps with the seniors. On top of this I attended lots of sports seminars on a variety of topics, meaning I learned a lot about coaching at a young age. I feel strongly that the experiences I had as an athlete have influenced my coaching style today.
I went to Loughborough and was coached by George Gandy – one of the all-time greats. I spent time around the likes of Paula Radcliffe. I feel I learned a lot from being around the best in a professional environment. I also did a masters degree in the US at McNeese University, where Craig Winrow was just starting out on his coaching journey, so I got to learn from his coaching philosophy.
I started out coaching in schools in the early 2000s. But I had already attended loads of course and seminars in my teenage years. As such I already had a good base of knowledge to apply to my own coaching. In 2006 I had been coaching at the university for a few years, when Kevin McCloy asked me to coach him. That was my first dabble with an athlete who was to become an international. Over the years, there have been many future international athletes who have come through the group. As well as Kevin, 2016 British mountain running champion Andy Douglas was one of the first members of the group, as was Irish international Erin Mcilveen.
My advice to other coaches would be to make it your goal to learn from the best. Coaching courses may have their place, but the best bits of learning I have made over the years have come from other coaches. I was fortunate to be exposed to many of the country's top coaches at a young age and the knowledge I acquired from them has helped make me the coach I am today.
TYPICAL TRAINING SESSION FOR YOUNG'S SQUAD
A staple session I do every few weeks throughout the year is 12-14 x 300m off 45s rest. The times targeted depend on the time of the year, but essentially I want the athletes to get faster as they go through the winter and approach the summer.
» The above sessions are specific to the individual athletes and may not be suitable for others