After following in the footsteps of her elder sibling, Cindy Ofili is making a name for herself on the world stage
Cindy Ofili came of age at the Rio Olympics when she finished fourth in the final of the women's 100m hurdles in 12.63. With Nia Ali running 12.59 for silver and Kristi Castlin taking bronze with 12.61 behind the gold medallist Brianna Rollins, Ofili was so close to a medal.
The women's sprint hurdles was arguably the most loaded event in Rio, with the United States taking a one-two-three despite world record-holder Kendra Harrison and double Olympic medallist Dawn Harper-Nelson not in the US team.
Ofili relishes the competition.
"It makes the event very exciting and it certainly keeps you on your toes," she says. "You need to be running your best and performing your best not to be knocked out. It is motivation.
"When you see other people doing their best it makes you want to do your best."
She grew up in Michigan, younger sister of Tiffany Porter, so inevitably she would also become a hurdler. Well, actually it is far from as simple as that. She started to take athletics seriously when she was about 15.
"Initially I wasn't even thinking about hurdles," she admits. "My sister has always been a hurdler, but I wanted to go my own route. I was playing other sports like basketball and volleyball. Then one day my coach said, 'Do you want to try hurdles? You are tall and I think you have the ability to do it.' When I tried it, it kind of clicked and I thought, 'perhaps I should take this more seriously'."
"When you see other people doing their best it makes you want to do your best"
It wasn't all plain sailing, as she admits she initially didn't have the best technique.
"I was very clumsy and falling a lot but then things started to click," she says. "One day I was practising — and I remember it as if it was yesterday — I was doing drills and everything just came together. And my coach said, 'whoa, you are starting to understand this really well.'"
Ofili studied education at the University of Michigan and she is currently in school every day as a student teacher, shadowing the lead teacher, learning how to teach and how to work with kids. She will finish in December and become a full-time athlete from that point.
She was also fully involved in the Michigan track programme, culminating in finishing second to Harrison in the 2015 NCAA Championships in a PB of 12.60.
She was certainly a busy athlete in 2016, running 50 individual races, indoor and outdoor, not to mention a number of relays.
"To be honest I didn't realise I raced that much," she reveals. "Being a collegiate under the NCAA system, you have to run a lot because you're helping your team and preparing yourself for the NCAA Championships." Incidentally she won 33 of her 50 races — including heats.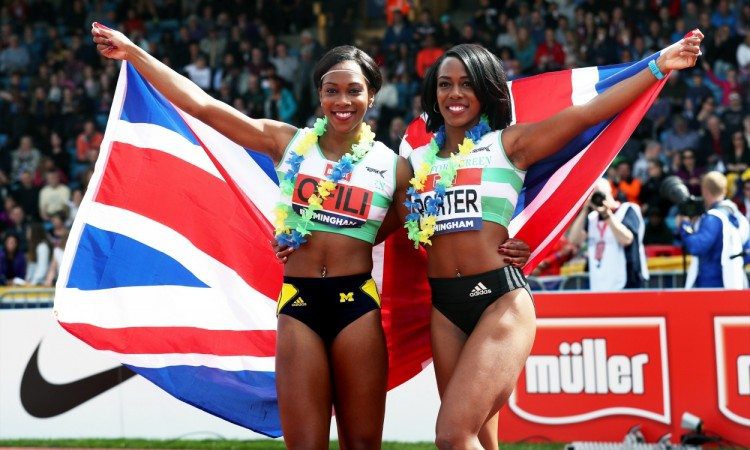 She finished second in the GB trials in 2015 and 2016 — behind her big sister. At the 2015 World Championships in Beijing, she ran 12.97 in the heat and was sixth in her semi-final in 12.91. In 2016 she qualified for the European Championships but opted not to go, feeling that she needed to rest after the arduous college season to be at her best in the Olympics.
For Ofili, the Olympics were a dream come true.
"I'd always seen the Olympics on TV and I always wanted to go to it," she says. "You can't really put it into words because it's something you've always dreamt of. So everything coming together — like the scenery, and everything they put together for you, seeing athletes from around the world. Just being there is a blessing and an honour.
"You are on the highest stage of your sport with other athletes around you and you get to see all the phenomenal things that the Olympics have got for you. I truly enjoyed it. If I could do it again a million times I would."
She adds: "Being there with Tiffany was special. I never like being on my own, especially in a new country, so having a family member there was great.
"We were able to explore a bit after we had run. So being there with her was truly great. The whole thing was a great experience."
Going into the Games, Ofili was trying to balance her natural competitiveness with realistic expectations and to savour the special experience while trying to treat it as just another race over 10 hurdles.
"Of course, I wanted to get a medal so fourth place was bittersweet, but I exceeded my expectations"
"I went into it like you go into every other race, wanting to go out there and do my best and win each heat or at least advance to the next round. My expectations were to make the final, knowing that if I made the final anything could happen.
"Getting to the final released a lot of pressure and allowed me just to compete and do what I had trained for and not let all the hype get to me. I think that was why I managed to succeed.
"Of course, I wanted to get a medal so fourth place was bittersweet, but I exceeded my expectations. It still gave me a lot of confidence and also showed me, because I'm still young, that I have the chance to show my ability again in the future."
When asked to pick her best-ever race performance, the Olympic final is top of Ofili's list.
"Even though it wasn't my best time [she ran 12.63 in the Olympic final as against a PB of 12.60], it was my best race and of course there was way more pressure," she says. "I approached the race with confidence and ran with confidence."
Having shown she is able to compete at the highest level, Ofili now wants to kick on in 2017. She is changing coaches — from James Henry to Garfield Ellenwood, who coaches her brother-in-law, Jeff Porter, and she will be based in North Carolina.
Ofili plans a full season in 2017, though perhaps not 50 races, and expects a busy indoor season. While her training base is Stateside, she will spend much of the summer in Europe and is particularly looking forward to the Diamond League series.
"This year was the first year I really got to experience them and I had a lot of fun," she says. "I just love the environment, seeing track fans who truly do love the sport and truly love to watch athletes compete. It is great being able to compete with the best in the world regularly."
This year was a great one for Ofili and 2017 could well be even better.