Focusing on her own race was key to Rio Olympic 100m hurdles gold for Brianna Rollins, writes Stuart Weir
Brianna Rollins proved herself to be a great championship runner when she won the Olympic 100m hurdles in Rio to head a US one-two-three as Nia Ali and Kristi Castlin followed her home.
She said: "It means a lot to be Olympic champion. I think about all of the hard work I had to do to get there. I'm so glad I am the champion in the 100m hurdles. (2016) was one of the most difficult years mentally for me. It does mean a lot to me because at first it was a struggle, but then I was able to get through."
The 25-year-old grew up in Miami where she started running in high school before graduating in travel and tourism at Clemson in South Carolina. Before long she was concentrating on the 100m hurdles.
She remembers: "I wanted to do hurdles because I thought it was fun and not a boring event. Running over obstacles for 100 metres is an intriguing race and it caught my eye."
Rollins came to world attention in 2013 when she ran 12.26, the fourth fastest time in history, in the US Trials. Recalling that performance she says: "I never honestly thought I could run that fast in the hurdles. When I step on the track, I never have a specific time that I want to do.
"I just go out there and run my own race to the best of my ability. But by the grace of God I was able to run 12.26 that day.
"I had worked hard that year, including the off-season. It was arguably the best year's training I have had. I was rewarded for all the sacrifices and all the hard work."
"I never honestly thought I could run that fast in the hurdles. When I step on the track, I never have a specific time that I want to do" – Rollins on her 12.26
She qualified for the 2013 IAAF World Championships in Moscow where reigning world and Olympic champion Sally Pearson was the clear favourite. Rollins just went about her business quietly.
"My approach to Moscow was just to continue doing what I had been doing that entire year, to focus on myself and run my own race," she says. "I remember reacting to the gun very slowly but being able to carry my momentum over each hurdle, getting past each of the other ladies, crossing the line and winning. It was my most memorable race because I came from so far back but was able to capture gold."
Her reaction time of 0.263 was indeed the slowest in the race but she finished in 12.44 with Pearson second in 12.50.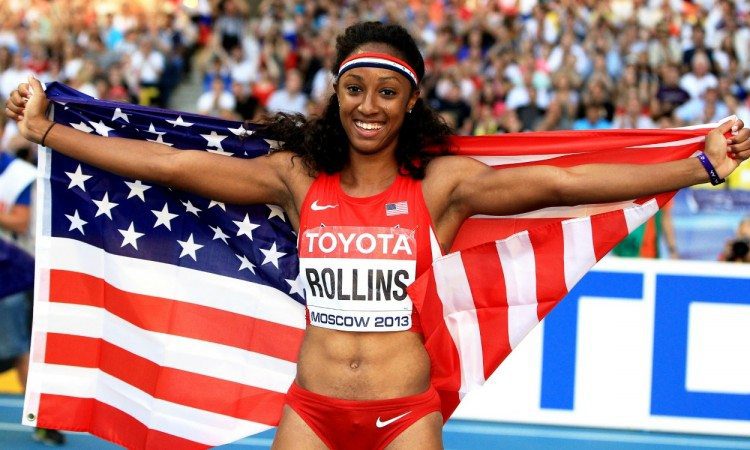 The 2014 season for her was disappointing as, by her own admission, she took a while to adjust from collegiate to professional athletics. She also felt that she became complacent and didn't always train as hard as she should have done all the time. The struggle helped her to understand what it would take to succeed at the professional level.
She finished fourth in the 2015 World Championships in Beijing, just one hundredth of a second outside the medals. She recalls: "I was little upset because I know I'm better than that but I was not that disappointed because I did the best I could that day, and that was fourth place. That year I was still learning how to be a professional athlete."
She adds that one thing 2015 taught her is that she needed to spend more time in the weights room. Speaking of her early-winter conditioning work, she says: "A typical day for me would be continuous runs and weights room. That's pretty much it. We don't do any hurdling until about December. This is about the toughest period of training of the year."
Rollins trains in Los Angeles in a group which includes Castlin and also Dalilah Muhammad, the 400m hurdles winner in Rio.
She started 2016 with a win in the US Indoor Trials in 7.76 but was only second in the World Indoors in 7.82, behind friend and compatriot Ali in 7.80. While many athletes opt out of an indoor season in an Olympic year, Rollins explains: "I wanted to do indoors as it was a championship year and as the World Championships were in America. I knew it would not affect me negatively because in 2013 I had done a full indoor season and was able to compete and run until August, so an indoor season helps you for your first five hurdles of your outdoor season."
"I knew that if I continued to do what I was doing to get there, I could capture the gold medal" – Rollins on Rio 2016
Her form carried into the 2016 outdoor season when she won the Diamond League race in Oslo and finished second in Eugene, Birmingham and London. She secured Olympic selection by winning the US Trials in a season's best 12.34 ahead of the floundering favourite, Kendra Harrison, who failed to make the team for Rio and broke the world record a few weeks later.
Her approach to the Olympics was typically low-key. "I knew that if I continued to do what I was doing to get there, I could capture the gold medal," she says.
"My approach was to go out, relax, have fun and focus on my own 10 hurdles, focus on my lane and remember that this is something that I do every day. It's no different from any other race; it's just 100 metres with 10 hurdles.
"Having fun means enjoying the moment, not worrying about doing good; not worrying about doing bad, just having fun with that, being confident about what you came out to do. When you forget about those things is when it goes wrong."
But can you really go into an Olympic final to have fun? She replies: "Yes, I had to think that way because there's a tremendous amount of pressure on you at the Olympic Games with the entire world watching you. It's not like the World Championships, which is just track and field. You have everyone watching you at the Olympics so there was a lot of pressure. You need to block that out and concentrate on what you need to do and handle your business."
Her one regret about the Olympics is that she saw nothing of Rio de Janeiro and attended no other Olympic events, aside from the closing ceremony. "I didn't come in the first week or for the opening ceremony," she says. "I got there just a few days before my race. I didn't want to do too much so it was mainly focusing on my race. But I know next time, Lord willing, I will get to experience the city and experience more of the Games rather than being so much in competition mode."
Not surprisingly, Rollins' plan for 2017 is quite simple. It involves training hard, focusing on continuing with the basics, enjoying the moment and, via a few Diamond League races, being ready for the US Trials and, hopefully, London 2017.