Dean Stephenson takes an in-depth look at Sebastian Coe's former world and long-standing British record of 1:41.73 for 800m from June 10 in 1981
The next instalment of the Diamond League, the Golden Gala, traditionally held in Rome, is in Florence (Firenze), due to the ongoing changes caused by coronavirus, on Thursday June 10. Such a change in location is not unusual, but the significance of both the date and venue could not have gone unnoticed by some in World Athletics and the wider sport in general. For the meeting coincides with the 40th anniversary of one of the most revered and ground-breaking performances in athletics history – Sebastian Coe's 1:41.73 800m world record from 1981.
At the time, Coe's run sent shockwaves around the global sporting community, in so much as it was set very early on in the season, (it was only his third two-lap outing and first run outside the UK that summer) and occurred in a low-key meeting in which he won by almost six seconds! However, even at a time when athletics in the UK was one of the most popular sports, with Coe and Ovett regularly appearing on the back and front page of the daily newspapers, this performance of Coe's was rightly considered 'Beamonesque' in both its quality and impact. To fully appreciate the stature of his performance, we must put it into some historical context.
The history
The 800m has always been one of the most popular and easily identifiable events in Athletics: seemingly only two laps of a track, requiring nothing more than a pair of trainers or spikes. It is short enough to sustain focused interest from the spectator but long enough not to be over too quickly. At the same time, it is widely considered one of the most difficult events to run let alone master, requiring a precarious and quite specific blend of sprinting speed and long-distance endurance. It is also one of the most tactical events on the programme, probably the most unforgiving distance for mistakes and indecisiveness.
Coe had already found this out to his cost a year earlier at the Moscow Olympics, where he was outsmarted and out manoeuvred by his arch-rival, Steve Ovett. Indeed, it was this unexpected and somewhat traumatic defeat in what was generally considered his best event, that has been cited by Coe, amongst others, as the possible point at which his athletic zenith a year later was conceived. Certainly, the run in Florence cemented, if such confirmation was needed, the fact that Coe was far and away the best 800m runner in the world at that time. Ironically, however, although his second world record provided a kind of vindication and consolation for the Coes, it also further highlighted just how badly he had run in the Moscow final and proved that the best 800m runner does not always win the most important race.
Nevertheless, in terms of the clock, Coe's second world record placed him at a hitherto unreachable altitude and refined atmosphere that no one else had even approached. Not only had Coe been the first man to break the 1:43 barrier, with his meteoric run in Oslo 1979 (1:42.33), but he had now become the first man to surpass the 1:42 barrier. Indeed, as Coe crossed the line in Florence, on a late balmy evening just after 11pm, his time put him 1.71secs faster than any man in history. That is equivalent to c. 14m in distance and represents the widest margin between the record holder and the rest since Rudolf Harbig enjoyed a 1.8 secs superiority in 1939; albeit run on a 500m track with fewer bends.
The world record had fallen by just 0.86 secs between 1962 (Snell – 1:44.3) and 1977 (Juantorena – 1:43.44), by a series of tall and mainly powerfully built runners. Considering Juantorena's magnificent 400m/800m double in the Montreal Olympics of '76, the future of 2 lap running appeared firmly in the hands of the speed merchants, those with the ability to run at international level in the long sprint as well as the half mile. Or so it seemed.
Rewind 2 seasons from June 1981 to July 5, 1979, when the roadmap for the event suddenly took a completely new direction. Step forward a slight, Economics graduate from Sheffield, 22-year-old Sebastian Coe. On another warm Oslo evening, he took over a second off El Caballo's figures and ushered in a new chapter in the history of 800m running. At the time it was considered a massive shock to the rest of the world's middle-distance men and journalists alike, not so much because he broke the world record, but rather by the manner and margin with which he achieved it.
On closer inspection, however, it should not have been a total surprise. After all, in the previous season Coe had broken the UK record twice, 1:44.25 and 1:43.97, to bring him within half a second of the world record, with little competition and after losing a month's training and racing in the middle of the summer due to injury. I would venture that had he not over-cooked the first lap in the European Champs in Prague between those two runs and had managed to execute the intended 50.5 first 400m rather than getting carried away with a suicidal 49.3, he would probably have been close to or bettered the world record that day. It should of course be noted that it was as likely for either Ovett or Beyer (the unexpected dark horse and winner in 1:43.86) to have also run below 1:43.5 as well. Nevertheless, his exploits the following summer may not have been considered quite so unexpected.
In early 1979 Coe showed improved speed (47.7 PB in 1978 vs a relay split on cinders of 46.3 in early '79), with a devastating last 100m (11.9) at the end of the European Cup 800m semi-final. This, coupled with his impressive 4mile road race victory in Ireland (17:54) at the end of 1978, defeating the likes of Eamonn Coghlan and Mike McLeod, was surely indicative that a super-fast 800m was in the offing.
Indeed, that expectation was more than realised in Oslo on July 5th, when he took over a second off the world record. The margin of victory and size of the improvement were indeed mightily impressive, but on closer analysis it was the split times that most startled. His 200m splits were uneven and quite inefficient – 24.6, 26.0, 24.8, 26.9 – the 2nd 200m being somewhat slow and the 3rd being exceptionally fast. In fact, it was the fastest 3rd 200m section run in any 800m world record before or since. However, that performance's analysis is not the purpose of this article.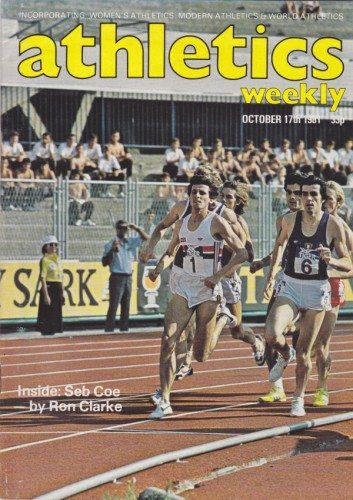 The build up
Fast forward back to early June 1981, the new season still in its infancy, and Coe's first international outing at Crystal Palace on June 3, a week prior to the run in Florence. In a 4-way match between England, USA, Belgium and Ethiopia, Coe looked supreme when front running an 800m victory in 1:44.06 (12.3 last 100m), kicking 15m clear of compatriot Garry Cook at the start of the home straight with effortless ease. Less than 2 hours later he ran the last leg in the 4x400m relay, in which he took over (from Steve Scutt) marginally in front of US 400m hurdler Barton Williams but proceeded to turn a 1m lead into a 4m deficit by messing up the change-over, tripping himself as he began his run and starting the stopwatch from practically a standing start.
It seemed a tall order to pull back the one-lap specialist, but Coe dug in and slowly reeled in his opponent, drawing level at the top of the home straight and then easing past as the American, perhaps through being passed by a two-lap specialist, succumbed to pressure and dropped the baton! Coe coasted in and completed a 45.65 split. He had never been faster, and the signs looked good for a fast time later in the season, perhaps July or August, when athletes tend to aim for a peak. Indeed, both Coe and his father/coach, Peter, had already pencilled in their attempt, for July 11 in Oslo. In the meantime, they looked towards a 'sharpener' and an expected time of 'around 1:43' on a warm evening in Florence, a week after his Crystal Palace run.
It has often been claimed that Coe's run in Florence was a planned world record attempt. Yet his father, who usually accompanied his athlete to overseas meetings and certainly for world record attempts, did not go to Florence with him. Indeed, Coe himself stated as such to David Miller in his first biography, 'Running Free'.
David Miller wrote, "Before Seb flew to Italy, he called me and discussed his prospects, having already spoken to Peter. I wanted to know if there was the slightest chance of a RECORD ATTEMPT being 'on'. If so, I would be on the next plane. Just as he had told Peter, he now said to me that he thought the probability slight enough for me not to bother- and like the rest of Fleet Street I missed what was to be something unique among even his exploits."
Coe himself added: "I'd wound down my training a bit, I was doing the hard-core endurance stuff, although I'd had a personal best 200m in well under 22.0. I knew I was in good shape from the 1:44.06 the previous week, but that was all."
Once the day arrived and Coe landed at Pisa, it seemed that the omens were indeed not good, and that even a fast time might not be on the cards after all.
"I arrived at Pisa and made the sticky bus ride to Florence, with the temperature up in the 90's. I don't know if it was the prelude to being ill the following week, but I had a very severe headache before the race. It was so hot that all I could do the day of the race was drink bottled water and try to sleep. Peter and I reckoned that it would be a good warm-up of around 1:43/1:44 and we were looking for a "safe" run in a warm climate."
The race itself
The 800m that evening in Florence was one of the last races on the programme, with the eight runners scheduled to line up at just after 11:00pm. Prior to the race, Carl Lewis had won the 100m and the stadium clock had displayed 9.91sec as the winning time, a new world record. He proceeded to do five laps of honour, which pushed back the start of Coe's race to almost 11:30pm. Unbeknown to Coe and Lewis, was that the American's time had not been a world record, but rather there had been a fault with the stadium's electronic timing. This was not rectified by the time of the 800m, the consequences of which will be revealed later.
Coe was in lane 3, with Zivotic, Grippo and Konchellah outside of him. Finally, the gun went for the 800m, and at the break of lanes, 19-year-old Billy Konchellah, who was at the time a 400m runner (PB of 45.38 from 1979) dabbling with a move up in distance, hit the front, with Seb a stride behind. The Kenyan passed 200m in a reported 24.4, with Coe second in 24.6, and 400m in (reported at the time) 49.7 (Coe – 49.9).
Later in 1981, Coe recollected, "I could feel the night air was becoming chilled. As I went through the bell I heard Maeve Kyle, the British team manager, shouting '49, 50', so I knew it was fast."
It was only now that thoughts of a record entered Coe's consciousness. As he entered the bend at the start of the second lap, he drew out from behind the young Konchellah, who was clearly not a designated pacemaker as he showed no signs of slowing down, dropping out or moving aside for his more famous English competitor. This was crucial, because Coe now found himself running wide, almost in lane 2, for a good 60m of that bend, which would have resulted in running an unnecessary extra 1 and a half to two metres, or about 0.2 secs.
As Coe rounded the 3rd bend, he was now clear and moving smoothly away from Konchellah and the field, opening a 30m gap in a flash and looking like a 400m runner. The sight of Seb Coe in full flight along that back straight that night, perfectly balanced, elegant but powerful strides, appearing to maintain almost metronomic speed, is surely one of the great sights in international athletics.
He hit the 600m mark in a reported 1:15.0 – "into the final bend I was having to shout at myself mentally to maintain rhythm."
There was no discernible slowing down as he entered the final straight, despite the noticeable pot marks in the bleached track he was running on, but the effort was written clearly across his face, the jawline tightening, as he ran through the finish and (in the words of David Coleman) "breaks to miss the photographers."
Absurdly, at almost the exact moment Coe's race finished, the revised time for Lewis's earlier 100m WR flashed up on the stadium display board as 10.13, which understandably frustrated those there who had believed they had witnessed a new world record! Booing ensued, which understandably confused Coe at first. When the situation was explained to him, he had to wait an agonising 10 minutes before his official time was confirmed off the photo-cell finish equipment as 1:41.72 (only later did the IAAF ratify it as 1:41.73).
The legacy
It was Coe's 5th outdoor world record at the time and the one that he is perhaps best remembered for. With that moment, he had lowered the old mark of Juantorena's by 1.71sec, and he was to remain that far ahead of 'the rest of the world' for three more years, until Cruz's outstanding series of near misses in 1984. Nevertheless, despite many attempts by the giant Brazilian in 84 and 85, he never managed to beat Coe's mark and it remained as the world record until the arrival of Wilson Kipketer in the mid-1990s. Even he struggled, at first, for a couple of seasons to beat Coe's time, but eventually he matched it in Stockholm 1997, before going on to lower it twice more (1:41.24 and 1:41.11) that same year. Coe's mark had remained intact for more than 16 years, and he had been the world record holder for 18 years. He had held the world 800m record for longer than anyone else in history, before or since.
To this day, as we approach the 40th anniversary of Coe's historic run, only 2 men have managed to run faster, Wilson Kipketer and David Rudisha. It is surely one of the most astounding testimonies to Sebastian Coe's career and greatness as a middle-distance runner, that despite the improvements in track surfaces (and they have got quicker) and, more controversially (and recently), technological advances with the spikes, he is still the UK record holder and the third fastest man in history, thanks to that run in Florence on June 10, 1981.
Ironically, the most obvious threat to these continued positions and accolades, is not some other rising young talent, but rather the so called 'super spikes' which have been increasingly in use the last 3 seasons, the technology for which was officially ratified by World Athletics (under Coe as President) last year! It would be a shame if the effects of these revolutionary spikes, which clearly help with distance runners, may prove to be of some benefit over 2 laps, which I suspect is the case, causing a runner of less natural ability to surpass the time Coe achieved in his unbeaten season of 1981. We will have to wait and see.
Analysis
In the months and years that followed Coe's outstanding world record, there were some (usually coaches of other 800m specialists), who tried to undermine his time and claim it was not legitimate, due to the failure of the official electronic timing on the night. In answer to these criticisms, it is worth referring to an article in AW (Jan 26, 1985), which stated categorically that the IAAF were perfectly justified in ratifying Coe's run in Florence based on the electronic photocell reading. It was written by Bob Sparks, President of the Association of Track and Field Statisticians, member of the IAAF Press Commission and renowned for unearthing and correcting thousands of fully automatic photo-finish times, chronicling every sub-four-minute miler, and who played a key role in the input to the formulation and adjustment of the IAAF Scoring Tables of Combined Events.
He wrote, "The IAAF delegates responsible for the approval knew that the time was not obtained from the conventional photo – finish camera, but they considered that the system used was equally efficient in producing a time to the required standards of accuracy."
The facts are as follows:
1) The photo-finish film was fogged and unreadable, because of accidental mixture of developer and fixer in the development chamber of the camera.
2) Independent AUTOMATIC times were obtained from two digicron timing devices. The timing system in the digicron unit is activated by the starting gun, as with the photo-finish camera. Times are registered when a photo-electronic circuit at the finish line is broken; the times are displayed on a linked printer (rather than electric scoreboard) thus producing a PERMANENT RECORD.
3) There were two digicron units. The photo electric circuits were installed in parallel (one for each unit) at heights of 119cm and 127cm.
4) The times recorded were 1:41.727 and 1:41.724 respectively (only 0.003 difference). The official winning time was announced as 1:41.72, but the IAAF subsequently corrected this to 1:41.73. (As the average of the 2 times would be 1:41.7255).
5) The time recorded by the official back up timekeepers was 1:41.6.
Another aspect of interest with Coe's world record run were his split times, which are always useful when comparing with other records or fast times over the distance. However, the 200m splits for this race in Florence are a bit unclear, mainly because the official electronic timing failed, and for statisticians analysing them on video footage, there is a lack of a running clock and clear markings at 200/600m.
I remember reading a few years ago about the significance of the "middle 400m" in 800m races. It stated something to the effect that Kipketer and Coe ran their 200m-600m split at an 800m pace that was within a half-second or so of their finishing times in their WR runs. Looking up those splits, it did not follow suit for Coe, according to split times issued at the time of the race, who ran a 1:40.8 pace (50.4) from 200m (24.6) to 600m (1:15.0) en route to 1:41.73.
Neither did the "official" splits for his first record in Oslo conform:
Oslo 79 (1:42.33) – 24.6, 26.0, 24.8! 26.9 ……… the mid 400m here is 50.8 (1:41.6 pace). Again, outside the 0.5sec difference suggested as desired for record 800m times.
Close examination of video evidence reveals nothing to question the Oslo splits, although there is an unusual slowing in pace in the second 200m, before a significant increase in pace for the 3rd 200m section: there is usually a gradual decrease in pace after the first 200m, which is usually the fastest. The positive difference between the 2nd and 3rd 200m split in Coe's 1979 run is the greatest for any 800m world record. Furthermore, the 3rd 200m at 24.8 was run after going slightly wide to pass the pacemaker after the bell.
The Florence run is, however, the one that I think is the most interesting, primarily because the "official" splits given at the time have been changed over the years. Originally Coe's splits were published in various publications as: 24.6 (Konchellah at 24.4), 25.3 (49.9, – Konchellah at 49.7), 25.1 (1:15.0) and 26.7.
– 24.6, 25.3, 25.1, 26.7 ……… the mid 400m being 50.4 (1:40.8 pace).
Yet, sometime between the mid 80s and 2007, those "official" splits appear to have been tweaked somewhat. All publications (including the IAAF Progression of World Records book) in more recent years have Coe's splits as: 24.4, 25.3 (49.7), 25.3 (1:15.0) 26.7.
– 24.4, 25.3, 25.3, 26.7 ………. mid 400m of 50.6 (1:41.2 pace). Bang on the 0.5 difference buffer.
Why the change? In my opinion, I believe that it is because there were NO official splits taken at the meeting! The reason I say this is because I have a very good quality copy of this race on dvd and although the 200/600m line is not visible, analysis of the race with a stopwatch reveals the suggested 50.6 mid 400m split to be very unlikely.
I have timed the race many times, and always get 1:41.5 or 1:41.6, which is in keeping with the recognised 0.1-0.2 differential between hand time and electrical. So, I know the video is running at the correct speed.
I decided to pick a clearly visible marker on the track at the approximate 200/600m line, which I am confident is within 3m of the 200m line. I chose the mark based on where Coe was at 24.4, the revised "official" 200m split.
I then timed this "mid 400m" segment at least six times. Four times I got 51.1 and twice I got 51.0. Both times way off the supposed 50.6 split.
One can look at the race itself here.
I chose a man in a green track suit on the infield (and, no, he does not move between lap one and two) as the 200/600m line. Using that and the finish line I get splits of: 24.4, 25.3 (49.7 – which agrees with the "official" split) 25.7 (1:15.4) 26.3.
Now of course the "green man" may not be at the exact 200m line, but he is certainly very close to it. My conclusion is that if the 24.4 200m split for Coe is accurate, then his 600m time is either 1:15.4 or 1:15.5, quite a bit slower than what has previously been thought. Which of course also means he maintained his speed better in the last 200m (26.3) than the 26.7 considered at the time.
If, however, the 1:15.0 split for 600m is accurate, then I would suggest that his previously published 200m split of 24.4 is wrong, and that it is more like 23.9-24.0.
I tend to go with the former scenario, that is., 24.4 and 1:15.4, as there were three athletes close together at 200m and it didn't look that fast compared to some 200m splits today.
So that would give – 24.4, 25.3, 25.7, 26.3 ………… so a mid 400m of 51.0 (1:42.0 pace).
Coe could have gone faster still had he not run wide on the third bend for about 60m to pass Konchellah, which probably cost him 0.2. Without this inconvenience (not normally afforded record attempts) he would have run 1:41.5 that day had he run 800m and not the 801.5 0r 802 that he did run.
If we take this into account then we get 24.4, 25.3 (49.7), 25.5 (1:15.2), 26.3 … now we have a mid 400m of 50.8 (1:41.6 800m pace) in a 1:41.5. Which is bang on the money in terms of the "middle 400m theory".
That historic run in Florence 40 years ago was in some way an exorcism of the ghost that had remained with Coe since the previous summer's disastrous Moscow 800m. It was also the first of several world records that season for the Englishman, who would go on to break the 1000m and mile (twice) records, win the European and World Cups over 800m and remain undefeated all season at any distance above 200m. He was also voted World Athlete of the Year by T&FN for the second time.
It was certainly Coe's best season, although when I asked him back in 2012 at a book signing event, whether he felt he could have run faster (indeed sub-1:41) in the 1981 season had he indulged in a few paced attempts later that year, he said that he was not sure about sub-1:41, but that he thought he could have run 1:41.2 with a few paced efforts. I responded with a supplementary question of, "Well, what about had you been able to run it on a modern track like the one used for the Olympics in London (2012)?" To which he added, "Oh, then it would have been a few tenths faster."
"Well, that is your sub 1:41 then!" I concluded.
» For the latest athletics news, events coverage and updates, check out the AW homepage and our social media channels on Twitter, Facebook and Instagram