Overseas Track & Field Results, May 4, 2021
Stockholm, Sweden, May 4
Two men and 11 women bettered the Olympic standards of 27:28 and 31:25.
Kenyan Sheila Kiprotich clocked a World-leading 30:45.81 to narrowly defeat Joan Chelimo 30:46.51 followed by Eva Cherono's 30:49.23.
The first non-Kenyan was the 2014 European champion Meraf Bahta who ran a Swedish record 31:08.05.
The Belgian Isaac Kimeli won the men´s race in a PB 27:22.70 ahead of Kenyan Philemon Kiplimo's 27:25.08.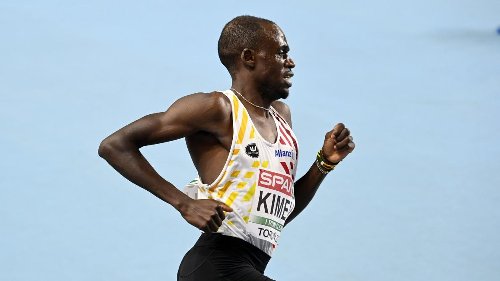 Isaac Kimeli
Men: 10,000:
1 Isaac Kimeli BEL 27:22.70
2 Philemon Kiplimo KEN 27:25.08
3 Weldon Kipkirui KEN 27:28.05
4 Kennedy Kimutai KEN 27:29.35
5 Collins Koros KEN 27:29.41
6 Alfred Barkach KEN 27:30.57
7 Solomon Boit KEN 27:33.18
8 Kelvin Kiptum KEN 28:27.87
Women: 10,000:
1 Sheila Kiprotich KEN 30:45.81
2 Joan Chelimo KEN 30:46.51
3 Eva Cherono KEN 30:49.23
4 Irene Cheptai KEN 30:51.39
5 Daisy Cherotich KEN 30:54.46
6 Dorcas Kimeli KEN 30:55.90
7 Meraf Bahta SWE 31:08.05 rec
8 Vivian Chepkurui KEN 31:09.42
9 Fancy Chemutai KEN 31:10.20
10 Violah Lagat KEN 31:11.09
11 Sarah Lahti SWE 31:11.12
13 Feliciana Jepkoesgei KEN 32:13.97
14 Samrawit Mengsteab 32:33.48
Gelete Burka ETH DNF