Overseas, September 8-18 (inc Diamond League Final), 2021
Weltklasse, Zürich, 8-9 September
The Diamond League final, held at the Weltklasse meeting in Zurich on Thursday night, lived up to its billing as the greatest one-day meeting in the world with one stunning women's track event after another.
The 100m might not have been as quick as the Olympic final – Elaine Thompson-Herah running a superb meeting record 10.65 compared to her 10.61 in Japan – but the depth was comparable as fifth place clocked 10.94 compared to 10.97 in Tokyo.
Dina Asher-Smith, who is improving race by race after her injury struggles this summer, started quickly and was level with the Jamaican until 60m as Thompson-Herah began to pull away. The Briton's run of 10.87 in second place was not only a season's best but also equal to her third-best ever time, only bettered by her Doha silver (10.83) and Berlin European gold (10.85).
It was close for third, with well-matched rivals Ajla del Ponte and Daryll Neita sharing 10.93 (the Swiss edging it by four thousandths of a second) just ahead of Mujinga Kambundji's 10.94.
This was the first time two British women had run under 11 seconds in the same 100m race as Neita again improved her PB.
Thompson-Herah said: "It has been a crazy season, a long one and a tiring one. I was so consistent because I was just keeping the faith in me and did not allow any negativity. I would describe this season with one word: amazing, yet with ups and downs.
"The audience was very warm and cheerful, I wish we had had so many people to cheer in Tokyo on the finish line. It was a long season but, next year, the world record is definitely on my mind."
While the 100m saw a clear and dominant winner, the 200m was a superb battle that went to the wire and resulted in yet another world junior record for Christine Mboma.
Asher-Smith ran the best bend and led into the straight but, gradually, Olympic 100m bronze medallist Shericka Jackson edged ahead in what is her best event when she does not ease off in races prematurely!
This time, unlike her Olympic heat, she held her form and ran through the line. However, while Jackson finished fast, Mboma was faster. Her performance followed a familiar pattern of a relatively sluggish bend followed by an incredible straight and her time of 21.78 (0.6) was another world under-20, as well as African, record.
"When I crossed the finish line, I did not know that I had won," said Mboma, who had to switch to the half-lap event from her favoured 400m earlier this summer due to DSD regulations. "Then I just saw my name and I was like: 'Wow!'
"This season was quite tough and very busy. I did a lot of races so now I am feeling a bit tired. This trophy means a lot to me. I am glad I was able to run here and get this victory, but I still have some two more competitions in my schedule."
Jackson was rewarded with a PB 21.81, edging her previous 21.82, while Asher-Smith held on to third in 22.19 just ahead of Kambundji's 22.27 for her second top-three finish of the night. Britain took three of the top six places, with Neita completing a memorable evening with a PB 22.81, just ahead of Beth Dobbin's 22.88.
"It's been a great evening for me and I'm super happy. I was hoping for a slightly faster 200m but honestly, after running a 10.8 100m, I'm taking whatever!"@dinaashersmith on her night at the DL final in Zurich. #WDLFinal 🇨🇭 pic.twitter.com/0zAUoCCEkD

— AW (@AthleticsWeekly) September 9, 2021
"It's been a great evening for me and I'm super happy," said Asher-Smith in what was her final event of the season. "I was hoping for a slightly faster 200m but, after running a 10.8 100m, I'm taking whatever."
In the Brussels 800m, Olympic silver medallist Keely Hodgkinson narrowly lost to Natoya Goule and the Zurich race looked like following a similar pattern. Noelle Yarigo led through 400m in 57.11 before Goule took command down the backstraight and reached 600m in 1:28.63, with Hodgkinson on her shoulder and Jemma Reekie clawing the inside and shortest route.
Also as in Brussels, Goule eased back a little on the final bend and kicked in the final straight again but this time Hodgkinson was closer, had not run as wide and was able to ease past to win comfortably in 1:57.98, with Kate Grace catching Goule as both ran 1:58.34.
Reekie maintained her consistency with fourth in 1:58.61, again beating world champion Halimah Nakaayi (1:58.89) and 1:56.71 performer Habitam Alemu.
To the relief of Britain's other 800m runners, Hodgkinson's third-fastest time ever sealed her World Championships place for next year and leaves three qualifying spots remaining. She said: "My aim here today was to win and it was not going to be easy with a field which is very strong. I just wanted to make sure I gave it my all.
"It was my last race [of the season], so I think I did that, and to come home with a win, it's the icing on the cake really. Now I am going home and I am going straight on a plane [to Greece], and I am not going home for 10 days. I don't want to see a track for those 10 days and I am leaving my running shoes at home."
"This season's been crazy and I couldn't be happier really. I feel like I had the strength in the last 150m [tonight] and it was a good race!" @keelyhodgkinson reflects on a spectacular 2021. #WDLFinal 🇨🇭 pic.twitter.com/wnvWUopDK6

— AW (@AthleticsWeekly) September 9, 2021
There were no records in the women's 1500m, though the final 300m of 42.92 was one of the fastest ever as the world champion Sifan Hassan again did battle with the Olympic champion Faith Kipyegon.
Chanelle Price did her usual good job of 63.32 at 400m and 2:08.94 at 800m but had to slow down as clearly no one was interested in the advertised 2:06 pace. The field slowed even more through 1200m, in 3:15.41, before Kipyegon picked things up considerably with Hassan looking strong on her shoulder.
As they came into the straight, it seemed like the Dutch athlete might get by but the Kenyan showed her usual determined finish and eased away in the final 10 metres to take first in 3:58.33 to the Olympic 5000m and 10,000m champion's 3:58.55.
Kipyegon was second to Hassan in Doha in 2019 and lost to her rival in her opening 1500m in Florence this year but, just as in Monaco and Tokyo, she proved herself the best current or indeed greatest ever 1500m runner with her last 200m of 28.0.
"I knew it would be a tactical race today and we gave the leading girl a big gap," said Kipyegon. "I was controlling the pace in front. I was confident that in the last lap I could do better and it worked. This is my second Diamond League Trophy and my first as a mother. I won almost all my competitions including the Olympic final."
Hassan said: "Faith is really one of the greatest athletes and I wanted to give everything in my last race. This year I struggled with my training, I could not go to the US. Next year, I will train my speed and I will be amazing."
Josette Norris, who ran the 5000m in the US Olympic Trials where she placed eighth, continued her great post-Olympic form by easily being the best of the rest with third place in 4:00.41. Katie Snowden was ninth in 4:06.48.
The women's 100m hurdles provided another track highlight with three of the top four setting PBs.
Nigerian Tobi Amusan won in an African record 12.42 (0.4) and the Olympic fourth-placer beat fifth-placer Nadine Visser's Dutch record 12.51. Megan Tapper was third in 12.55 ahead of Payton Chadwick's PB 12.62, with Britain's Cindy Sember a solid fifth in 12.71.
The women's 400m started the track final programme and it featured an exciting four-way race for the title. It seemed that the reward of a guaranteed World Championships place gave American champion Quanera Hayes the added stimulus of winning and her 49.88 – close to her 49.78 season's best – gave the Olympic seventh-placer a narrow win over Toyko silver medallist Marileidy Paulino's 49.96. Sada Williams was third in 50.24, just edging Stephenie Ann McPherson's 50.25.
The women's steeplechase was also competitive, with six athletes together at the bell. The first kilometre was run in 3:00.23 though the pace dropped and Norah Jeruto was ahead at 2000m in a slow 6:08.10.
On the last lap Jeruto, who missed the Olympics, maintained her unbeaten record with a very strong last lap to win by around eight metres in 9:07.33.
Hyvin Kiyeng, the Olympic bronze medallist, looked in contention until the final water jump but landed flat-footed and effectively lost her eventual final margin to Jeruto as she went deep in the water. However, she did well over the final barrier to repel the challenge of Tokyo runner-up Courtney Frerichs – 9:08.55 to 9:08.74.
Olympic champion Peruth Chemutai was seventh in 9:20.16, equalling her Diamond League best of the year.
In the 400m hurdles, Femke Bol resumed her battle with Shamier Little and again it was the Dutchwoman who came out on top as she set a meeting record 52.80. Little looked menacing as she hit the straight level but Bol, keeping her form superbly, eased away to win by half a second from the American's 53.35, with Anna Ryzhykova's 53.70 beating compatriot Viktoriya Tkachuk's 53.76 PB.
Bol said: "Before the race I made a plan with my coach to get a good time and win with the meeting record and I got both. On the last 100m I was full of lactic acid, I had to push so hard. I wanted to win so badly, I heard the crowd cheer. It gave me so much energy.
"It is great to run such a time this late in the season. It is amazing – I won all the Diamond League meetings and I won here. My season is really a dream! Everything I could dream about came true this season."
Olympic pole vault silver medallist Anzhelika Sidorova created her own piece of history in the Letzigrund Stadium on Thursday night. She sailed over 4.57m, 4.67m, 4.77m, 4.84m, 4.91m and 4.96m at the first time of asking and, though the mark of 5.01m proved to be rather more challenging, at the third attempt she cleared what was a Diamond League record-breaking and world-leading height.
She said: "I think this is really the right place to jump high. But coming to the stadium, I did not feel like it was coming today. I think we are all a bit tired already after a long season and in the warm up I did not feel 100% ready. I still cannot believe I got the five-metre barrier today.
"I really like jumping here because I have become a European champion here. It is a great stadium and great spectators and I am so happy I can share this moment with so many people in the stands. The trophy is very beautiful and important for me, especially after the Olympics."
Former Olympic champion Katerina Stefanidi was the next best with 4.77m while Tina Sutej beat Tokyo bronze medallist Holly Bradshaw on countback with a first time clearance at 4.67m.
Triple jumper Yulimar Rojas didn't set any world records this time but her 15.48m (0.3) final round jump was the fourth best of all-time and she had earlier jumps of 15.27m and 15.22m.
She said: "In all honesty, I feel I have always demonstrated that I can be a queen – I can lift myself up, regardless of the circumstances – and today was not an exception. I was able to take the Diamond League Trophy, and I am very pleased to have the chance of being here and to show dreams do come true."
She won by almost a metre from Shanieka Ricketts' final round 14.64m with Kimberly Williams third with 14.47m.
There is no doubt though that Valarie Allman is the world No.1 at the discus as the American Olympic champion opened with a 66.48m to lead the first four rounds before improving to a superb 69.20m.
Her predecessor as Olympic champion Sandra Perkovic finished strongly with throws of 66.37m and 67.22m to take second place while world champion Yaime Perez was third with 64.83m.
The winner said: "I definitely reacted when Sandra threw a distance close to my first throw. The event is so intense and competitive and this is pushing all of us to put up good competitive results. Seeing her doing well really pushed me to want to be able to put out a good throw as well."
Christin Hussong was a poor ninth in Tokyo but she proved easily the best here in an otherwise modest javelin competition. The German threw 64.20m in the third round, improving to 65.26m in the final round.
The German said: "I am happy about all three of them – the Diamond League Trophy, the $30,000 and the wild card for the next world championships. I guess, this is the best season of my career, except for the Olympics."
World champion Kelsey-Lee Barber was second with 62.68m with Nikola Ogrodnikova third with 61.54m.
With winners rewarded with $30,000, a Diamond trophy and a wild card entry into next year's World Championships in Oregon, there was plenty at stake on the second day of the Diamond League finals in Zurich. But there was also a relaxed end-of-season atmosphere to the meeting as around 22,000 fans in the Letzigrund Stadium enjoyed the action.
It was an evening made for showmen and they do not come more flamboyant than Gianmarco Tamberi, the Italian high jumper, who shared gold in Tokyo with Mutaz Essa Barshim but here, in the absence of the Qatari athlete, took victory with 2.34m.
The crowd roared as he soared over the bar at his second attempt. In second, Andriy Protsenko of Ukraine jumped 2.30pm with third-placed Ilya Ivanyuk of Russia clearing the same height.
"I did not have fun competing without fans," said Tamberi. "High jump is not that much fun without the fans. But this was amazing and I would compete even 50 times even if I am tired if we had the crowds like this. Zurich is the best."
Timothy Cheruiyot gained revenge on Jakob Ingebrigtsen following his defeat in the Olympic 1500m final with a brilliant victory here in Zurich in 3:31.37 to the Norwegian's 3:31.45.
After pacemaker Eric Sowinski led through 800m in 1:51.07, Stewart McSweyn soon took up the pace followed by Ingebrigtsen although Cheruiyot, who had sat off the early speed a little, moved up at the bell and led through 1200m in 2:49.33.
Around the final bend Ingebrigtsen was poised on Cheruiyot's shoulder and tried to power past the Kenyan in the final 100m, but Cheruiyot found enough strength to hold him off as Ingebrigtsen dipped in vain for the finish line.
McSweyn held on for third in 3:32.14 as fellow Australian Ollie Hoare ran an outdoor PB of 3:32.66 in fourth followed by Mohamed Katir of Spain in 3:32.77.
Cheruiyot said: "I was having many challenges in Tokyo, so now I am getting better. My hamstring is getting better and I am prepared for next season.
"My goal is that I know I need to defend my world title at next year's championships. That is my target now, but I need to work out because I know Jakob is going to continue to get better."
While Norway could not celebrate a Diamond League victory in the 1500m, they could in the men's 400m hurdles.
Karsten Warholm set off in his usual aggressive fashion and led into the home straight from Alison Dos Santos of Brazil and Kyron McMaster of the British Virgin Islands. Unlike Tokyo, there was no world record but Warholm maintained his form for a 47.35 win as Dos Santos clocked 47.81 and McMaster 48.24 as Chris McAlister of Britain ran 49.73 in seventh.
Karsten Warholm has completed 2021 🇳🇴

✅ World Record
✅ Olympic Champion
✅ Diamond League Champion #WDLFinal 🇨🇭 pic.twitter.com/yaSz1adYMB

— AW (@AthleticsWeekly) September 9, 2021
Mondo Duplantis was in supreme form again as he won the pole vault with 6.06m from Sam Kendricks and Timur Morganov, who both cleared 5.93m.
Several minutes after the international broadcast feed ended, the Olympic champion had a crack at a world record height of 6.19m, too, with many leading athletes like Warholm and shot putter Ryan Crouser clapping him in unison during his attempts. However it was not to be for the Swedish star as he bowed out with a mere victory and no record.
"The main goal today was just to win that Diamond as I have not done it yet," Duplantis said. "And I am really happy with the way that I jumped.
"I would have loved to break the record and I really felt like I have it in me this season so I think I am going to look back at the season and I am not going to have too many complaints.
"Anytime I am able to jump six metres, I cannot complain. Mission accomplished."
The men's sprints have been overshadowed by the women's 100m and 200m in 2021 but the Diamond League finals still produced some sizzling times. American Fred Kerley ran 9.87 (0.4) to beat Olympic 200m champion Andre De Grasse of Canada by two hundredths of a second in the 100m with Ronnie Baker third in 9.91 and Trayvon Bromell fourth in 9.96.
Kenny Bednarek ran a fast time to win the 200m, too, as the American clocked 19.70 (0.5) to beat De Grasse, who ran 19.72, as Kerley was third in 19.83 after his 100m win earlier in the night.
On a night of close finishes, the top two men in the 110m hurdles could not be separated on the clock. Devon Allen of the United States and Ronald Levy of Jamaica were both given 13.06 (0.6) but the photo finish judges gave the verdict to Allen as the Olympic champion Hansle Parchment was third with 13.17.
There was another close finish in the 400m as Michael Cherry pipped Kirani James by one hundredth of a second. In a dramatic finish the American dived at the finish line to clock 44.41 to beat the Grenada sprinter.
In the men's throws, Daniel Stahl took the discus with 66.49m while there was a German one-two in the javelin as Johannes Vetter threw 89.11m to beat Julian Weber's 87.03m.
In the triple jump, Pedro Pablo Pichardo continued his fine form as he won easily with 17.70m (0.8). The Portuguese athlete won by half a metre from Hugues Fabrice Zango of Burundi.
Elsewhere, Benjamin Kigen ran 8:17.45 to hold off fast-finishing Olympic champion Soufianne El Bakkali of Morocco in the 3000m steeplechase.
Olympic one-two Emmanuel Korir and Ferguson Rotich repeated their result from Tokyo as they clocked 1:44.56 and 1:44.96 respectively here ahead of American Clayton Murphy as Britain's Elliot Giles was fifth in 1:45.25.
Earlier in the night in the non-Diamond League events, Efe Okoro won the 400m hurdles B race in a PB of 49.34 to go No.2 on the UK rankings for 2021 behind Chris McAlister.
To read about day one of the Diamond League finals in Zurich, CLICK HERE
Men:
100 (9th -0.4):
1 Fred Kerley USA 9.87
2 Andre De Grasse CAN 9.89
3 Ronnie Baker USA 9.91
4 Trayvon Bromell USA 9.96
5 Akani Simbine RSA 10.10
6 Rohan Browning AUS 10.18
7 Mike Rodgers USA 10.23
8 Silvan Wicki 10.25
9 Mudiyanselage Abeykoon SRI 10.25
200 (9th 0.5):
1 Kenny Bednarek USA 19.70
2 Andre De Grasse CAN 19.72
3 Fred Kerley USA 19.83
4 Aaron Brown CAN 20.13
5 Josephus Lyles USA 20.13
6 Isaac Makwala BOT 20.31
7 Vernon Norwood USA 20.46
8 William Reais 20.49
400 (9th):
1 Michael Cherry USA 44.41
2 Kirani James GRN 44.42
3 Deon Lendore TTO 44.81
4 Vernon Norwood USA 44.84
5 Liemarvin Bonevacia NED 45.35
6 Isaac Makwala BOT 45.41
7 Ricky Petrucciani 46.38
8 Davide Re ITA 46.64
800 (9th):
1 Emmanuel Korir KEN 1:44.56
2 Ferguson Rotich KEN 1:44.96
3 Clayton Murphy USA 1:45.21
4 Marco Arop CAN 1:45.23
5 Elliot Giles GBR 1:45.25
6 Isaiah Harris USA 1:45.70
7 Amel Tuka BIH 1:46.19
8 Wycliffe Kinyamal KEN 1:46.52
1500 (9th):
1 Timothy Cheruiyot KEN 3:31.37
2 Jakob Ingebrigtsen NOR 3:31.45
3 Stewart McSweyn AUS 3:32.14
4 Oliver Hoare AUS 3:32.66
5 Mohamed Katir ESP 3:32.77
6 Ronald Kwemoi KEN 3:33.34
7 Charles Simotwo KEN 3:34.24
8 Ignacio Fontes ESP 3:34.45
9 Bethwel Birgen KEN 3:46.01
5000 (8th):
1 Berihu Aregawi ETH 12:58.65
2 Birhanu Yemataw BRN 13:01.27
3 Jacob Krop KEN 13:01.81
4 Nicholas Kimeli KEN 13:02.43
5 Yomif Kejelcha ETH 13:04.29
6 Michael Kibet KEN 13:15.36
7 Jonas Raess 13:43.47
8 Andrew Butchart GBR 14:03.13
3000SC (9th):
1 Benjamin Kigen KEN 8:17.45
2 Soufiane El Bakkali MAR 8:17.70
3 Abraham Kibiwot KEN 8:18.16
4 Leonard Bett KEN 8:20.20
5 Getnet Wale ETH 8:21.11
6 Takele Bikila Tadese ETH 8:21.68
7 Hillary Bor USA 8:24.81
8 Ahmed Abdelwahed ITA 8:25.06
9 Mohammed Tindoufti MAR 8:25.33
110H (9th 0.6):
1 Devon Allen USA 13.06
2 Ronald Levy JAM 13.06
3 Hansle Parchment JAM 13.17
4 Daniel Roberts USA 13.31
5 Paolo Dal Molin ITA 13.43
6 Finley Gaio 13.72
7 Koen Smet NED 13.77
Jason Joseph DQ
400H (9th):
1 Karsten Warholm NOR 47.35
2 Alison dos Santos BRA 47.81
3 Kyron McMaster IVB 48.24
4 Rasmus Mägi EST 48.84
5 Constantin Preis GER 49.08
6 Ramsey Angela NED 49.39
7 Chris McAlister GBR 49.73
Yasmani Copello TUR DQ
HJ (9th):
1 Gianmarco Tamberi ITA 2.34
2 Andrii Protsenko UKR 2.30
3 Ilya Ivanyuk RUS 2.30
4 Maksim Nedasekau BLR 2.27
5 Django Lovett CAN 2.27
6 Donald Thomas BAH 2.24
PV (9th):
1 Armand Duplantis SWE 6.06
2 Sam Kendricks USA 5.93
3 Timur Morgunov RUS 5.93
4 Ernest John Obiena PHI 5.83
5 Chris Nilsen USA 5.83
6 Kc Lightfoot USA 5.83
LJ (8th):
1 Thobias Montler SWE 8.17
2 Steffin McCarter USA 8.14
3 Ruswahl Samaai RSA 7.99
4 Simon Ehammer 7.94
5 Benjamin Gföhler 7.90
6 Radek Juška CZE 7.87
7 Filippo Randazzo ITA 7.87
TJ (9th):
1 Pedro Pablo Pichardo POR 17.70
2 Fabrice Zango Hugues BUR 17.20
3 Yasser Triki ALG 17.03
4 Tobia Bocchi ITA 16.71
5 Tiago Pereira POR 16.61
6 Donald Scott USA 16.22
SP (8th):
1 Ryan Crouser USA 22.67
2 Joe Kovacs USA 22.29
3 Armin Sinančević SRB 21.86
4 Tom Walsh NZL 21.61
5 Filip Mihaljević CRO 21.59
6 Zane Weir ITA 20.85
DT (9th):
1 Daniel Ståhl SWE 66.49
2 Kristjan Čeh SLO 65.39
3 Fedrick Dacres JAM 65.33
4 Andrius Gudžius LTU 64.04
5 Simon Pettersson SWE 63.68
6 Lukas Weißhaidinger AUT 63.20
JT (9th):
1 Johannes Vetter GER 89.11
2 Julian Weber GER 87.03
3 Jakub Vadlejch CZE 85.22
4 Andrian Mardare MDA 84.98
5 Anderson Peters GRN 81.65
6 Simon Wieland 78.11
7 Gatis Čakšs LAT 68.67
National Events 400H (9th):
1 Efekemo Okoro GBR 49.34
2 Luke Campbell GER 49.80
3 Joshua Abuaku GER 50.42
4 Dany Brand 50.48
5 Joshua Faulds GBR 50.84
Women:
100 (9th 0.6):
1 Elaine Thompson-Herah JAM 10.65
2 Dina Asher-Smith GBR 10.87
3 Ajla Del Ponte 10.93
4 Daryll Neita GBR 10.93
5 Mujinga Kambundji 10.94
6 Javianne Oliver USA 11.02
7 Natasha Morrison JAM 11.10
8 Marie Josée Ta Lou CIV 11.22
200 (9th 0.6):
1 Christine Mboma NAM 21.78 NR
2 Shericka Jackson JAM 21.81
3 Dina Asher-Smith GBR 22.19
4 Mujinga Kambundji 22.27
5 Daryll Neita GBR 22.81
6 Beth Dobbin GBR 22.88
7 Dezerea Bryant USA 22.99
8 Marije van Hunenstijn NED 23.16
400 (9th):
1 Quanera Hayes USA 49.88
2 Marileidy Paulino DOM 49.96
3 Sada Williams BAR 50.24
4 Stephenie Ann McPherson JAM 50.25
5 Candice McLeod JAM 50.96
6 Natalia Kaczmarek POL 51.00
7 Lieke Klaver NED 51.09
8 Kaylin Whitney USA 51.19
800 (9th):
1 Keely Hodgkinson GBR 1:57.98
2 Kate Grace USA 1:58.34
3 Natoya Goule JAM 1:58.34
4 Jemma Reekie GBR 1:58.61
5 Halimah Nakaayi UGA 1:58.89
6 Habitam Alemu ETH 1:59.48
7 Catriona Bisset AUS 1:59.66
8 Lore Hoffmann 2:00.25
9 Lovisa Lindh SWE 2:00.84
1500 (9th):
1 Faith Kipyegon KEN 3:58.33
2 Sifan Hassan NED 3:58.55
3 Josette Norris USA 4:00.41
4 Marta Pérez ESP 4:01.94
5 Helen Schlachtenhaufen USA 4:02.30
6 Linden Hall AUS 4:03.50
7 Axumawit Embaye ETH 4:04.18
8 Winnie Nanyondo UGA 4:04.80
9 Katie Snowden GBR 4:06.46
10 Sarah Healy IRL 4:18.60
5000 (8th):
1 Francine Niyonsaba BDI 14:28.98
2 Hellen Obiri KEN 14:29.68
3 Ejgayehu Taye ETH 14:30.30
4 Margaret Kipkemboi KEN 14:31.18
5 Eva Cherono KEN 14:36.88
6 Fantu Worku ETH 14:43.60
7 Lilian Rengeruk KEN 14:50.75
8 Karoline Bjerkeli Grøvdal NOR 14:59.91
9 Beatrice Chebet KEN 15:11.27
10 Elise Cranny USA 15:55.17
3000SC (9th):
1 Norah Tanui KEN 9:07.33
2 Hyvin Kiyeng KEN 9:08.55
3 Courtney Frerichs USA 9:08.74
4 Mekides Abebe ETH 9:09.59
5 Celliphine Chespol KEN 9:10.26
6 Winfred Yavi BRN 9:12.41
7 Peruth Chemutai UGA 9:20.16
8 Roseline Chepngetich KEN 9:21.67
9 Gesa-Felicitas Krause GER 9:32.69
10 Purity Kirui KEN 9:38.56
100H (9th 0.4):
1 Tobi Amusan NGR 12.42 rec
2 Nadine Visser NED 12.51 rec
3 Megan Tapper JAM 12.55
4 Payton Chadwick USA 12.62
5 Cindy Sember GBR 12.71
6 Gabbi Cunningham USA 12.79
7 Luca Kozák HUN 12.90
8 Ditaji Kambundji 13.01
9 Tejyrica Robinson USA 13.70
400H (9th):
1 Femke Bol NED 52.80
2 Shamier Little USA 53.35
3 Anna Ryzhykova UKR 53.70
4 Viktoriya Tkachuk UKR 53.76
5 Gianna Woodruff PAN 54.50
6 Nnenya Hailey USA 55.06
7 Janieve Russell JAM 55.74
8 Léa Sprunger 55.87
HJ (8th):
1 Mariya Lasitskene RUS 2.05
2 Yaroslava Mahuchikh UKR 2.03 NU23R
3 Nicola McDermott AUS 2.01
4 Iryna Herashchenko UKR 1.96
5 Kamila Lićwinko POL 1.93
6 Eleanor Patterson AUS 1.87
PV (9th):
1 Anzhelika Sidorova RUS 5.01
2 Ekateríni Stefanídi GRE 4.77
3 Tina Šutej SLO 4.67
4 Holly Bradshaw GBR 4.67
5 Iryna Zhuk BLR 4.47
Katie Nageotte USA NH
LJ (8th):
1 Ivana Španović SRB 6.96
2 Khaddi Sagnia SWE 6.83
3 Maryna Bekh-Romanchuk UKR 6.75
4 Jazmin Sawyers GBR 6.74
5 Malaika Mihambo GER 6.56
6 Nastassia Mironchyk-Ivanova BLR 6.53
TJ (9th):
1 Yulimar Rojas VEN 15.48
2 Shanieka Ricketts JAM 14.64
3 Kimberly Williams JAM 14.47
4 Patrícia Mamona POR 14.33
5 Thea Lafond DMA 14.10
Hanna Minenko ISR NM
SP (8th):
1 Maggie Ewen USA 19.41
2 Auriol Dongmo POR 18.86
3 Fanny Roos SWE 18.75
4 Chase Ealey USA 18.49
5 Danniel Thomas-Dodd JAM 18.38
6 Aliona Dubitskaya BLR 18.34
DT (9th):
1 Valarie Allman USA 69.20
2 Sandra Perković CRO 67.22
3 Yaimé Pérez CUB 64.83
4 Denia Caballero CUB 62.21
5 Liliana Cá POR 61.92
6 Marija Tolj CRO 57.79
JT (9th):
1 Christin Hussong GER 65.26
2 Kelsey-Lee Barber AUS 62.68
3 Nikola Ogrodníková CZE 61.54
4 Barbora Špotáková CZE 61.43
5 Līna Mūze LAT 60.18
6 Maria Andrejczyk POL 52.30
National Events 400 (9th):
1 Amalie Hammild Iuel NOR 51.64 rec
2 Corinna Schwab GER 51.69
3 Cátia Azevedo POR 52.42
ISTAF, Berlin, September 12
The ISTAF Berlin meeting may no longer have Diamond League status but the famous one-day showpiece which was celebrating its centenary saw plenty of world-class action in the Olympic stadium on Sunday afternoon (September 12).
Valarie Allman had had a near-perfect season, winning the Olympic discus title and Diamond League final. The only slight blot on her copybook was the fact that she still lay a close second in the 2021 world lists.
She rectified that situation with her opening throw in the German capital, however, breaking the American record with a distance of 71.16m to secure a six-metre win over German Kristin Pudenz's 64.52m.
Allman's throw moved her to 19th on all-time lists as she joined Sandra Perkovic (71.41m) as the only other member of the top 20 from the 21st century.
"I am still processing it," said Allman, who was cheered by the 20,000-strong crowd and also threw 68.80m in the final round to underline her dominance and good form. "This stadium, the crowd and the competition were so incredible. This season had so many magic moments. 2021 is coming to an end and I have a PR that is so good. All my work is paying off. My season has been a dream come true."
Home favourite Johannes Vetter may have only been ninth at the Tokyo Olympics but there is no doubt that, at his best, he is a class apart from the other world's top javelin throwers. He won in Berlin with an 88.76m second-round throw to finish well clear of Andrian Mardare's 84.44m.
World record-holder and Olympic champion Karsten Warholm had a routine win in the 400m hurdles in 48.08, with Rasmus Magi a distant second in 48.73.
Warholm said: "It's always great to run here in Berlin. It's one of my favourite stadiums and one of my favourite crowds so I wanted to come here, although my body was tired from this long season. I wanted to win and also honour the legend Volker Beck, Olympic Champion from 1980. It was really great to meet him.
"Being able to celebrate the 100th birthday of the ISTAF means a lot to me. I love traditions and this is the most traditional meeting in the world, so it is a great honour."
Another Olympic winner taking first place in Germany was high jumper Mariya Lasitskene, who won with a relatively modest 1.98m from Tokyo runner-up Nicola McDermott's 1.95m, though she was perfect all the way up to her winning height.
Marvin Bracy kept his sub-10 form going with an easy 9.95 (0.0) 100m win. It was his fifth run under the 10-second barrier in his last seven races, which have come over the space of less than a month.
Two metres back, Britain's European under-23 champion Jeremiah Azu improved his PB to 10.16 in second.
In the women's 100m, Britain went one better as Olympic finalist Daryll Neita won in 11.04 (0.5), half a metre up on Natasha Morrison's 11.09.
The other British win of the day came from Olympic finalist Jazmin Sawyers, who finished first with a fifth-round 6.73m/-0.9 leap to defeat Olympic, World and European champion Malaika Mihambo's 6.70m/-1.1 jump which also came in the penultimate round.
"It was great," said Sawyers. "I was finding my rhythm throughout the competition. Yesterday I competed in Austria, so I thought that it would be more difficult tonight. But it went really well. I enjoyed the stadium and the crowd and loved to finish my season here in Berlin."
In Tokyo Devon Allen finished fourth in 13.14, one place behind Ronald Levy's 13.10, but this time  the American was faster, in 13.10 (-0.1) to the Jamaican's 13.11. Britain's David King was fifth in 13.47.
The Americans dominated the pole vault, with Sam Kendricks winning on countback from Chris Nilsen as both jumped 5.91m, with KC Lightfoot third thanks to his best of 5.81m.
Nilsen, like Kendricks, left the competition with three failures at 6.01m and lost out on victory due to a failure at 5.41m.
Another US win came in the women's 1500m where Kate Grace won in a PB 4:01.33.
Britain's Alex Bell was 10th in 4:07.06 while Erin Wallace was 13th in 4:12.67.
USA took three of the top four places in the 100m hurdles but the winner was in-form Dutch athlete Nadine Visser in 12.73 as she just edged Payton Chadwick's 12.75.
Germany gained a win in the 3000m steeplechase through double European champion Gesa Felicitas Krause in a slow 9:26.00.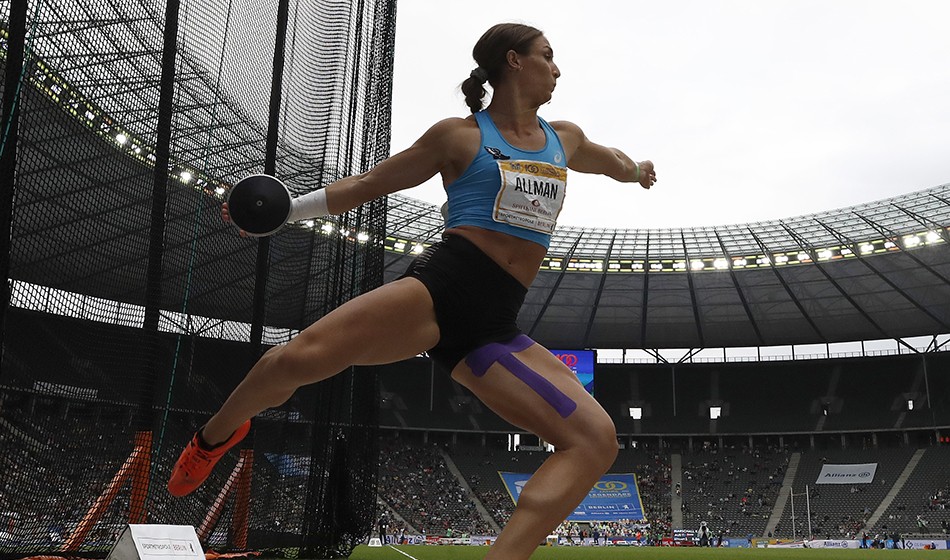 Valarie Allman (Getty)
Men:
100 (0.0):
1 Marvin Bracy USA 9.95
2 Jeremiah Azu GBR 10.16
3 Julian Wagner 10.18
4 Nigel Ellis JAM 10.23
5 Arthur Gue Cissé CIV 10.30
6 Simon Hansen DEN 10.41
7 Enoch Adegoke NGR 10.79
Julian Forte JAM DQ
Aaron Brown CAN DQ
110H (-0.1):
1 Devon Allen USA 13.10
2 Ronald Levy JAM 13.11
3 Rafael Henrique Pereira BRA 13.35
4 Damion Thomas JAM 13.44
5 David King GBR 13.47
6 Petr Svoboda CZE 13.48
7 Paolo Dal Molin ITA 13.49
8 Vladimir Vukicevic NOR 13.70
9 Vitali Parakhonka BLR 13.75
400H:
1 Karsten Warholm NOR 48.08
2 Rasmus Mägi EST 48.73
3 Jaheel Hyde JAM 48.95
4 Constantin Preis 49.48
5 Luke Campbell 49.57
6 Emil Nana Kwame Agyekum 49.68
7 Aldrich Bailey USA 49.83
8 Joshua Abuaku 50.06
PV:
1 Sam Kendricks USA 5.91
2 Chris Nilsen USA 5.91
3 Kc Lightfoot USA 5.81
4 Ernest John Obiena PHI 5.81
5 Bo Kanda Lita Baehre 5.71
6 Valentin Lavillenie FRA 5.71
6 Piotr Lisek POL 5.71
6 Rutger Koppelaar NED 5.71
9 Mathieu Collet FRA 5.56
10 Kurtis Marschall AUS 5.41
11 Matt Ludwig USA 5.41

JT:
1 Johannes Vetter 88.76
2 Andrian Mardare MDA 84.44
3 Aliaksei Katkavets BLR 83.10
4 Julian Weber 81.35
5 Anderson Peters GRN 80.51
6 Topias Laine FIN 77.16
7 Bernhard Seifert 76.22
8 Simon Wieland SUI 69.73
Women: 100 (0.5):
1 Daryll Neita GBR 11.04
2 Natasha Morrison JAM 11.09
3 Briana Williams JAM 11.16
4 Alexandra Burghardt 11.17
5 Michelle-Lee Ahye TTO 11.19
6 Nadine Visser NED 11.32
7 Rani Rosius BEL 11.42
8 Lilly Kaden 11.60
9 Jennifer Montag 11.61
400:
1 Corinna Schwab 51.51
2 Amalie Hammild Iuel NOR 52.15
3 Nnenya Hailey USA 52.49
4 Agnė Šerkšnienė LTU 52.63
5 Karolina Pahlitzsch 53.40
1500:
1 Kate Grace USA 4:01.33
2 Esther Guerrero ESP 4:04.45
3 Axumawit Embaye ETH 4:04.59
4 Katharina Trost 4:05.17
5 Konstanze Klosterhalfen 4:05.26
6 Diana Mezuliáníková CZE 4:05.57
7 Karoline Bjerkeli Grøvdal NOR 4:05.70
8 Edina Jebitok KEN 4:06.13
9 Sara Kuivisto FIN 4:06.83
10 Alexandra Bell GBR 4:07.06
11 Vera Coutellier 4:10.71
12 Christina Hering 4:11.28
13 Erin Wallace GBR 4:12.67
3000SC:
1 Gesa-Felicitas Krause 9:26.00
2 Fancy Cherono KEN 9:28.81
3 Elena Burkard 9:28.98
4 Lea Meyer 9:29.57
5 Purity Kirui KEN 9:35.03
6 Anna Tropina RUS 9:36.30
7 Chiara Scherrer SUI 9:36.56
8 Kinga Królik POL 9:43.14
9 Agnes Thurid Gers 9:52.20
10 Michelle Finn IRL 9:55.96
11 Özlem Kaya TUR 9:58.00
100H (-0.2):
1 Nadine Visser NED 12.73
2 Payton Chadwick USA 12.75
3 Christina Clemons USA 12.86
4 Taliyah Brooks USA 13.14
5 Liz Clay AUS 13.22
6 Grit Šadeiko EST 13.44
HJ:
1 Mariya Lasitskene RUS 1.98
2 Nicola McDermott AUS 1.95
3 Yuliya Levchenko UKR 1.89
4 Mirela Demireva BUL 1.89
5 Iryna Herashchenko UKR 1.89
6 Marie-Laurence Jungfleisch 1.85
LJ:
1 Jazmin Sawyers GBR 6.73
2 Malaika Mihambo 6.70
3 Khaddi Sagnia SWE 6.60
4 Maryna Bekh-Romanchuk UKR 6.44
5 Petra Beáta Farkas HUN 6.41
6 Alina Rotaru-Kottmann ROU 6.40
DT:
1 Valarie Allman USA 71.16 NR
2 Kristin Pudenz 64.52
3 Liliana Cá POR 62.45
4 Marike Steinacker 61.29
5 Shadae Lawrence JAM 60.49
6 Julia Harting 58.84
Bellinzona, Switzerland, September 14
Shelly-Ann Fraser-Pryce ended her season with a 10.78 victory in the 100m to defeat Mujinga Kambundji in 10.99.
Kambundji then returned to the track later in the evening to win the 200m in a fast 22.36.
Femke Bol ended her season with a win in the 400m hurdles in 54.01 ahead of European champion Lea Sprunger who retired with a second-place finish in 54.53.
Nadine Visser won the 100m hurdles in 12.57 ahead of Britain's Cindy Sember's 12.73
Jamaica's Natoya Goule won the 800m in 1:58.20 while Andre De Grasse won the 100m in 10.06.
Shelly-Ann Fraser-Pryce (Getty)
Men:
100 (-0.1):
1 Andre De Grasse CAN 10.06
2 Fred Kerley USA 10.11
3 Justin Gatlin USA 10.13
4 Nigel Ellis JAM 10.22
5 Mouhamadou Fall FRA 10.25
6 Reece Prescod GBR 10.26
7 Mike Rodgers USA 10.27
8 William Reais 10.46
400:
1 Jochem Dobber NED 45.28
2 Vernon Norwood USA 45.31
3 Christopher Taylor JAM 45.70
4 Alex Haydock-Wilson GBR 46.33
5 Ricky Petrucciani 46.38
6 Davide Re ITA 46.58
Race B:
1 Isayah Boers NED 45.92
2 Terrence Agard NED 46.01
3 Vladimir Aceti ITA 46.16
4 Nout Wardenburg NED 46.37
1500:
1 Charles Grethen LUX 3:35.48
2 Filip Sasínek CZE 3:35.82
3 Pietro Arese ITA 3:37.23
4 Simon Denissel FRA 3:37.45
5 Luke McCann IRL 3:37.68
6 Hamish Carson NZL 3:37.76
7 David Nikolli ALB 3:37.86
8 Luca Noti 3:38.83
9 Matthew Ramsden AUS 3:39.03
10 Bethwel Birgen KEN 3:40.02
11 Simas Bertašius LTU 3:40.36
12 Julien Stalhandske 3:40.77
110H (1.1):
1 Jason Joseph 13.34
2 Rafael Henrique Pereira BRA 13.42
3 Michael Dickson USA 13.52
4 Koen Smet NED 13.70
5 Vitali Parakhonka BLR 13.76
6 Liam Van Der Schaaf NED 13.80
7 Paolo Dal Molin ITA 14.28
8 Damion Thomas JAM 25.32
400H:
1 Alison dos Santos BRA 48.15
2 Rasmus Mägi EST 48.53
3 Emil Nana Kwame Agyekum GER 49.15
4 Constantin Preis GER 49.50
5 Jaheel Hyde JAM 49.73
6 Aldrich Bailey USA 50.11
Race B:
1 Carl Bengtström SWE 48.53
2 Dany Brand 48.96
3 Ramsey Angela NED 49.35
4 Julien Bonvin 50.47
LJ:
1 Filippo Randazzo ITA 7.81
2 Benjamin Gföhler 7.75
3 Emiliano Lasa URU 7.74
4 Radek Juška CZE 7.74
Women:
100 (0.5):
1 Shelly-Ann Fraser-Pryce JAM 10.78
2 Mujinga Kambundji 10.99
3 Ajla Del Ponte 11.11
4 Natasha Morrison JAM 11.17
5 Michelle-Lee Ahye TTO 11.19
6 Alexandra Burghardt GER 11.30
7 Anna Kiełbasińska POL 11.30
8 Léonie Pointet 11.49
200 (0.6):
1 Mujinga Kambundji 22.36
2 Anna Kiełbasińska POL 22.92
3 Lieke Klaver NED 23.16
4 Beth Dobbin GBR 23.47
5 Candice McLeod JAM 24.18
400:
1 Eveline Saalberg NED 52.87
2 Silke Lemmens 53.20
3 Laura de Witte NED 53.27
800:
1 Natoya Goule JAM 1:58.20
2 Chanelle Price USA 1:59.75
3 Lovisa Lindh SWE 1:59.94
4 Christina Hering GER 1:59.95
5 Lore Hoffmann 1:59.98
5 Hedda Hynne NOR 1:59.98
7 Sara Kuivisto FIN 2:00.03
8 Valentina Rosamilia 2:01.91
9 Déborah Rodríguez URU 2:01.97
10 Elena Bellò ITA 2:02.51
11 Delia Sclabas 2:05.36
100H (0.8):
1 Nadine Visser NED 12.57
2 Cindy Sember GBR 12.73
3 Ditaji Kambundji 12.95
4 Taliyah Brooks USA 13.29
5 Giada Carmassi ITA 13.43
6 Liz Clay AUS 13.47
7 Klaudia Wojtunik POL 13.48
400H:
1 Femke Bol NED 54.01
2 Léa Sprunger 54.53
3 Viktoriya Tkachuk UKR 54.75
4 Nnenya Hailey USA 55.26
5 Leah Nugent JAM 56.28
6 Yasmin Giger 57.47
PV:
1 Tina Šutej SLO 4.70
2 Maryna Kylypko UKR 4.50
3 Iryna Zhuk BLR 4.50
4 Ekateríni Stefanídi GRE 4.50
National Events 100 (0.0):
1 Nadine Visser NED 11.26
2 Lieke Klaver NED 11.48
3 Beth Dobbin GBR 11.59
4 Alessia Pavese ITA 11.63
5 Nathacha Kouni 11.65
6 Cindy Sember GBR 11.74
Zagreb, Croatia, September 13-14
After narrowly missing the world best for two miles at the Pre Classic last month and then winning further Diamond League races in Brussels and Zurich, Francine Niyonsaba broke the world record for 2000m at the Boris Hanzekovic Memorial in Zagreb on Tuesday (Sept 14) with 5:21.56.
The previous best of 5:23.75 had stood to Genzebe Dibaba of Ethiopia set indoors in Sabadell, Spain, in 2017, whereas the fastest outdoor mark was Sonia O'Sullivan's 5:25.36 from Edinburgh in 1994.
But Niyonsaba took the record for the rarely run distance into new territory as she surged away from Ethiopian Freweyni Hailu in the closing stages in this Continental Tour Gold event.
Niyonsaba passed 400m in 64.50, 800m in 2:09.22, 1000m in 2:41.37 and the bell in 4:20.23 before finishing strongly to beat Hailu, who clocked 5:25.86 in second.
It means she has become the first athlete with 'differences of sexual development' (DSD) to break a world record.
As a female athlete with naturally high testosterone levels, Niyonsaba has been forced to switch from her favoured 800m distance to run in events further than one mile. But she is now running just as well, or better, at those longer distances.
Her 5000m best of 14:25.34 from Brussels last month compares to the 800m PB of 1:55.47 that she clocked in 2017. In the two-lap event she won Olympic silver in 2016 behind Caster Semenya but she could now go on to greater things at 5000m.
 

View this post on Instagram

 
"I am feeling seriously wonderful. I didn't realise I could run a world record, but it was my first time here. I came here to do what I have to do," she said.
"I did it. It's wonderful and it's fabulous. The pacing was really perfect. I want to thank all the people who came to cheer us."
Another athlete with DSD, Christine Mboma of Namibia, beat Allyson Felix's meeting record with 22.04 in the women's 200m as she stormed past Shericka Jackson of Jamaica in the closing stages. Mboma, 18, was a 400m specialist but had to drop down to 200m where World Athletics thought her natural attributes would not give her as much of an advantage.
Elsewhere Devon Allen of the United States won the 110m hurdles in 12.99 (0.7) ahead of Donald Levy and Olympic champion Hansle Parchment. Another American, Marvin Bracy, missed Usain Bolt's meeting record by one hundredth of a second as he clocked 9.86 (0.8) in the 100m.
Catalin Tecuceanu of Romania did not make the Olympic Games but he has enjoyed some great late-season form and here he beat Brits Daniel Rowden and Elliot Giles to win the 800m in a national record of 1:44.93.
Francine Nyonsaba
Men:
100 (14th 0.8):
1 Marvin Bracy USA 9.86
2 Ronnie Baker USA 9.97
3 Trayvon Bromell USA 10.03
4 Kyree King USA 10.17
5 Julian Forte JAM 10.20
6 Tommy Ramdhan GBR 10.29
7 Enoch Adegoke NGR 10.88
Jimmy Vicaut FRA DNF
400 (14th):
1 Kirani James GRN 44.46
2 Isaac Makwala BOT 45.15
3 Edoardo Scotti ITA 45.30
4 Patrik Šorm CZE 45.41
5 Dylan Borlée BEL 46.25
800 (14th):
1 Catalin Tecuceanu ROU 1:44.93 rec
2 Daniel Rowden GBR 1:44.98
3 Elliot Giles GBR 1:45.01
4 Peter Bol AUS 1:45.31
5 Andreas Kramer SWE 1:45.53
6 Michael Saruni KEN 1:45.60
7 Elias Ngeny KEN 1:45.81
8 Thomas Randolph GBR 1:45.83
9 Žan Rudolf SLO 1:46.26
10 Abedin Mujezinovic BIH 1:46.57
11 Efrem Mekonnen ETH 1:47.18
12 Wesley Vázquez PUR 1:47.
Patryk Sieradzki POL DNF
Amel Tuka BIH DNF
3000SC (14th):
1 Getnet Wale ETH 8:12.01
2 Abraham Seme ETH 8:14.46
3 Ibrahim Ezzaydouny ESP 8:14.86
4 James Mutuku KEN 8:27.26
5 Matt Hughes CAN 8:28.14
6 Tom Erling Kårbø NOR 8:28.26
7 Amos Kirui KEN 8:36.98
110H (14th 0.7):
1 Devon Allen USA 12.99
2 Ronald Levy JAM 13.11
3 Hansle Parchment JAM 13.12
4 Petr Svoboda CZE 13.51
5 David King GBR 13.56
6 Keiso Pedriks EST 13.63
7 Vladimir Vukicevic NOR 13.65
PV (14th):
1 KC Lightfoot USA 5.87
2 Sam Kendricks USA 5.82
3 Kurtis Marschall AUS 5.82
4 Valentin Lavillenie FRA 5.82
5 Chris Nilsen USA 5.82
6 Simen Guttormsen NOR 5.62
7 Robert Renner SLO 5.42
8 Ivan Horvat 5.42
SP (13th):
1 Ryan Crouser USA 22.84
2 Tom Walsh NZL 22.39
3 Joe Kovacs USA 21.70
4 Armin Sinančević SRB 21.45
5 Filip Mihaljević 21.26
6 Josh Awotunde USA 21.19
7 Nick Ponzio ITA 20.69
8 Tomáš Staněk CZE 20.41
9 O'Dayne Richards JAM 19.50
DT (14th):
1 Daniel Ståhl SWE 67.79
2 Lukas Weißhaidinger AUT 66.21
3 Kristjan Čeh SLO 65.17
4 Simon Pettersson SWE 64.77
5 Fedrick Dacres JAM 64.69
6 Lawrence Okoye GBR 64.46
7 Martin Marković 62.36
8 János Huszák HUN 62.18
National Events 100 (14th -0.6):
1 Tommy Ramdhan GBR 10.32
2 Hillary Wanderson Polanco Rijo ITA 10.38
5 David King GBR 10.77
Women:
200 (14th 0.3):
1 Christine Mboma NAM 22.04
2 Shericka Jackson JAM 22.30
3 Anthonique Strachan BAH 23.05
4 Shashalee Forbes JAM 23.37
5 Moa Hjelmer SWE 23.58
2000 (14th):
1 Francine Niyonsaba BDI 5:21.56 world rec
2 Freweyni Gebreezibeher ETH 5:25.86 rec
3 Dawit Seyaum ETH 5:32.40
4 Kristiina Mäki CZE 5:36.06 rec
5 Svetlana Aplachkina RUS 5:36.30
6 Mercy Cherono KEN 5:37.00
7 Klara Lukan SLO 5:40.91 rec
8 Elisa Bortoli ITA 5:44.15
9 Meraf Bahta SWE 5:47.17 rec
10 Sara Christiansson SWE 5:48.57
100H (14th 0.3):
1 Tobi Amusan NGR 12.61
2 Klaudia Siciarz POL 13.02
3 Reetta Hurske FIN 13.13
4 Luca Kozák HUN 13.20
Sarah Lavin IRL DQ
Christina Clemons USA DNF
400H (14th):
1 Gianna Woodruff PAN 54.67
2 Anna Ryzhykova UKR 54.87
3 Janieve Russell JAM 55.45
4 Ayomide Folorunso ITA 55.56
5 Melissa Gonzalez COL 55.63
6 Agata Zupin SLO 56.70
TJ (14th):
1 Shanieka Ricketts JAM 14.77
2 Neja Filipič SLO 14.37
3 Senni Salminen FIN 14.24
4 Thea Lafond DMA 14.17
5 Ottavia Cestonaro ITA 13.77
DT (14th):
1 Valarie Allman USA 69.63
2 Sandra Perković 66.48
3 Shadae Lawrence JAM 60.80
4 Julia Harting GER 59.06
5 Lisa Brix Pedersen DEN 57.87
JT (14th):
1 Madara Palameika LAT 63.25
2 Adriana Vilagoš SRB 62.36 U18 rec
3 Réka Szilágyi HUN 58.56
4 Sanne Erkkola FIN 58.45
5 Sara Kolak 57.72
Kip Keino Classic, Nairobi, Kenya, September 18
Trayvon Bromell went equal No.6 all-time on the men's 100m all-time world rankings and Ferdinand Omanyala went No.8 with a breakthrough performance and African record of 9.77 as he finished runner-up to the American.
Neither athlete reached the Olympic final in Tokyo but have clearly hit great late season form, while they will also have been assisted by an altitude of more than 1600m (5300ft) at this Continental Tour Gold event.
Benefiting from the thin air and a following wind of 1.2m/sec, Bromell improved his PB by one hundredth of a second to clock a world-leading mark for 2021. Only Usain Bolt, Tyson Gay, Yohan Blake, Asafa Powell and Justin Gatlin have run quicker.
Remarkably, Omanyala began this year with a PB of merely 10.32 but the Kenyan is now No.8 all-time as he leapfrogged the likes of Maurice Greene, reigning Olympic champion Lamont Marcell Jacobs and Carl Lewis on the all-time lists.
"I may not have grabbed the gold in Tokyo but where I come from, I've already won," Bromell posted on social media. "I pray that I can continue to show you all that no matter what you go through, no one on this earth can control your fate."
9.77 🔥 
National record ✅

African record ✅

2nd fastest man in 2021

8th in all Time 100m Top Lists 

What a man @Ferdiomanyala 🙌#AbsaKipKeinoClassic #ContinentalTourGold pic.twitter.com/vighc16yT0

— Absa Kip Keino Classic Continental Tour (@KipKeinoClassic) September 18, 2021
Another American sprinter, Fred Kerley, also enjoyed a fast performance as he won the 200m in 19.76 (2.0) ahead of Isaac Makwala, who ran 20.06, and Filippo Tortu, who clocked 20.11.
Christine Mboma was in winning form again too. The Namibian teenager ran down Marie-Josee Ta Lou in the second half of her 200m race to win in 22.39 (0.2) as Ta Lou clocked 22.98.
Elsewhere there were a number of host nation victories. These included world under-20 bronze medallist Noah Kibet beating older rivals to take the men's 800m in 1:44.97, while Vincent Keter took the men's 1500m with 3:35.99.
Olympic champion Faith Kipyegon, meanwhile, won the women's 1500m in 4:02.40 ahead of Ethiopia's Hirut Meshesha.
There was no home win in the men's 3000m steeplechase, though, as Olympic champion Soufiane El Bakkali out-sprinted Abraham Kibiwot in 8:21.20.
In the field, Pawel Fajdek won the men's hammer with 78.33m, while Katrine Koch Jacobsen of Denmark took the women's hammer with 71.09m.
Trayvon Bromell wins in Nairobi (Getty)
Men:
100 (1.2):
1 Trayvon Bromell USA 9.76
2 Ferdinand Omurwa 9.77 AR
3 Justin Gatlin USA 10.03
4 Mouhamadou Fall FRA 10.04
5 Kyree King USA 10.11
6 Mike Rodgers USA 10.20
7 Amaury Golitin FRA 10.27
8 Jerry Jakpa NGR 10.36
200 (2.0):
1 Fred Kerley USA 19.76
2 Isaac Makwala BOT 20.06
3 Filippo Tortu ITA 20.11
4 Ramil Guliyev TUR 20.38
5 Sinesipho Dambile RSA 20.39
6 Mouhamadou Fall FRA 20.52
7 Tazana Kamanga-Dyrbak DEN 21.17
800:
1 Noah Kibet 1:44.97
2 Collins Kipruto 1:45.68
3 Cornelius Tuwei 1:45.90
4 Michael Saruni 1:45.97
5 Ferguson Rotich 1:46.22
6 Erik Sowinski USA 1:46.28
7 Aurele Vandeputte BEL 1:46.30
8 Abedin Mujezinovic BIH 1:47.23
9 Wesley Vázquez PUR 1:48.80
1500:
1 Vincent Keter 3:35.99
2 Abdelatif Sadiki MAR 3:36.63
3 Adihana Kasaye ETH 3:38.18
4 Youssouf Hiss Bachir DJI 3:39.07
5 Melkamu Zegeye Wube ETH 3:42.12
6 Boaz Kiprugut 3:43.25
7 Aregawi Birhanu ETH 3:44.36
5000:
1 Jacob Krop 13:23.50
2 Nicholas Kimeli 13:23.99
3 Benson Kiplangat S. 13:25.28
4 Samuel Habtom ERI 13:31.10
5 Raynold Kipkorir 13:39.07
6 Emmanuel Kibet Kiprop 13:43.78
7 Michael Kibet 13:49.80
8 Mike Kiplangat 13:57.06
9 Samuel Kibet 13:58.07
3000SC:
1 Soufiane El Bakkali MAR 8:21.20
2 Abraham Kibiwot 8:22.33
3 Chala Beyo ETH 8:23.37
4 Amos Serem 8:25.30
5 Samuel Firewu ETH 8:32.38
6 Benjamin Kigen 8:40.26
7 Moses Kipsang 8:43.21
8 Vincent Kipchumba 8:44.01
9 Wilberforce Kones 8:46.18
10 Nicholas Bett 8:46.43
JT:
1 Aliaksei Katkavets BLR 82.65
2 Johannes Grobler RSA 77.79
3 Timothy Herman BEL 77.73
4 Ihab Abdelrahman EGY 77.42
National Events 400:
1 Cleophas Kipruto 46.16
10000:
1 Philemon Kiplimo 28:37.96
2 Reuben Longosiwa 28:38.97
3 Geoffrey Kipchumba 28:38.99
4 Weldon Lagat 28:43.94
5 Calistus Kimtai Kitoo 28:48.55
6 Vincent Kipkirui 28:59.20
400H:
1 Nicholas Chirchir 50.19
2 Were Wiseman Mukhobe 50.44
3 Peter Githome 50.54
Women:
200 (0.2):
1 Christine Mboma NAM 22.39
2 Marie Josée Ta Lou CIV 22.98
3 Aminatou Seyni NIG 23.33
4 Shashalee Forbes JAM 23.91
800:
1 Mary Moraa 2:00.11
2 Halimah Nakaayi UGA 2:00.63
3 Noélie Yarigo BEN 2:02.98
4 Eglay Nalyanya 2:03.50
5 Mebhrit Mekonen ETH 2:03.55
6 Naomi Korir 2:03.74
7 Vivian Chebet 2:03.83
8 Déborah Rodríguez URU 2:05.07
1500:
1 Faith Kipyegon 4:02.40
2 Hirut Meshesha ETH 4:03.01
3 Freweyni Gebreezibeher ETH 4:04.39
4 Judy Kiyeng 4:06.09
5 Axumawit Embaye ETH 4:06.95
6 Edina Jebitok 4:07.56
7 Wezam Arefeayne ETH 4:07.86
8 Kassie Wubrist ETH 4:08.97
9 Winny Chebet 4:08.98
10 Mercy Cherono 4:09.64
5000:
1 Margaret Kipkemboi 14:55.27
2 Eva Cherono 15:12.16
3 Lilian Rengeruk 15:17.71
4 Loice Chemnung 15:28.27
5 Meskerem Mamo ETH 15:37.48
6 Alemaz Teshale ETH 16:06.50
7 Rahel Daniel ERI 16:19.24
8 Meselu Berhe ETH 16:40.35
9 Jackline Rotich 16:55.01
3000SC:
1 Celliphine Chespol 9:30.55
2 Fancy Cherono 9:32.50
3 Jackline Chepkoech 9:33.64
4 Daisy Jepkemei 9:38.74
5 Purity Kirui 9:52.88
6 Lomi Muleta ETH 9:53.10
7 Mercy Chepkurui 10:00.14
8 Anna Tropina RUS 10:00.53
9 Nataliya Strebkova UKR 10:13.32
LJ:
1 Milica Gardašević SRB 6.68w
2 Magdalena Żebrowska POL 6.52w
3 Alina Rotaru-Kottmann ROU 6.50
4 Taliyah Brooks USA 6.44
5 Eliane Martins BRA 6.31
HT:
1 Katrine Koch Jacobsen DEN 71.09 rec
2 Alexandra Tavernier FRA 69.62
3 Zalina Petrivskaya MDA 69.32
4 Vanessa Sterckendries BEL 68.68
5 Iryna Klymets UKR 68.19
6 Réka Gyurátz HUN 67.90
7 Mayra Gaviria COL 66.87
Bergen, Norway, September 18
The world 400m hurdles record-holder and Olympic champion Karsten Warholm equalled the world lead for the 300m with a time of 32.49, which was two hundredths outside the PB he ran indoors this year.
Eivind Henriksen won the hammer with 76.38m ahead of Britain's Chris Bennett (73.66m).
Hedda Hynne (1:26.98) defeated Lovisa Lindh (1:27.57) in the women's 600m while Britain's Tom Randolph narrowly defeated Luke McCann in the men's 800m to win in 1:47.65 to 1:47.66.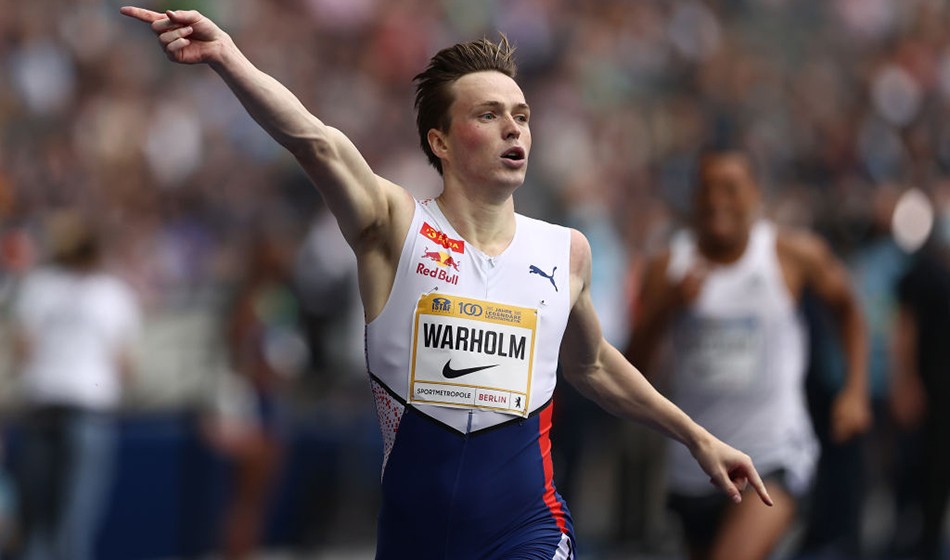 Karsten Warholm (Getty)
Men:
100 (-1.8):
1 Simon Hansen DEN 10.42
4 Alex Haydock-Wilson GBR 10.85
200 (-1.0):
1 Simon Hansen DEN 20.71
2 Mathias Hove Johansen 20.97
5 Alex Haydock-Wilson GBR 21.30
300:
1 Karsten Warholm 32.49 rec
2 Mathias Hove Johansen 33.26
3 Fredrik Øvereng 33.62
800:
1 Thomas Randolph GBR 1:47.65
2 Luke McCann IRL 1:47.66
3 Jan Vukovič SLO 1:48.01
1500:
1 Joonas Rinne FIN 3:43.03
2 István Szögi HUN 3:43.04
3 Hamish Carson NZL 3:44.57
3000:
1 Yorben Ruiter NED 7:57.59
2 Tom Erling Kårbø 7:58.48
3 Bjørnar Sandnes Lillefosse 7:59.17
HT:
1 Eivind Henriksen 76.38
2 Chris Bennett GBR 73.66
3 Ragnar Carlsson SWE 73.26
4 Bence Pásztor HUN 71.70
5 Håkon Eik Litland 61.40
Women:
300:
1 Elisabeth Slettum 37.38
2 Linn Oppegaard 37.70
3 Line Kloster 37.82
600:
1 Hedda Hynne 1:26.98
2 Lovisa Lindh SWE 1:27.57
3 Bianka Bartha-Kéri HUN 1:27.72
4 Amanda Marie Grefstad Frøynes 1:29.08
100H (-0.9):
1 Klaudia Siciarz POL 13.02