Bob Phillips pays tribute to athletics writer David Thurlow, while Dennis Johnson remembers teacher and coach Tony Elder, both of whom have passed away in their 80s this month
David Thurlow, who died on January 12 aged 88, was a legendary figure to me as a youthful "fan" back in the 1950s when Norris and Ross McWhirter would refer respectfully to his authoritative judgment in their iconic monthly magazine Athletics World, writes Bob Phillips.
It was another 50 years or so before David (main image above) and I eventually met and we immediately struck up a friendship through that common interest, and also because David had led such an adventurous life as a national newspaper journalist.
He contributed numerous articles over the years to the quarterly journal Track Stats – which I edit on behalf of the UK's National Union of Track Statisticians – and this body of work included some 40 or so person-to-person interviews with former international athletes, whose competitive days stretched back as far as the 1920s and through to the 1970s.
These interviews were always conducted by David in the most knowledgeable and amiable manner, and they were gathered together in a book entitled, A Difference In Times, published by the NUTS in 2017.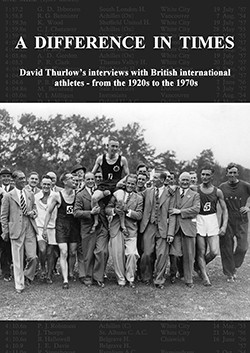 Many of those athletes who he visited have since died – most recently, Bill Nankeville and Mark Pharaoh – and the articles which David wrote thus form an immensely valuable record of what it was like to be a top-class athlete in those past generations which were so very different from the present age.
I remember him once telling me that his one regret in a lifetime of athletics – as a very capable distance-runner and then as a spectator and historian – was that of being at the Iffley Road track in Oxford and not being aware that Paavo Nurmi was an honoured guest that day. Another vivid memory for me is of David still showing a remarkable turn of speed while in Barcelona in 2010 for the European Championships, chasing across a busy road a thief who had snatched my wife's credit card.
» David Thurlow's book A Difference in Times is available for £9.99 plus postage via the NUTS website.
Tribute to prolific coach Tony Elder
Tony Elder, who has died recently at the age of 86, was an educator in every sense of the term, writes Dennis Johnson.
His autobiography, It's Been an Education, details his life both as a teacher and head teacher, and as an outstanding athletics coach.
As a man of principle, he was never afraid to stand up to authority, if he believed he was right. Early in his career as a young history teacher he questioned the decision of an authoritative head to refuse permission to a young tennis player, John Lloyd (later Australian Grand Slam finalist), to attend a national squad weekend, insisting that he play soccer for the school third team instead.
Later as a head teacher he motivated the community of Houghton Regis to successfully defend their school against closure. He completed his career in education in Crawley as Head of Thomas Bennett Community College, with over 2000 school students, though his love of teaching drew him back to teach history to A-level students for a further dozen years.
Tony's career as an athletics coach began in the 1950s, spanned six decades and encompassed hundreds of athletes from beginners striving to make their school team to a host of English Schools champions, senior national champions and international stars, the most prominent of whom was Rita Ridley.
Ridley was not only Commonwealth 1500m champion in 1970, but also set four British records over 1500m; She was ranked fifth in the  world over 1500m in 1968 and came within 0.6 seconds of the world record for one mile in 1971. She also won medals on four occasions at the International Cross County Championships.
Tony took pride in the successes of each of the athletes he coached, which included hurdles and high jump, as well as his favourite middle distance. Typically he took the senior coach award in each of these events to ensure that he would give his athletes the best service he could.
Always eager to learn, Tony learnt from the best. While at Oxford he had witnessed Bannister's sub-four-minute mile and had trained with a group under the direction of the legendary Franz Stampfl. He acknowledged how much he had learned from him. Tony's coaching was also informed by discussions with and the writings of the great Hungarian coach Mihaly Igloi, the enigmatic and inspirational Australian Percy Cerutty and many others.
Tony joined the British Milers' Club soon after its foundation and remained a staunch supporter, both lecturing and coaching on more than 20 courses. Many athletes suffered and benefited from sessions on the sand hills of Norfolk, Devon and particularly Merthyr Mawr, where he was one of the pioneers along with Frank Horwill, Harry Wilson and Tony Ward.
Tony was held in such high esteem that he was invited, by no lesser figure than Geoff Dyson, to apply for the position of National Coach. Flattered though he was, he declined as he felt that his true vocation was in education – and never regretted it.
Schools athletics was a particular interest. The English Schools Championships can be a somewhat traumatic experience for nervous young athletes, but keeping them calm and focused came naturally to him.
He had been a team manager in Essex, where he had taken me for my first coaching exam, so when we both landed in Bedfordshire and I became team manager, I immediately enlisted him and learnt so much not only about organisation, but also how to handle athletes.
In effect, he became my mentor, in both team management and coaching before such a term was in vogue. He became our chairman and when he moved to Sussex it was not long before took up similar roles there, also organising an ESAA Cross Country Championships.
What impressed me most was his calm, analytical approach even in a crisis. Whatever situation, no matter how urgent, he would take a moment to consider before making a decision and then acting upon it. He might be annoyed, but I only ever saw him angry once, when frustration with petty officialdom got the better of him. I was shocked!
A few years ago, we were reminiscing and discussed legacy. We agreed that it was not just what one achieved, but how one influenced others. Tony's legacy is the massive life changing influences he had on so many other people enabling them not just to be better students, teachers, athletes, or coaches, but better people
A quotation in the front of his book neatly sums it up: "A teacher affects eternity; he can never tell where his influence stops" – Henry Brook Adams.
Tony Elder is survived by his wife Donna, his ex wife Penny, his four children and eight grandchildren.
» For more on the latest athletics news, athletics events coverage and athletics updates, check out the AW homepage and our social media channels on Twitter, Facebook and Instagram