Americans taste victory while British women's side are denied a medal and their men fail to get the baton round on final night in Doha
A fearsomely strong USA team crushed their opposition as they stormed to a ninth women's 4x400m relay gold.
There was no place for Allyson Felix in the defending champions' line-up as 400m hurdles gold and silver medallists Dalilah Muhammad and Sydney McLaughlin joined forces with Phyllis Francis and Wadeline Jonathas to clock a world-leading 3:18.92 and comfortably beat Poland's national record of 3:21.89.
Jamaica ultimately took bronze in a season's best time of 3:22.37, though not until after they were disqualified and then reinstated on an eventful evening. 
The Great Britain quartet of Zoey Clark, Jodie Williams, Emily Diamond and Laviai Nielsen initially thought they had finished outside the medals as they ran a season's best of 3:23.02 for fourth place but they found themselves moved up a place on to the podium after Jamaica were disqualified for lining up incorrectly at the second handover.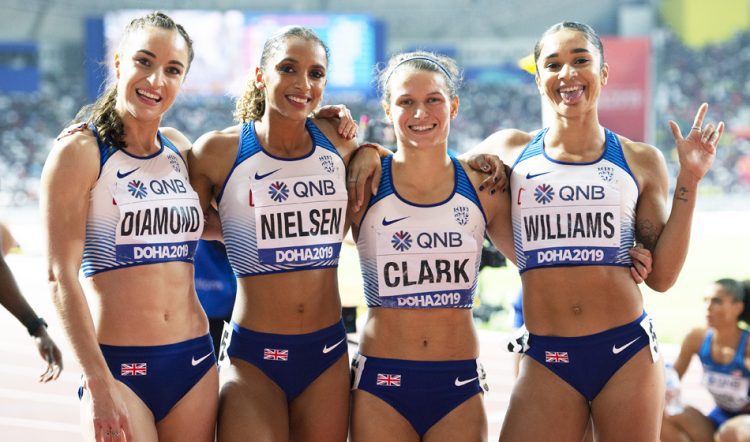 It was then decided, however, that the advantage gained was irrelevant and the original result stood. 
USA had led from the off when Francis put them in control ahead of Poland and Jamaica, with Britain fourth at the first changeover.
A 49.6 split from Williams put Britain into the top three but, with the Americans extending their lead, Jamaica moved into third again and the positions – eventually – remained unchanged.
"My legs are burning," said Williams. "I am so proud on these girls – we all had a job to do and every single one of them showed up."
Britain's time was faster than the mark which won them silver in London two years ago and Olympic bronze in Rio and Diamond added: "We wanted that medal so badly. That is the quickest we've run in years, it's two seconds quicker than we ran in the Olympics and London 2017 so we really gave it our all."
In the men's contest, which was also the final event of these championships, an American team consisting of Fred Kerley, Michael Cherry, Wilbert London and Rai Benjamin coasted to victory in 2:56.69 from Jamaica and Belgium.
The British team, meanwhile, messed up an exchange at the start of the third leg, although they were at the back of the field and not in the medal hunt at the time.
The United States had individual 400m bronze medallist Kerley on the first leg and 400m hurdles silver medallist Benjamin on the anchor as they breezed to victory. Runners-up Jamaica clocked 2:57.90 and Belgium 2:58.78 in the battle for minor medals. Close behind, the fast-finishing Anthony Jose Zambrano, a surprise silver medallist in the individual 400m, helped Colombia run a national record of 2:59.50 in fourth.
Cameron Chalmers ran the first leg for the GB team and handed over to Toby Harries, but Harries then failed to get the baton to third leg man Rabah Yousif, leaving the team frustrated and anchorman Lee Thompson unable to run.
Britain nearly did not make it into the final either for the first time since 1999 after coming fifth in their heat. Although after Botswana were disqualified the team qualified as a fast loser and Martyn Rooney was replaced by Harries for the final.
» Check out the dedicated Doha 2019 section on our website here.
» For more on the latest athletics news, athletics events coverage and athletics updates, check out the AW homepage and our social media channels on Twitter, Facebook and Instagram