Mahamed Mahamed and Adele Nicoll among winners at the EIS in Sheffield
Controversy surrounded the men's 3000m on the final day of the BUCS Indoor Championships in Sheffield, as initial winner Tom Horton was disqualified after being judged to have overtaken Paulos Surafel of St Mary's on the inside and subsequently stepped over the line, reports Connor Craig-Jackson.
The Sheffield athlete was understandably not in the mood to speak to reporters following the DQ as, despite his long protests, the gold went to Southampton Solent's Mahamed Mahamed (8:18.93), giving him an impressive indoor debut gold ahead of Surafel (8:19.55) and Brunel's James McMurray (8:19.59).
Meanwhile, with a smile on her face, Emily Hosker Thornhill stormed to 3000m gold, winning her final-lap battle with Hannah Nuttall to take gold in 9:23.72, while Joanne Hickman Dunne grabbed a comfortable bronze.
A strong run from Brunel's Lily Beckford saw her lead all the way to win the 400m in 54.64, as Wolverhampton's Amy Hillyard just pipped Ella Barrett of Sheffield to silver. The men's race saw all the athletes end up on the floor after Anthony Young dove over the line to take it in 48.40 ahead of Declan Gall with 48.48 and Joseph Brier just behind in 48.49.
Brunel's Luke Dorrell also had a second crack at the medals after losing out in the 60m on Friday, but could only manage silver after losing out to Shemar Boldizar with 21.37, while Marvin Popoola claimed bronze.
An incredibly tight finish in the men's 800m saw Max Wharton of St Mary's just hold on to his lead with 1:51.98 ahead of James Downing, while Danielle Webb took gold in the women's 800m with 2:10.52 ahead Racheal Scott in second and Abigail Nolan in third.
Lydia Hallam, meanwhile, led from the very start in the women's 1500m, proving too strong for Dani Chattenton to win in 4:29.83, while a strong finish from Isabel Rodriguez clinched bronze.
Huddersfield's sole medal from the championships was claimed by Ossama Meslek (3:54.56), doing just enough to see off Dominic Brown in a controlled final 300m spurt.
The men's pole vault also proved to be another very close affair as Sheffield Hallam's George Heppinstall edged Joseph Lister of Brunel to gold by a single point after both cleared 4.80m.
Elsewhere, Northumbria's Jack Roach was victorious in the long jump with 7.44m, while William Grimsey bagged high jump gold with a PB-equaling 2.12m ahead of Arturo Chavez with 2.09m, however displayed clear frustration at being unable to clear 2.15m.
Saturday saw a first season back since 2015 end in pole vault gold for Loughborough's Natalie Cooper, after her PB of 3.80m left Cardiff Met's Fiona Hockey once again having to settle for silver in 3.70m just ahead of Cardiff compatriot Holly Brewster with 3.60m.
An early 12.54m jump proved enough for Middlesex's Lia Stephenson to grab her first indoor triple jump gold, while two lifetime best performances saw East London's Eavion Richardson safely clinch silver and Carolyn Harvey of Strathclyde win the battle for bronze with 12.10m.
Cardiff Met's Adele Nicoll picked up a dominant shot put victory with 14.57m, adding to her impressive medal haul and finishing comfortably ahead of Sam Milner despite the Birmingham athlete bagging a PB of 13.07m to beat Leeds student Christina Nick (12.97m) to silver.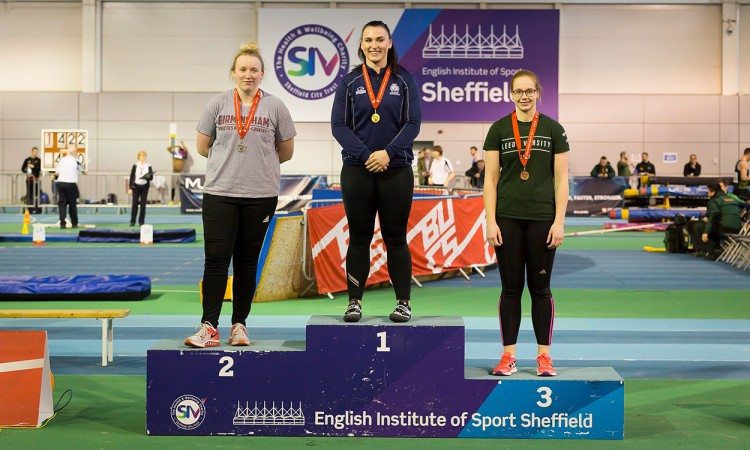 Jude Bright-Davies' BUCS debut for Oxford ended in a first gold in the triple jump with 15.24m, while Osaze Aghedo did just enough to see off Manchester Metropolitan's Kevin Metzger, with the Brunel athlete jumping 15.08m to shade Metzger in 15.05m.
Bizarrely the women's high jump bronze was shared between three athletes, with Nakita Grey, Telee Palumaa and Hannah Tapley all finishing on 1.70m and five points. However, it was Emma Nwofor who clinched another gold with 1.75m ahead of Laura Amoregie in 1.70m
After completely missing out on the medals altogether last year, Brunel's Kai Jones finally reclaimed his indoor shot put title from 2016, with 15.73m being enough to see off Brighton's Joseph Watson's 15.62m throw, while Loughborough's Matthew Ridge grabbed bronze with 14.14m.
Much more comfortable, however, was Joshua Bain (F37), who beat beat his Loughborough compatriot Ben Jones (T35/F35) in the ambulant men's final with 11.22m to retain his indoor title.
English Schools champion Eleanor Broome added BUCS indoor long jump gold to her medal haul with 6.02m, while it was once again silver for Bath's Chari Hawkins, this time coming out on top with 6.00m against her 60m hurdles humbler from Friday, Nwofor.
As the day's events neared their curtain call, Bath's Beth Close finished with double gold, as she won the 200m in 24.31 ahead of Hayley Mills and Charlotte Orton, while also bringing Bath home in the 4x200m relay to beat Cardiff Met and Brunel with 1:40.23.
And the day was capped off in fitting fashion, with yet another dramatic finish seeing an elated Loughborough side grab 4x200m men's relay gold ahead of Cardiff Met and Sheffield.
» Results from BUCS Nationals athletics action can be found here, while the February 22 edition of AW magazine will include full coverage. A report on Friday's action is here