American squad secures the platinum trophy, while South Africa's Luvo Manyonga is also among the winners in London
Back in the stadium where he soared to world championships success last summer, USA's Sam Kendricks was again in winning form in London and this time he helped his team to triumph in the Athletics World Cup.
Dominating the pole vault competition, the 25-year-old had a perfect record up to his winning height of 5.83m and claimed victory ahead of Germany's Raphael Holzdeppe, who had a best of 5.75m.
France's Axel Chapelle – fresh from watching his country win the FIFA World Cup in Russia – was third for his nation in his own world cup competition, clearing 5.65m, while GB's European Championships-bound Charlie Myers couldn't make it over a PB height of 5.65m on this occasion and finished fourth with 5.50m.
With the win secured, Kendricks went on to attempt a US record of 6.05m but didn't manage it with his three attempts.
"Jumping in a place like London, for me, is a championship mindset," said the American. "Last year was the world championships, two years before that it was the Diamond League. I have to be my best when I come to London, it's just in my bones.
"When I came here I wanted to be ready to jump my best. I gave some great attempts at the American record."
Back in the stadium where he won world gold last summer, @samkendricks claimed max points for @usatf and pole vault gold in the @AthWorldCup, also attempting an American record height of 6.05m. "I gave it my hardest shot. I needed to do that to see that I was capable of it." pic.twitter.com/SCyIvGzuRX

— Athletics Weekly (@AthleticsWeekly) July 15, 2018
Another world champion back in London was South Africa's Luvo Manyonga and he also leapt to victory.
With an impressive and incredibly consistent series, the Olympic silver medallist opened with what would prove to be his winning mark of 8.51m (0.0) before jumping 8.48m (-0.2) and then 8.50m twice (+0.3 and +0.5).
"I have good memories of this stadium and again the crowd was great," said Manyonga.
"The new set-up is quite exciting. The distance came out and I am happy. I got four legal jumps so I am in a good space."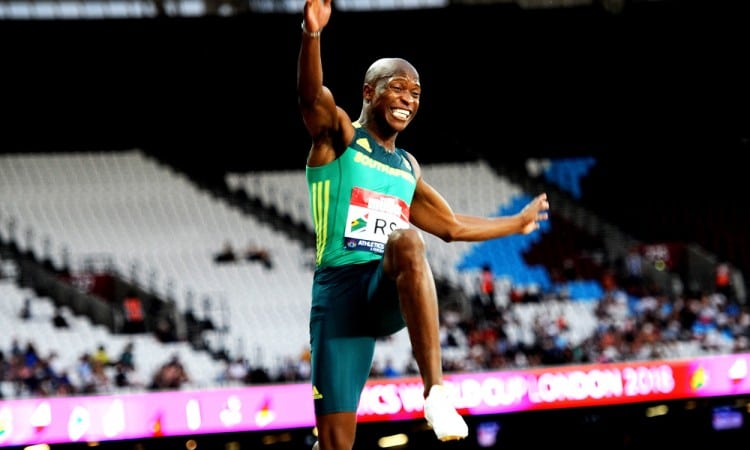 USA's NCAA champion Zack Bazile jumped into second with 8.30m (+0.5) in the final round, while GB's Dan Bramble was eighth with 7.64m (-0.4).
British record-holder Nick Miller claimed a valuable seven points for GB in the hammer, throwing 76.14m for second place behind Poland's Wojciech Nowicki, who launched the implement out to 77.94m in the first round.
France's Quentin Bigot was third with a best of 74.98m.
Dai Greene and Neil Gourley also made it on to the podium for Britain after third-place finishes in the 400m hurdles and 1500m respectively.
Greene – racing for GB for the first time since 2013 following a series of injury struggles – clocked 49.48 in a race won by USA's Kenny Selmon in 48.97, as Jamaica's Annsert Whyte hit the last hurdle while leading and faded to fourth.
.@DaiGreene raced in the GB vest for the first time since 2013 at the @AthWorldCup this evening, claiming bronze and six points in the 400mH for GB. He says it's a good step toward the Euro Champs #AthWorldCup pic.twitter.com/9xYHpC0i3z

— Athletics Weekly (@AthleticsWeekly) July 15, 2018
In a tactical race, Poland's European indoor champion Marcin Lewandowski won the 1500m in 3:52.88 after a 52-second last lap as Gourley, making his GB senior team debut, finished fast for bronze in 3:53.24.
There was a huge victory and maximum points for the USA in the 400m as Paul Dedewo ran a PB of 44.48 to finish exactly a second ahead of South Africa's Derrick Mokaleng. GB's Rabah Yousif finished fourth in 45.88.
Jamaican champion Tyquendo Tracey won the 100m in 10.03 as Britain's Ojie Edoburun finished fourth in 10.22.
The GB men's 4x400m team of Cameron Chalmers, Dwayne Cowan, Martyn Rooney and Owen Smith didn't have the opportunity to add further points to their squad's tally as Chalmers was unable to run through injury and it was too late for another athlete to complete the team.
The USA quartet, featuring Dedewo back on the track, ran 2:59.78 for the win ahead of Poland.
Julian Weber of Germany won the javelin with a 82.80m throw as James Whiteaker set a season's best of 73.90m for fifth.
A report on women's events action can be found here.
Overall cup standing
USA 219 points
Poland 162 points
GB 155 points
Jamaica 153 points
France 146 points
Germany 137 points
South Africa 135 points
China 81 points
» Full results can be found here and the July 19 edition of AW will include further coverage