Promotion: 

The weekend-long event takes place on March 23-24

With its stunning location, beautiful Mediterranean climate, superb views and first-class hospitality, the OPAP Limassol Marathon GSO is a perfect winter training goal – as well as a fantastic opportunity for running clubs and friends to enjoy a high-quality race experience together.

A great spring marathon alternative for anyone who might have missed out on a place in the London Marathon ballot, or an ideal training race opportunity for anyone tackling 26.2 miles later on in the season – the range of distances on offer means there's something for everyone.

And if you're looking to beat your PB, then OPAP Limassol Marathon GSO's flat and fast course which stretches along the spectacular coastal road should tick all the boxes. Last year saw the highest number of participants achieve a PB across the individual races, from the AIMS-accredited marathon to Limassol Half Marathon and the Petrolina 10km Energy Race.

For club runners in particular, this is a great event to enjoy some team bonding whilst running your chosen race and soaking up the friendly social environment. There are also generous cash prizes up for grabs for serious runners looking to #RunLimassol and smash their targets.

UK clubs represented at the 2018 race included UKRunChat, Royal Navy Athletics Club, Newquay Road Runners, Sittingbourne Striders and Reading Joggers. The Run Mummy Run community was represented by a large contingent of runners, with Run Mummy Run's Leanne Davies describing the trip as "excellent, from start to finish".
RACE WEEKEND

Saturday
PrimeTel 5km Corporate Race
1km Youth Race

Sunday
OPAP Limassol Marathon GSO
Limassol Half Marathon
Petrolina 10km Energy Race
5km City Race
OPAP Limassol Marathon GSO's exclusive race packages also aim to make your trip planning as easy as possible, leaving runners with more time to focus on the most important bit – running!
The packages offer the best prices on accommodation, 40% off race entry, a technical T-shirt, race pack delivery to your hotel, transportation to the start line and entry to the famous pasta party.
Are you ready to kick off the 2019 season in style? We look forward to seeing you there!
RUN MUMMY RUN
Run Mummy Run was founded in 2012 by Leanne Davies and has grown into a community of 59,000 members. Here she shares her experience of the 2018 OPAP Limassol Marathon GSO.
"When I was approached about being involved with OPAP Limassol Marathon GSO I was incredibly excited.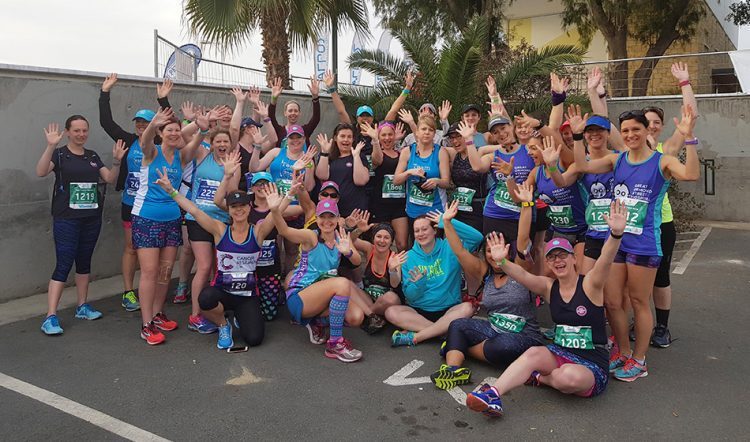 "Run Mummy Run hadn't had an opportunity like this before so I listened intently as the weekend was explained to me. Sun, sea and running with friends – I was sold! I knew this was the kind of trip our community of female runners would jump at so I gave it an enthusiastic nod.
"The trip from start to finish was excellent. Sunday race day for me was the highlight. It was extremely well organised with a mix of 10km, half- marathon and marathon runners. The atmosphere on the start line was electric! Looking out to sea just before the gun went off is a memory I will never forget. The course was at so PBs were plentiful and I achieved the time I'd set out to do, happy days.
"A huge highlight for our ladies was the after-race party on Sunday night. I've never seen a race party like it and with sore running legs and tired eyes our group of runners danced well into the night.
"We used the weekend as one great big meet up, not only to catch up with our own ladies but also many other friends from the running community. We spent lots of time by the beautiful marina chatting over coffee or a glass of wine. The free bus tickets that were part of the package enabled us to go in and out of Limassol freely when needed. Many also used the facilities in the hotel and spa for some down time, and swimming was high on the agenda because the weather was so nice.
"Our members booked the official race packages offered to us by the event. This made the whole process stress-free as everything from start to finish was arranged. All we had to do was turn up and have fun. In fact, we loved it so much we are doing it all again in 2019!"
» Visit limassolmarathon.com to find out more