Men's and women's line-ups underline sprinting strength as both land relay gold in Australia
England produced a golden start to the final day of competition on the track at the Gold Coast Commonwealth Games, with both the men's and women's 4x100m relay teams finishing top of the podium.
The men's line-up of Reuben Arthur, Zharnel Hughes, Richard Kilty and Harry Aikines Aryeetey – unchanged from the heats – crossed the line first in 38.13, ahead of South Africa's national record of 38.24 and Jamaica's third-place finish of 38.35. Australia were narrowly behind in 38.58.
The England women's team had a somewhat unfamiliar look to it. Asha Philip, Dina Asher-Smith and Bianca Williams are all names accustomed to being at the heart of relay competition. Lorraine Ugen, however, is more used to the long jump runway but she was drafted in at short notice to run the anchor leg following a slight injury to Corrine Humphreys following her earlier 100m action.
The reshuffle certainly didn't slow England down, however, as the quartet produced a national record of 42.46, ahead of Jamaica's 42.52 and Nigeria's 42.75.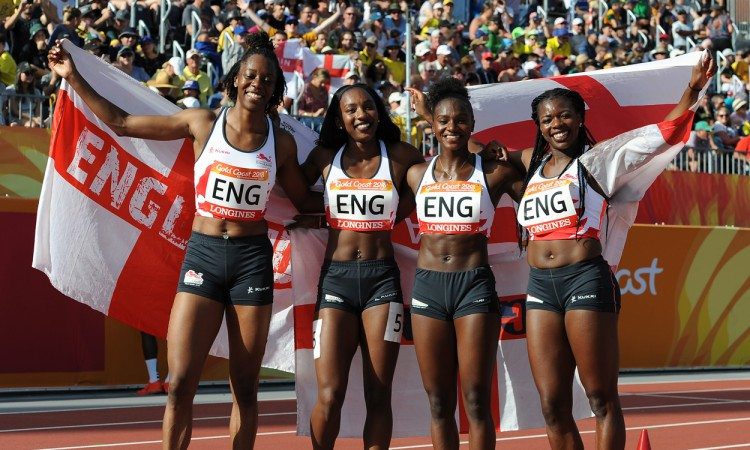 Ugen had the small matter of trying to hold off Jamaican superstar Elaine Thompson but she managed to do just that – not bad for a full-time long jumper who couldn't quite remember the last time she took part in a relay event.
"I found out yesterday I was on the team," said the Englishwoman. "I did my first exchanges in the warm-up earlier today. I didn't feel too nervous. I was only going to accept it (the relay place) if I felt that I was capable of doing the job. They gave me a really big lead so all I had to do was hold it."
So when did she last compete in a sprint relay? "When I was at university was probably the last time I did it, so a few years ago!" she added.
Philip had nothing but praise for her new relay team-mate.
"It's overwhelming, honestly," said the individual 100m fourth-placer. "We came in here with a limited number of girls but all props to Lorraine today. We had a job to just run, make sure we got the baton around and give it to Lorraine with enough of a lead to do her job and she did. Each of the girls here did what they were told and we got a medal."
For the men, Hughes had admitted the disappointment of his disqualification in the 200m earlier in the week would fuel his desire to land relay gold and he was true to his word, storming through an impressive second leg to help put his England team in a strong position.
When Aikines-Aryeetey took the baton for the final leg, he made sure neither South Africa's fast-finishing 100m Commonwealth champion Akani Simbine nor Jamaica's Yohan Blake could catch him and that England would upgrade their silver medal from four years ago.
The somewhat under-par performance of defending champions Jamaica prompted Usain Bolt to tweet: "Did I retire too soon? Hmmm".
"They need him, to beat us now!" said a jubilant Kilty. "Last time in Glasgow we gave the baton ahead of him, they can't handle us without him!"
With none of the world championship-winning quartet of CJ Ujah, Adam Gemili, Danny Talbot or Nethaneel Mitchell-Blake available, either through absence or injury, Kilty added: "It shows how strong we are – a completely different team that ran in London came out here and beat some of the best sprinters in the world – it's amazing."
For Hughes, this victory meant his Commonwealth campaign ended on a particularly high note following his individual 200m agony.
"The 200m is behind me now," he said. "I came out here to focus for the guys and do my very best in the relay. This has made me feel much better now (about his 200m disqualification). I'm happy I was a part of the team to help the guys get the gold."
» See the April 12 and 19 editions of AW magazine for in-depth event-by-event coverage from the Gold Coast Games