Results from the half-marathon and 10km events in Glasgow, plus the Ealing Half Marathon and more
While the spotlight was on the IAAF World Championships in Doha (reports here) and Berlin Marathon (report here), other highlights over the past weekend have included the following:
Bank of Scotland Great Scottish Run, Glasgow, September 29
Kenya's Edith Chelimo and Uganda's Timothy Toroitich claimed half-marathon victories, with Chelimo breaking the course record with her time of 67:38 to improve on Edna Kiplagat's 67:57 from 2014.
Kenya's Nancy Kiprop was second in 69:24 and Ethiopia's Askale Merachi third in 69:34.
Calli Thackery was the first British woman across the line with her time of 75:55 earning her fifth place.
Toroitich's winning time was 61:29 to beat Kenyans Micah Kogo and Stephen Kiprop with respective times of 62:28 and 62:32.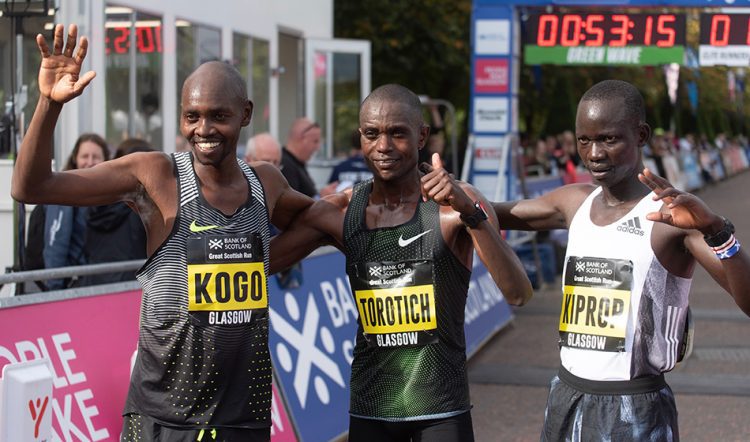 Two-time winner Chris Thompson, who was looking to make it an historic first three in a row for a British runner at the event, came seventh in 65:33.
Gemma Steel won the women's 10km in 35:29 as Nynke Mulholland was second in 36:46 and Alison Rowatt third in 36:58.
Max Milarvie was the first man home in 30:50 ahead of Richard Mair in 31:17 and Thomas Cornthwaite in 31:59.
Ealing Half Marathon, September 29
Jonathan Poole of Serpentine RC was back in Ealing and after dominating from the start he managed to retain his title and win for a third consecutive year, finishing in 70:14.
Alexander Bampton of Highgate Harriers and Nicolas Besson of Serpentine RC were battling it out for second place, with Bampton crossing the finish line in 70:49, three seconds ahead of Besson.
Lucie Custance of Clapham Chasers claimed the women's title in a time of 79:03, with last year's winner Rachel Thomas of Victoria Park Harriers & Tower Hamlets AC finishing in second place in 79:36.
Jenni Ball of Windsor Slough Eton & Hounslow AC took third place in 81:05.
Robin Hood Half Marathon, Nottingham, September 29
Anthony Woodward won the men's race in a time of 72:19, while Samantha Harrison claimed the women's title in 74:39.
New Balance Bronx 10-Mile ,USA, September 29
The field of 12,414 runners was led by Harbert Okuti of Uganda (49:00) and Belaynesh Fikadu of Ethiopia (55:32).
Bill Dellinger Invitational, Oregon, September 28
In cross country action, James West finished third to help the Oregon men's team to win the 8km event.
Grace Brock was 22nd, one place ahead of Emily Moyes, as the Boise State team secured second in the 6km event.
» See the October 3 issue of AW magazine for more from this week's athletics and running events
» For more on the latest athletics news, athletics events coverage and athletics updates, check out the AW homepage and our social media channels on Twitter, Facebook and Instagram